[Updated] Outside, one of America's leading active lifestyle brands, has selected Bermuda as 'Best Island' in its annual Best of Travel awards, with the Bermuda Tourism Authority [BTA] saying that it is "thrilled for Bermuda to be recognized by a travel brand like Outside."
The entire list of winners appears in Outside's April issue, on newsstands March 17, and online.
This year, Outside's adventure travel veterans scoured the globe to identify the best mountains to climb, food to eat, rivers to float, guides to hire, beaches to lounge on, lodges to luxuriate in, and islands to explore.
The result is 40 breathtaking options, from the guides to show you around, to the cameras to capture it all, to the places to stay, to the best place to grab a snack at a food truck along the way.
Bermuda's entry on the top 40 list says, "A subtropical archipelago of 181 volcanic islands, Bermuda won the bid to host the 2017 America's Cup, thanks to near perfect North Atlantic sailing conditions."
Screenshot from the Outside website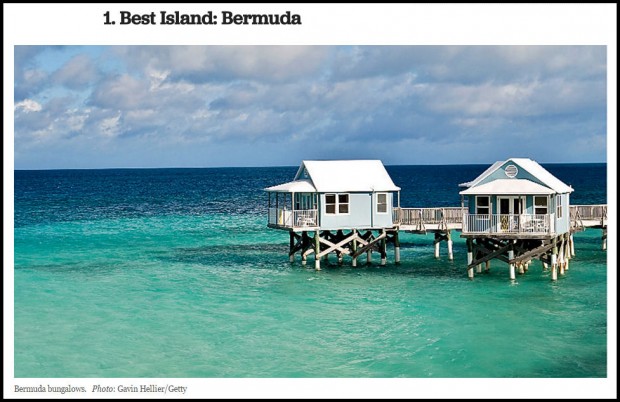 "Beyond wind, the British Overseas Territory, just a two-hour flight from New York City, has 75 miles of pink-sand beaches interspersed with jagged limestone cliffs, many of which are perfect for deep-water soloing and hucking into the Atlantic from the top. Stay at Elbow Beach, a 50-acre hideaway with a private stretch of sand on the southern shore."
BTA CEO Bill Hanbury said, "The Bermuda Tourism Authority is thrilled for Bermuda to be recognized by a travel brand like OUTSIDE.
"From world-class sailing conditions to unparalleled reef and wreck diving to mountain biking our historic Railway Trail, Bermuda is perfectly suited for all types of adventure-seekers. Bermudians have known the thrill of their island for generations – now we're excited for a new generation of travelers to jump into the island's culture and experiences."
Update 3.29pm: Outside has replaced the photo used on the website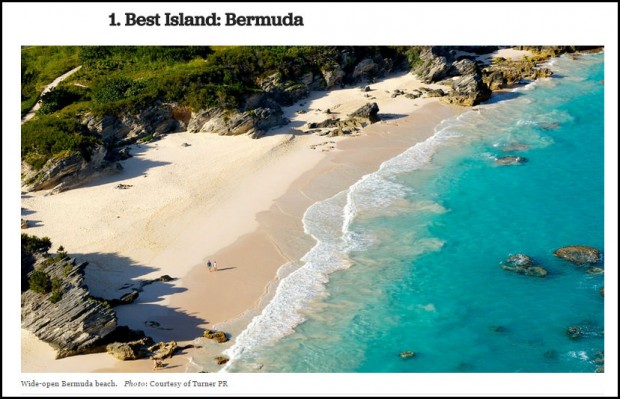 A BTA spokesperson said, "With a mild year-round climate located less than two hours from numerous East Coast cities, Bermuda has become a mecca for those seeking diverse adventure on land and water. Thrill-seekers can't miss cliff jumping and cave diving; other visitors are enamored with SUP yoga and snorkeling.
"Bermuda has also increasingly become a training destination for both amateur and professional athletes, with a series of races and competitions attracting entrants from around the world. The island most recently won the distinction to be home to the 35th America's Cup in 2017. Events begin on-island with the America's Cup World Series Racing Event October 16-18, 2015."
Update 3.36pm: Glenn Jones from the BTA explained that "apparently Outside Magazine sourced and used an image of 9 Beaches when it went online today with its Best of Travel post."
Mr Jones said, "The image did not come from the Bermuda Tourism Authority's asset library and, as is commonplace with editorial pieces like this, our marketing team did not get to see the content before it went live. It appears the image came from Getty.
"Once the BTA saw the post this morning we immediately contacted Outside and requested the image be changed since 9 Beaches is not currently in operation. They agreed. The image has been changed."
Read More About