Every year KPMG in partnership with the Mid-Atlantic Athletics Club host the KPMG Round the Grounds race held at the Botanical Gardens in Paget. Each year proves to be successful as over 500 participants take part.
This year's KPMG Round the Grounds race will be held on Sunday, March 15. Number pick up, including late entries, is on Saturday, March 14, 2015 at Masterworks in Botanical Gardens between 12:00pm and 2:00pm.
This is the 17th year that KPMG in Bermuda has sponsored this event which features races over a variety of distances for youngsters ranging in ages from 4-18 years.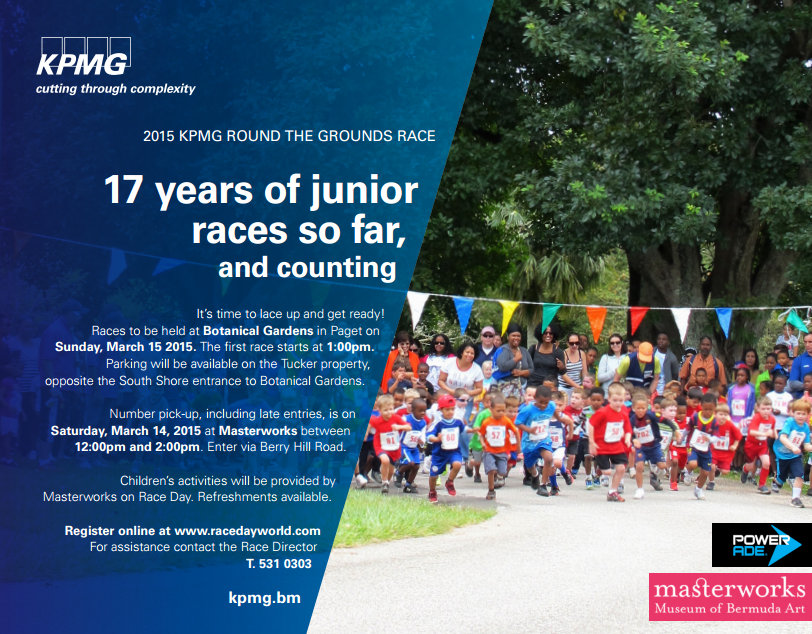 Race categories and distances include:
4 year olds: 400m
5 year olds: 400m
6 year olds: 700m
7 year olds: 700m
8 year olds: 1 mile
9 – 10 year olds: 1mile
11-12 year olds: 1 mile
13 – 18 year olds: 2.1 miles
Mixed relay teams [4x700m]: 2.1miles – For mixed relays, teams of four can be mixed by gender and can represent a school, club, family or a group of friends.
Participants can register online at www.racedayworld.com before the deadline of Friday, March 13, 2015 at 4:45pm, or collect an entry form from Sportseller in the Washington Mall or from their local school. Deadline for written applications is Wednesday, March 11, 2015 at 4:45pm.Written applications submitted after the deadline are subject to a late fee of $5.00.
All bib numbers for participants must be picked up from Masterworks in Botanical Gardens onSaturday, March 15, 2015 between 12:00pm and 2:00pm. Late registration will be available during number pick up.
Parking for this event on race day is at The Lagoon property opposite Botanical Gardens on South Road.
Read More About