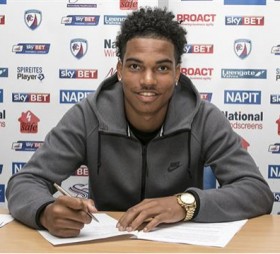 English League One team Chesterfield have signed Bermudian Rai Simons, the club announced today [Apr 8].
The marks the first professional contract for the 19-year-old footballer, who plays for Bermuda internationally, and scored in Bermuda's 2-2 draw with Grenada last month.
"Chesterfield have signed Bermuda international striker Rai Simons from non-league Ilkeston," a statement from the club said.
"The 19-year-old has been on Chesterfield's radar for some time and manager Paul Cook is delighted to have clinched his signature."
Mr. Cook said, "Rai is someone we have tracked for a while. We feel that he will develop as time goes on and have a bright future."
After agreeing a two-year deal, Simons said: "I'm excited because I've been looking forward to this moment since moving to England at the age of 15. The set-up sounds brilliant and it is everything I could ask for."
Posting on Twitter, the young Bermudian said he was "beyond excited to have signed my first professional contract today with Chesterfield."
Read More About