The Bermuda Hotel Association announced the winners of their annual scholarship awards which were presented to the four recipients at their Annual General Meeting which took place recently at the Reefs.
Scholarship Awards totaling $ 18,000.00 were presented to:
Mr. Adrian Hassell, pursuing his studies in Hotel Management at Brock University
Ms. Sanji Richardson, pursuing her studies in Culinary Arts at Johnson & Wales Rhode Island Campus
Mr. Eron Woods, pursuing his studies in Culinary Arts at Johnson & Wales University, Charlotte, North Carolina Campus
Ms. Kairah Woolaston, pursuing her studies in Hospitality & Tourism Management at Cape Breton University
Left to right: JP Martens, Adrian Hassell, Kairah Woolaston, Aron Woods, Sajni Richardson, Stephen Todd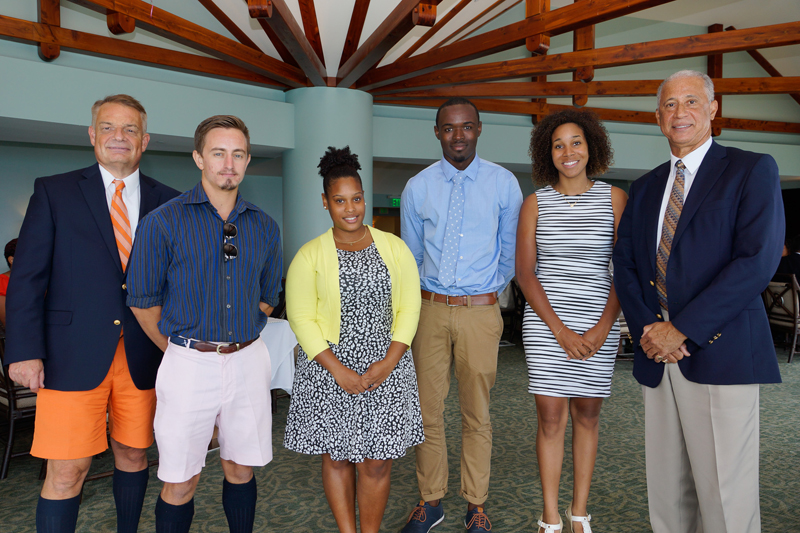 Mr. JP Martens, President of Bermuda Hotel Association, commented that the Bermuda Hotel Association is awarding the scholarships and recognizing the keen interest shown by each of the young Bermudians joining us today in their genuine desire to pursue a career in the hospitality industry, which on the completion of their studies as well as the practical training they are receiving will result in their making a valuable contribution to our industry.
Mr. Martens extended his best wishes to the scholarship recipients on behalf of the members of the Bermuda Hotel Association.
Mr. Stephen Todd, Chief Executive Officer, echoed the sentiments expressed by Mr. Martens, and further noted the very high caliber of applicants who had applied for the scholarships awarded, and that the scholarship committee collectively shared the view that each of the recipients will in time be valuable contributors to the hospitality / hotel industry.
Read More About