Endeavour Day will be marked on Thursday, October 15 with the official opening of the east end facility of the America's Cup Endeavor Community Sailing Program, with the event getting underway at 12.45pm.
Nearly 550 students between the ages of 9 and 12 have been invited from local schools to celebrate the event, which will feature an opening ceremony, an Endeavour race, a Bermuda Pilot Gig exhibition race, and a race in traditional Bermuda fitted dinghies with three teams, including America's Cup sailors competing against a Bermudian team.
Regatta viewing will be in two locations – Ordnance Island and the T.S. Admiral Somers Building, with audio piped between the two venues. There will be a display of the Endeavour boats on Ordnance Island with additional sailing activities.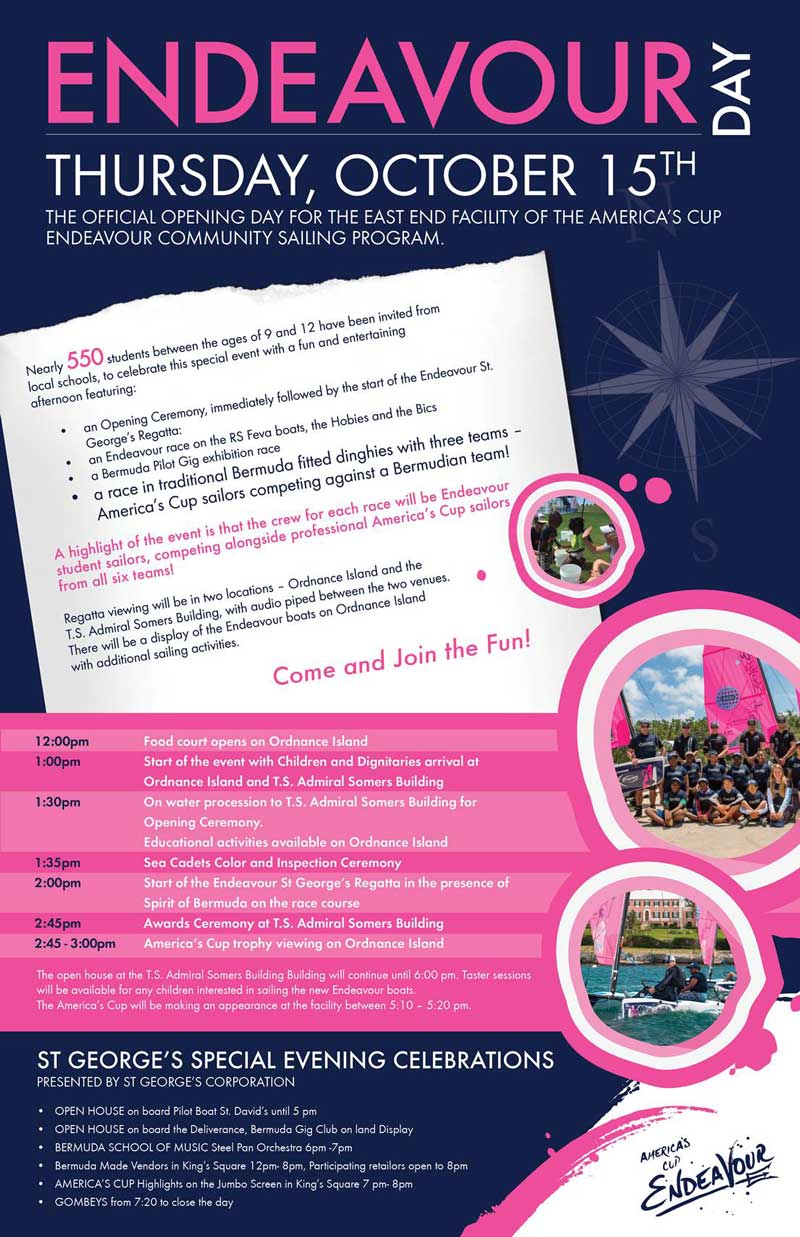 Regarding the event, a Corporation of St. George spokesperson said, "King's Square, Ordnance Island, and Water Street West will be closed to vehicular traffic from 8.00am to 10.00pm.
"Members of the public who will be attending the event can park at Penno's Wharf, on the dock as well as in the parking area. Police will be on hand to assist with parking.
"There will be food vendors as well as novelty vendors on hand on Ordnance Island as well as bleachers for viewing of the fitted dinghy racing and gigs racing that will take place during the course of the afternoon.
"The Corporation of St. George encourages everyone to come and enjoy the afternoon and for your comfort we encourage all to bring a chair and relax for the day."

Read More About
Category: All, Entertainment