Close to 50 America's Cup Endeavour Program students participated in their first ever regatta last weekend with the sailors making up a third of the fleet.
The three-day regatta was held out of AC Endeavour's West Fort in Dockyard with two fleets of 75 sailors, including Canadian and American national team members. Sailors from the Royal Bermuda Yacht Club and the Royal Hamilton Amateur Dinghy Club rounded out the fleet.
AC Endeavour sailors made up the majority of the green fleet with 46 of the 63 entrants. The green fleet is normally reserved for younger or less experienced sailors. All of the AC Endeavour sailors were graduates from the program, who only started sailing last school year.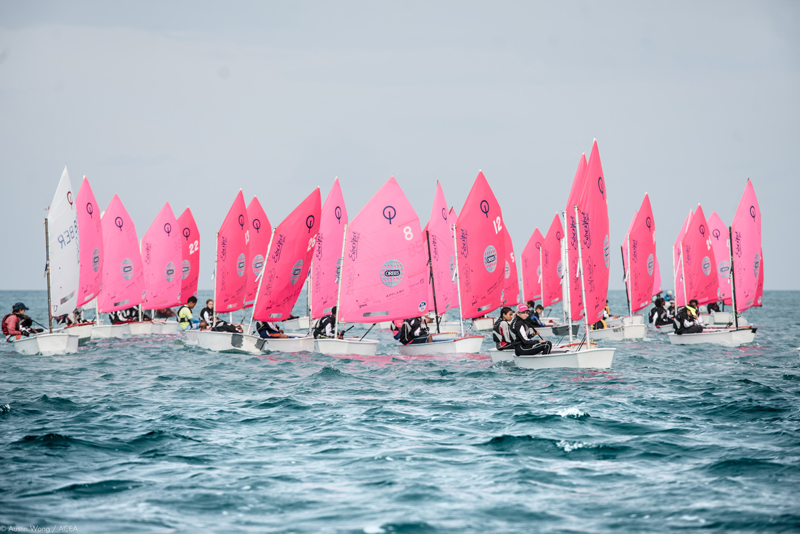 The sailors sailed eight races and finished respectably with many first place and top ten finishes.
Notable performances were from Christopher Raymond, Joanna Santiago, Naji Bean, Ruth Mello-Cann, Raphi Rudolph and several others but, despite the excellent performances, AC Endeavour's Instructors focused on their students learning about the value of participation and improvement rather than winning the regatta.
Tom Herbert-Evans, Community Sailing Manager, America's Cup Event Authority, says: "The real stories and accomplishments came further down the pack.
"Take for example young Isaiah, Sarai and Shayna from the West Fort who were racked with nerves on day one when he strong westerly breeze put many of the fleet into capsizes, where the wind turns the boat completely over and it fills full of water.
"On day two they weren't keen on heading out in the slightly moderated wind. However, the improvement, grit and determination I witnessed from these three young sailors really inspired me and the entire AC Endeavour team.
"It reminded me of why this program is so important for young Bermudians. For the impressive 46 AC Endeavour graduates, I could not have been more proud of all of them. A huge thanks to their coaches and parents for making it all happen."
The event was organized by the Bermuda Optimist Dinghy Association and WEDCo allowed it to be hosted on the North Lawn in Dockyard, making use of the historic ramp for launching.

Read More About