[Opinion column written by Jeremy Deacon]
I often hear people say that they are depressed. Of course, what they really mean is that they are unhappy, they would not use the phrase if they were aware of what it really meant.
What is depression? Here is one definition but it will vary from person to person, depending on the severity of the symptoms.
Why am I writing about this? Well, I suffer from depression and thought it was time to 'come out'. I was diagnosed about four years ago and since then it has been on my mind to write about my experiences.
I'm still not sure I am doing the right thing and am very nervous that people who I know, who are my acquaintances and who do not know me, will treat me with kid gloves or somehow change the way they approach me.
However, I hope that by going public, this helps a little to educate people and to show those who suffer from this illness that you can lead a completely normal life.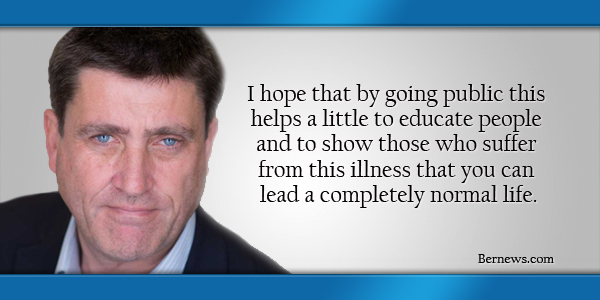 I did not know what was happening. I was barely monosyllabic, I wanted to sleep all the time, we went as a family to the beach, all I could do was sit, legs drawn up to my chest, not moving, not joining in.
I would wake up in the mornings feeling OK but when I started to walk to work, I would be enveloped by a black cloak. OK, I hear you laughing and saying that that happens to you every morning, but this was tangible. It was my mood changing, it was me going into darkness.
It was becoming increasingly obvious that something was wrong and after some time, my long-suffering wife, Elizabeth, confronted me because she thought I was just being an ass, at which point I broke down. A quick look at Dr Google and it was pretty obvious what was wrong.
A trip to the doctor confirmed our self-diagnosis and I was put on medication and had some counselling and, to cut a long story short, I've been OK ever since.
I have often wondered 'why me' and felt for some time that it was due to weakness on my part. After all, in my various newspaper roles I was often called on upon to be as tough as nails, to take decisions that would affect people's lives, to set examples, to lead.
Depression was not for me; it was for the weak. It is not, it can affect anyone.
I've established and grown my own business, I have a fairly high public profile, I've spoken at events, I write this column. In short, I lead a normal life.
It has been interesting over the years, coming across other people in Bermuda with mental health problems – when we found out we both had a mental illness it was like 'wow, would never have guessed!', which kind of says it all, doesn't it?
So why am I writing this? One reason, as I have said, is to educate and to provide some support to others out there who might feel overwhelmed and helpless.
The other reason is that I'd like to hear about people's experiences in terms of the treatment they received – or the treatment they would like to receive – how you feel mental illness is perceived in Bermuda and whether you feel would feel comfortable 'coming out'.
I hope in the future to do another column on mental health, looking at how it is perceived and what is available in Bermuda in terms of treatment.
This Ministerial speech gives some idea of the scale of mental health problems in Bermuda. Remember, you are not alone.
I can be reached at jdeacon@northrock.bm. I will treat every response with total confidentiality unless specifically told that it is OK to use publicly.
Jeremy Deacon is a 30-year veteran of the media industry in Bermuda and the UK. He runs public relations company, Deep Blue Communications, and also engages in freelance journalism for publications in Bermuda and overseas. He is also the Executive Officer of the Media Council of Bermuda.

20 Most Recent Opinion Columns

Opinion columns reflect the views of the writer, and not those of Bernews Ltd. To submit an Opinion Column/Letter to the Editor, please email info@bernews.com. Bernews welcomes submissions, and while there are no length restrictions, all columns must be signed by the writer's real name.
-
Read More About