[Opinion column written by Shadow Minister for Human Affairs, Rolfe Commissiong]
On Wednesday the 16th of September I had the distinct honour in speaking to the members and guests of the venerable Sandys Rotary Club.
The invite which was facilitated by Sir John Swan and extended by the President of the Club, Mr. Dennis Tucker, provided an intimate forum for me to discuss the profound structural change to the nature and composition of our labour market that is having a less than appreciated impact on Bermuda, its economy and the world at large.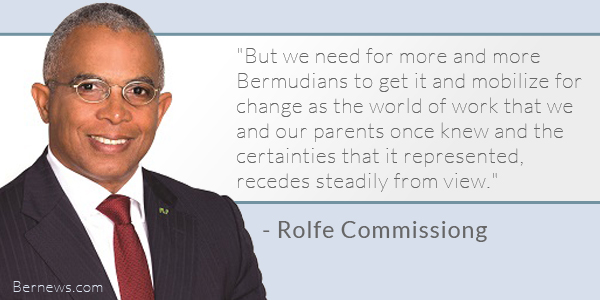 However, this structural change, unlike the former – which began during during the late 1980's – and which saw the demise of our resort style tourism sector and the concomitant rise of Bermuda as a global off shore insurance and risk management hub; is one that is being largely driven by the increasing deployment of labour saving advanced technologies which as trends confirm, are increasingly resulting in the total elimination of jobs that once provided decent wages and benefits for many.
These technologies as exemplified by various forms of automation, robotics, AI [artificial intelligence], 3D printing and the deployment of algorithms and their impact – as noted -represents our present reality and not some far off future. In other words, the future is now.
It is estimated that just over three thousand jobs were eliminated in Bermuda between the year 2000 and 2012 and as economist Doug Soares has stated, many of those jobs were lost due to the adoption and deployment of these technologies in our economy.
He also asserts, based upon the available data, that most of those jobs were eliminated prior to the onset of the great recession.
Translation: that throughout the greatest economic boom in Bermuda's history between 2000 to 2007 we were shedding the type of jobs that represented traditional blue collar and entry level occupations that will never be coming back.
And this is a trend that will only intensify over the next decade. And if left unchecked it will continue to erode our middle class, increase the levels of income inequality as it is doing in other jurisdictions and further undermine our social cohesion in ways that we have not seen for many years. Will this be the new normal?
There is a growing consensus that Bermuda's ability to navigate through this challenge along with that posed by an ageing population will be determinative in terms of our ability to arrest these trends and maintain and even enhance our competitive advantage in the global context.
The members of Sandys Rotary get it. My colleagues and I in the Progressive Labour Party also get it and have put forward a comprehensive and progressive reform agenda in this regard, that among other things will bring education and workforce development into its proper 21st Century context.
But we need for more and more Bermudians to get it and mobilize for change as the world of work that we and our parents once knew and the certainties that it represented, recedes steadily from view.
- Rolfe Commissiong

20 Most Recent Opinion Columns

Opinion columns reflect the views of the writer, and not those of Bernews Ltd. To submit an Opinion Column/Letter to the Editor, please email info@bernews.com. Bernews welcomes submissions, and while there are no length restrictions, all columns must be signed by the writer's real name.
-
Read More About
Category: All, Business, News, technology