Chef Michiko Campbell's annual free Christmas dinner event proved to be a resounding success after being held on December 23, feeding 651 people with the help of many volunteers, and raising $3,000 for Bermudian Kevina Evans-Santucci, who is battling a rare form of cancer.
The 651 people fed exceeded the original goal of 600, with $2,000 raised by the community and an additional $1,000 added to the total by Chef Campbell and his wife Sherelle Campbell, who had been following Ms. Evans-Santucci's progress and suggested that she be the recipient of the money raised by this year's event.
Ms. Evans-Santucci, who is 29-years-old, is battling a rare form of cancer, and is currently living in Boston where she is undergoing treatment.
Mrs. Campbell said, "I showed Chiko a news article about her and some of her social media posts a while back and he was instantly touched. We contacted her the day after the event to let her know we will be presenting her with a donation from our charity event. She was so happy."
Following the event, Ms. Evans-Santucci was presented with a surprise $3,000 donation via Skype from the couple, with the total amount kept under wraps until then.
Ms. Evans-Santucci later wrote on social media, "I had just finished praying that God continues to provide for my family and I, and than I received a message from Sherelle. This beautiful couple are my answer to prayer.
"Gods plan for our lives is far better than our minds can fathom. When we feel as though we have no control over our lives, God steps in to show that He already has things worked out for us. I got knocked down with cancer, almost died three times, and even had to lose my eye.
"Sherelle and Chiko, I pray God's blessings on you both. Keep letting God use you to be a blessing to others."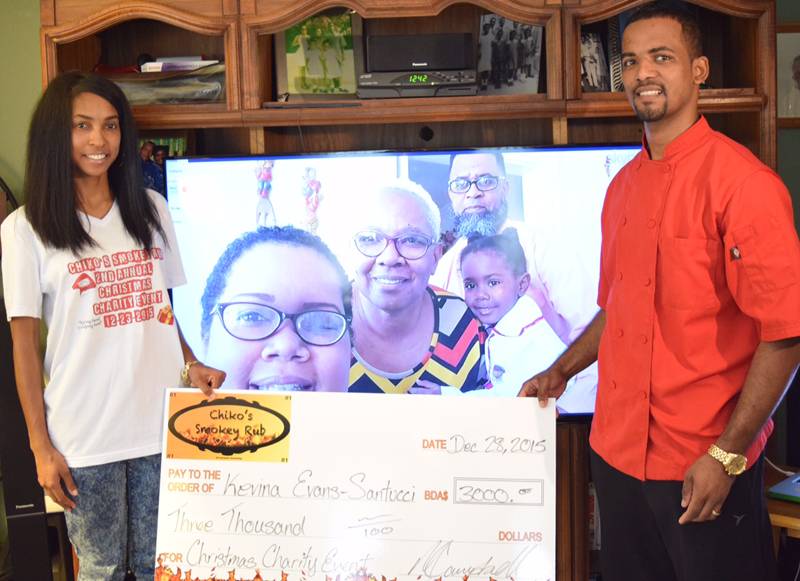 Chef Campbell said, "Always give back. I am truly grateful for all that God has blessed me with: a beautiful wife, good health, good job and business, supportive family and friends, the gift to give, and another day of life. We are blessed to be able to help Kevina."
Chef Campbell thanked a long list of people and groups for their help in making the event a success, including BGA, Butterfield & Vallis, Bermuda Rentals, Viking Foods, Dunkleys Dairy, DE. Mortimer & Co, Digicel, Cable Vision, ZBM, Bernews, The Royal Gazette, Royal Bermuda Yacht Club & Chefs, Security Associates Limited, Garden Market, Portraits Afrique, Corporation of Hamilton, Joshua Bate & Trading, and Atlantic Cleaning & Maintenance Limited.
Other groups and people that were thanked include International Imports, Evening Light Pentecostal Church, Cripps Foundation [Tina Frederick], Diversified Services Bermuda Ltd, Sherelle Campbell – Rellz Hott Graphics, Liz James, Nea Richardson, Lisa Foggo, Tony McMahon, Andrea & Alex Geranda &, Robbie & Brenda Robinson, Mary Basden, Kimberley & David Hayward, and Dr. & Mrs. Teye-Botchway.
Finally, thanks were also offered to Susanne de Frias, Mr. & Mrs. Astwood, Karen Campbell, Talbot Family, Carla Borde, Gary & Shalimar Williams, Sally & Wanda Trott, Dorinda Mayho, Janet & Pedro Carew, Mrs. Elaine, Carol Tucker, Betsey Curtis, Damon Fox, Vikki Vaughan-Jones, Ricardo Correia, Macdonald & Jan Stovell, MVM DJ [Donovan Furbert], Yu'udai Trott-Hayward & Isis Rose, Pastor Joseph & Debbie King, Jennifer Simmons, Flatts Menswear, and all event volunteers.

Read More About