The third annual Chiko's Smokey Rub Christmas Charity event took place last Friday, with the event successfully feeding over 700 people while also raising $2,516 to assist a woman battling cancer.
"It was a chilly but overall great evening," Chef Chiko said. "There was great entertainment including a choir, Rated E dance group, and Powergirl Trina with her caroling crew."
Following the event, Chef Chiko donated $2516 to Ms. Shanda Scott who is currently fighting cancer. Upon receiving the donation, Ms Scott said "Thank you from the bottom of my heart.
"You never know how expensive getting sick is until you get sick. Every little bit helps. To see such a young couple with such big hearts it warms my heart. Thank you".
In response, Chef Chiko told her, "We are happy to help you along this journey in a small way. We want you to keep that happy smile on your face and to keep fighting".
Ms. Scott's sisters accepting the cheque on her behalf from Chef Chiko and his wife: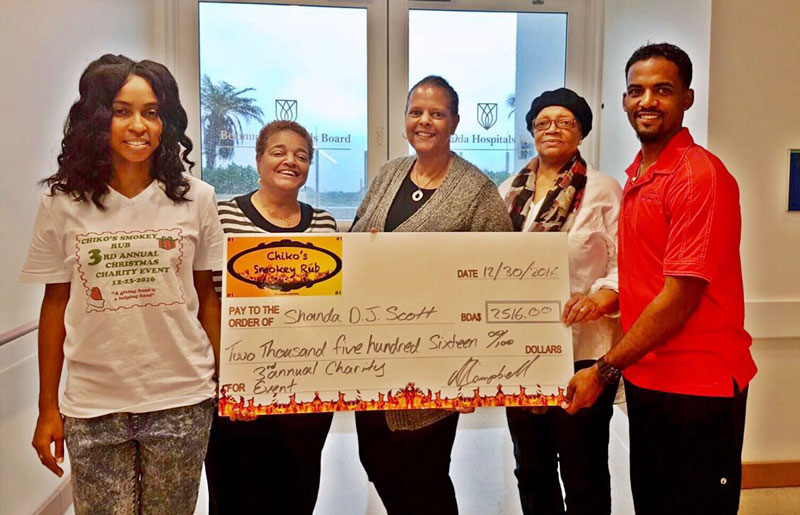 Chef Chiko also thanked all sponsors this year: Cripps Foundation [Tina Frederick], Security Associates Limited, Dt Plumbing, BGA, Garden Market, Butterfield & Vallis, Butter Ball, Mrs. Richard Kempe, Ted & Rachel Gosling, Validus Reinsurance, Donna Denbrook, Mr. Darling, Portraits Afrique, JaJa Millett, Atlantic Cleaning & Maintenance, Premier Michael Dunkley, Karen Campbell, Mens Shop Flatts, Reggie Horseman, Rellz Hott Graphics, Chucky Berg, The Cake Shop, Mr. & Mrs. Robinson, Live Free Organization, Lori Dunstan, Melanie Derosa, Elizabeth Jones, Fairmont Southampton, The Royal Bermuda Yacht Club, and Ashjuanna Thomas.
He also extended his thanks to the numerous volunteers who helped make the event a success, as well as thanked the Fairmont Southampton who hosted a 'Chiko's Smokey Rub Night in the Newport Room' with a special menu on December 19th, with funds from the menu going towards the event.

Read More About
Category: All, Entertainment, News