[Updated with video] The Ministry of Community, Culture & Sports and Ministry of Home Affairs hosted their first "public information session regarding civil unions" last night, with Minister Pat Gordon-Pamplin previously saying "we received considerable input and written submissions from advocacy groups on both sides of the discussion. At the next round of meetings we will share what we've learned and how we plan on proceeding."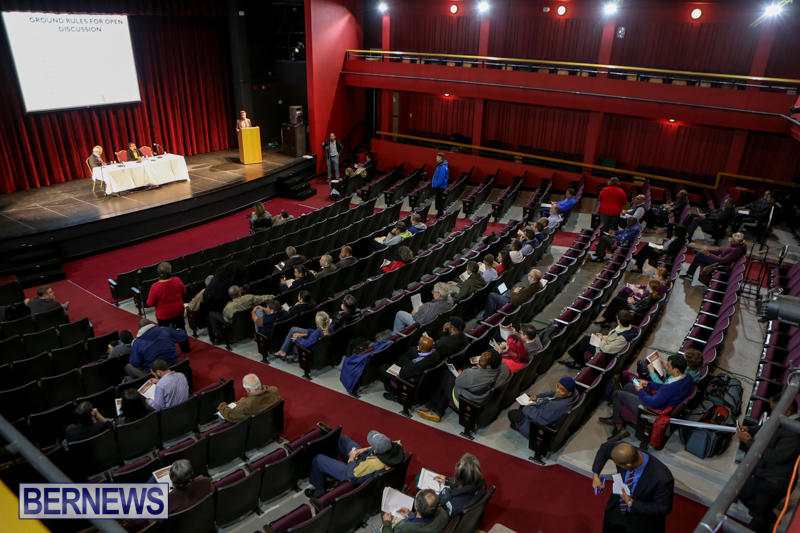 The meetings follow after extensive public dialogue surrounding same sex marriage, and a gathering on the Cabinet Grounds by supporters of both the "Preserve Marriage" and "Love Wins" movements.
"Preserve Marriage" has stated their stance on civil unions, saying, "It is a proven fact that civil unions lead to same sex marriage. The creation of civil partnerships/unions is part of a clearly documented strategy by those seeking marriage redefinition to achieve their aim.
"In almost every country that has now redefined marriage, this was preceded by the creation of civil unions. Therefore, because we are FOR preserving marriage in Bermuda we must be against civil unions by default because civil unions lead to same sex marriage."
The Rainbow Alliance of Bermuda have also made their position clear, saying said they support "the rights of all people in Bermuda to have their consensual, loving relationships between two individuals recognized and protected – regardless of gender identity or sexual orientation.
"The Bermuda courts have already supported this position, ruling that refusing to recognize same-sex partnerships amounts to discrimination – a stance which we wholeheartedly stand by. A referendum on this issue disregards the struggle of minority groups in human rights issues. Why should an unaffected majority decide the extent to which an oppressed minority can access their rights?"
16-page slide presentation shown at the meeting:
The next Public Information Sessions on Civil Unions in Bermuda will be held at 6.00pm on Monday, 15 February at the Berkeley Institute.
On a related note, according to the Order Papers for today's [Feb 12] sitting of the House of Assembly, PLP MP Wayne Furbert is set to bring a "Human Rights Amendment Act 2016″ and OBA MP Sylvan Richards will bring a Private Members Bill entitled "Same-Sex Marriage Referendum Act 2016″.
What exactly is contained in both Bills is not clear at this time, however back in 2013 when the Human Rights Act was being amended to include sexual orientation, Mr Furbert's suggested a change pertaining to marriage, with his motion being defeated in the House of Assembly. Mr Furbert wanted to change the amendment so it could not affect the Matrimonial Causes Act of 1974, expressing concerns over same sex marriage.
Lawyer Mark Pettingill — who is representing a gay couple who filed a marriage application — previously said, "Given the provisions in the Human Rights Act, the primacy of the Human Rights Act, which was touched on recently by the Chief Justice, I held the view for a long time that, as a result of the law that was changed with regard to discrimination on sexual orientation, that the provision of services – which is what occurs under the Marriage Act – it's a service that's provided by the Registrar to marry people or to give them a marriage license. The Act is clear that you cannot withhold services on the basis of any form of discrimination."
Update 2.21pm: 90-minute video of last night's information session on civil unions

Read More About