[Updated] The new Government confirmed in this morning's [Feb 8] Throne Speech that they plan to introduce amendments to the Human Rights Act to include protection from discrimination based on sexual orientation.
The relevant portion of the speech said: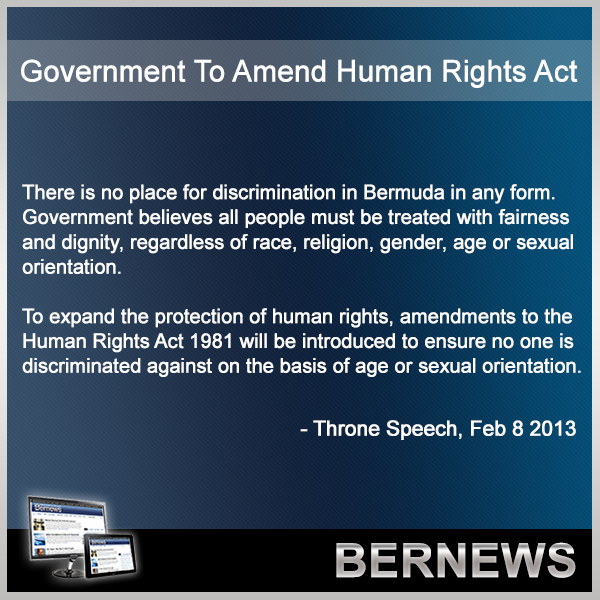 A number of groups combined to create a booklet calling for the change including The Centre for Justice, Amnesty International Bermuda, the Human Rights Commission, Rainbow Alliance of Bermuda, The Vision Ministry and Two Words and a Comma. The booklet was presented to the new
A bill calling for the amendment has been brought before the House before. In 2006, then-MP Renee Webb [PLP] a Private Members Bill to add sexual orientation as a protected grounds of discrimination under the Human Rights Act, which failed to pass.
You can view all our coverage of the 2013 Throne Speech here.
Update 12.23pm: The Centre of Justice has responded, their full statement follows below
We applaud Government's commitment to amend the Human Rights Act 1981 to expand the protected grounds of discrimination to include sexual orientation and age to ensure fairness and dignity.

For those who have had no protection in law, these amendments are very welcome and long overdue. The inclusion of age and sexual orientation in the protected grounds of discrimination also means that the Human Rights Act moves us in the direction of conforming with fundamental human rights standards.

We look forward to seeing these long awaited amendments being introduced in the House in this session with great anticipation
Update 12.49pm: The Rainbow Alliance of Bermuda has issued a response to the news that the new Government palns to introduce amendments to the Human Rights Act to include protection from discrimination based on sexual orientation. It can be read here [PDF]
Read More About