[Opinion column written by Chris Famous]
Over the past few years, Bermudians have been bombarded from several angles with the narrative that we must give a pathway to permanency for an estimated 9,000 guest workers and 1,500+ PRC holders.
The argument given is that by doing so they will remain in Bermuda and continue to contribute to our economic activity and tax base. On surface, this may have elements of truth but let us peel back the layers of the onion to look at a set of pertinent statistics:
Graph 1 shows Bermudian vs non-Bermudian employment by major occupational groupings.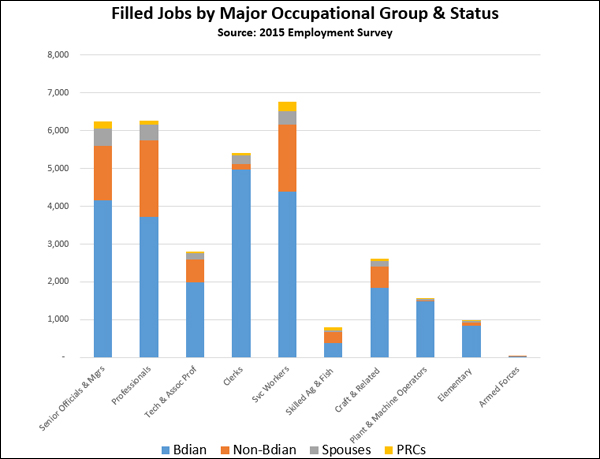 Graph 2: depicts the percentage of workers in select occupations by status, highlighting many areas where focus should be placed on re-training or re-tooling our unemployed Bermudian. Prime example 80% of bakers in Bermuda are non-Bermudian.
Surely there are Bermudians who can bake or train to be certified bakers who can take up these positions as work permits end.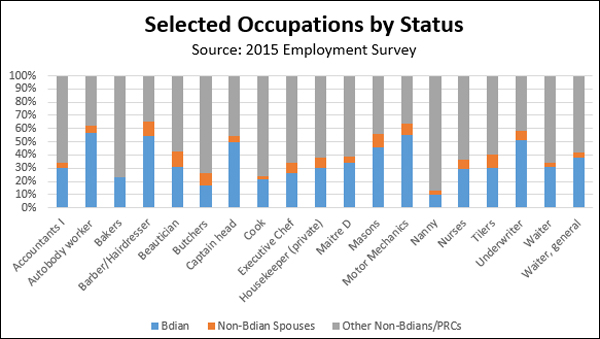 Graph 3: shows the major occupational groups that are currently held by PRC holders. The proposed OBA amendments to the Immigration & Protection Act 1956 has the potential of increasing the number of PRC employment in these areas significantly. Once non-Bermudian workers are re-categorized as PRCs, they will no longer fall under work permit controls and these jobs will not be advertised to qualified Bermudians.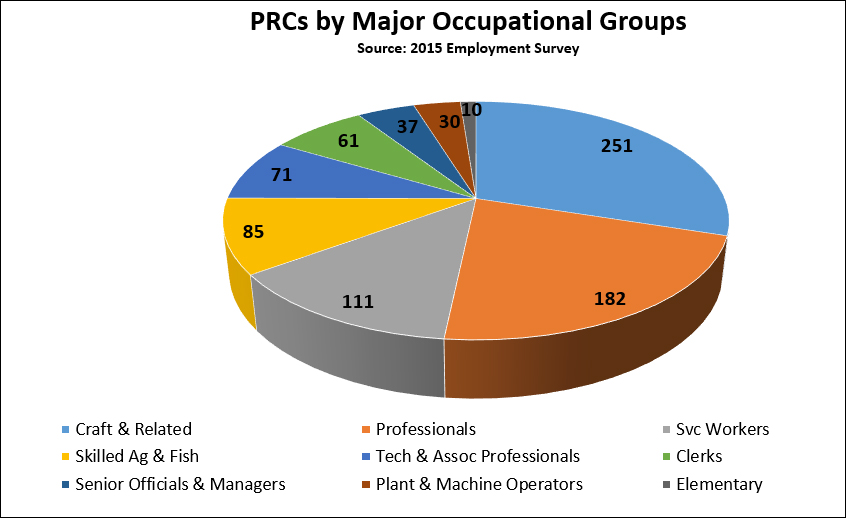 Graph 4: shows the downward trajectory of number of jobs held by Bermudians over a 3-year period. Approximately 2,000 Bermudians have lost jobs since the OBA abolished Term Limits. Due note the 2015 figures are projected to be even lower.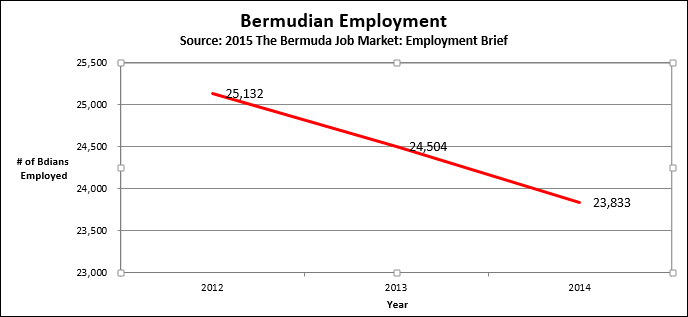 Graph 5, in sharp contrast, reveals the 2015 drop in Bermudian employment vs the increase in non-Bermudian employment during the same period. In 2015 alone, 413 Bermudians lost jobs whilst nearly 400 non Bermudians gained jobs.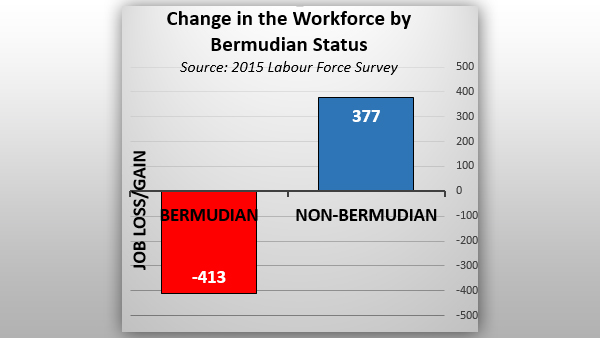 Does it seem as if the OBA immigration policies are working for Bermudians?
Graphs 6 & 7 illustrate the breakdown of the unemployed persons in Bermuda by both status and race respectively.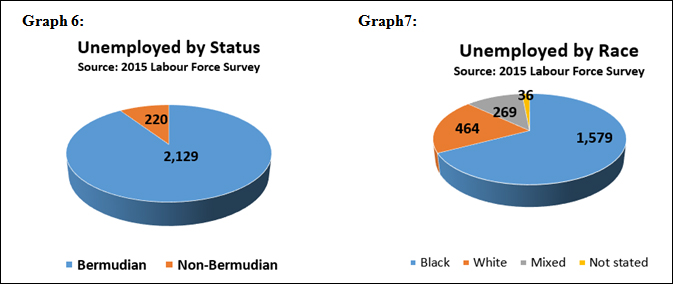 As one reviews these graphs it clearly indicates a negative trend of Bermudians and in particular Black Bermudians holding jobs.
These graphs clearly show which job categories are dominated by guest workers and PRC holders. Many of these job categories are able to be performed by Bermudians yet for some reason or the other they are not populated by Bermudians.
Prime examples:
76% of chef positions are filled by work permit or PRC holders
74% of our butcher positions filled by work permit or PRC holders
66% of waiter positions are filled by work permit or PRC holders
65% of landscaper positions are filled by work permit or PRC holders
60% of our tiler positions filled by work permit or PRC holders
44% of our mason positions filled by work permit or PRC holders
Under the proposal presented by the OBA, over the next 15 years 9,000 jobs could move out of immigration control and born Bermudians would forever be blocked from these posts.
Investing in Bermudians?
Instead of attempting to open the floodgates to overseas employees, our government should have been using this time to re-tool our unemployed Bermudians to fill these positions. Bermuda has been waiting over 3 years for the OBA to finally deliver on its promise to produce a National Training Plan which, according to Minister Michael Fahy, supposedly "aligns with our overall goals of protecting Bermudian jobs by transitioning to a place of reducing our reliance on overseas labour." May 2014.
OBA needs to explain how allowing guest workers to transition into PRC holders while Bermudians are unemployed and denied entry-level positions will assist Bermudians attempting to get into IB and other fields?
Over the last two years there has been a net gain of 200 jobs in IB up from 3,700-3,900. Most of these jobs have gone to non-Bermudians. Over the same course of time nearly 2,000 Bermudians have lost their jobs.
So how is OBA immigration policy working out for Bermudians?
- Chris Famous
Read More About