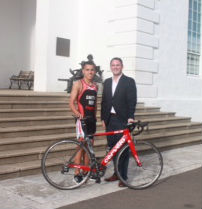 Digicel and BTC have announced their sponsorship of local youth athlete Tyler Smith, with the 17-year-old triathlete joining other elite Bermudian athletes supported by the companies, including swimmer Roy-Allan Burch, cyclist Dominique Mayho, and squash player Micah Franklin.
Mr. Smith, who has been competing locally for five years, achieved junior elite level in 2014, which is a pathway to racing at a professional level. He has received multiple awards in his career, including the 2015 Junior Male Athlete of the Year and 2015 Triathlete of the Year, and took first place in all six triathlons on the island he entered last year.
"We're delighted to welcome Tyler to the Digicel family. He is an extraordinary young man who has tremendous talent and potential and we're looking forward to witnessing his progress over the next year," explained Julian Burton, Commercial Director at Digicel and BTC.
"We are thoroughly committed to investing in Bermuda and supporting young Bermudian talent, be it sporting or otherwise, is just one of these investments."
"I'm very excited to begin this new partnership with Digicel and BTC. They have a history of backing some of Bermuda's best athletes and sports programs, so I am honoured by their support as I continue to work towards my goals," said Smith. "Hopefully I can continue Bermuda's proud triathlon tradition which has been set by triathletes before me.
"Digicel and BTC knows my aspirations in the sport, and having a local company that has invested in me is a huge advantage."
For more information about Tyler Smith, visit his Instagram page.

Read More About