[Opinion column written by ACBDA CEO Mike Winfield]
With just one year to go until the 35th America's Cup, the ACBDA highlights and just some of the major developments since Bermuda won the bid to host the elite event.
Three bases completed
The three America's Cup teams now resident in Bermuda have created a significant amount of work for the Island's construction industry. The two bases built in Dockyard for ORACLE TEAM USA and SoftBank Team Japan, plus the South Basin land reclamation project, have resulted in 32 individual contractors completing 54 individual contracts. Artemis Racing also used local contractors for their base at Morgan's Point, a facility that includes 30,000 square foot main building.
30 Bermudians working for AC
Between the three teams based in Bermuda and the America's Cup Event Authority's [ACEA] office, there are more than 30 Bermudians employed. These roles include safety divers, graphic designers, client services representatives, branding managers, boat building and more. The America's Cup is a highly specialized event with specific skill sets required, so these Bermudians are gaining invaluable experience while also using their home-grown abilities to help make the event successful.
Planning for success
While many AC developments can be seen with the naked eye, many more are happening behind-the-scenes. The ACBDA's 17 committees, consisting largely of volunteers, ACBDA staff, ACEA staff and key Government departments, are now well along the way to delivering robust plans for Transportation [with facilities], Security, Health & Safety, On-Water Operations, Infrastructure, Telecoms and more. As with any "show", the back-of-stage needs to perform as well as the main stage, and the America's Cup in Bermuda is no different.
Moving many more to Bermuda
During the original analysis of how the America's Cup would benefit Bermuda a Potential Economic Impact [PEI] assessment was conducted. This process included a number of projections, one of which was how many people would move here and when they would come. The PEI only accounted for ORACLE TEAM USA and the ACEA moving their staff and families to Bermuda prior to 2017. With two additional teams here there are now approximately 300 people in Bermuda holding more than 120 rental leases.
Nine acres of new land
Over the last seven months the land where the America's Cup Event Village will sit has emerged from beneath the sea. Presently, sheet piles are being placed around the 300,000 cubic yards of infill to create the retaining wall for the new land. This process is about 75% complete. Installation of utility infrastructure for the village will begin soon and then the infill will be surfaced. The new site will be handed over to the ACEA later this year so that they can construct the event village.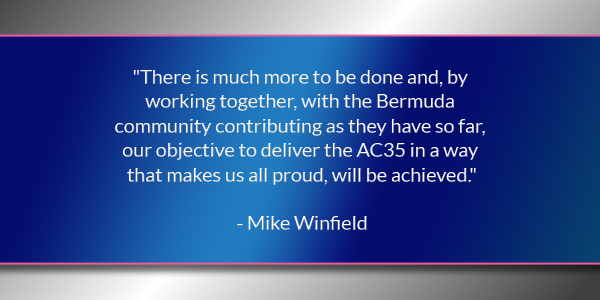 Two forts and 800 students
The America's Cup Endeavour Program did not exist prior to December 2, 2014. It is the brainchild of Sir Russell Coutts, CEO of the ACEA, and is designed to teach STEAM [Science, Technology, Engineering, Art and Math] education through the lens of sailing. It is being offered, free, to every M1 student in Bermuda over the next two years and existing funding will allow it continue beyond 2017. To date some 800 Bermuda students have been through the program. The Bermuda model has been so successful that the ACEA is 'exporting' it to other communities around the world.
Fifteen Red Bulls
Bermuda will have its own sailing team to support next year! Team BDA has been adopted by ORACLE TEAM USA and will automatically qualify to race against some of the top youth sailors in the world in the Red Bull Youth America's Cup. After tryouts that featured more than 100 athletes, there is now a team of 15, some of whom knew little to nothing about sailing when they first tried out. The modern America's Cup requires elite athleticism and the selection committee went out of their way to find Bermuda's very best.
History gets a facelift
Historic Building #9 in Dockyard received a major renovation so that ORACLE TEAM USA could occupy the space and install their offices, gym and sail loft. A number of other buildings in Dockyard have been refurbished with more still to come. These upgrades are creating assets for Bermuda well beyond 2017. In addition, a new road to Moresby Plain has been built allowing better access for the America's Cup and future use of the field.
#RacetoBermuda
Encouraging visitors to Bermuda, both now and in the future, was identified as a key benefit to hosting the America's Cup. To date approximately 3, 500 room nights have been booked though the America's Cup official accommodation supplier. The number is likely much higher as this does not include independent bookings, nor does it include pre-bookings for next year.
Between December 2, 2014 and May 26, 2017, wherever the America's Cup goes Bermuda will go with it, creating awareness, building the brand and enticing people here for the America's Cup and beyond.
There is much more to be done and, by working together, with the Bermuda community contributing as they have so far, our objective to deliver the AC35 in a way that makes us all proud, will be achieved.
- Mike Winfield

20 Most Recent Opinion Columns

Opinion columns reflect the views of the writer, and not those of Bernews Ltd. To submit an Opinion Column/Letter to the Editor, please email info@bernews.com. Bernews welcomes submissions, and while there are no length restrictions, all columns must be signed by the writer's real name.
-

Read More About