[Opinion column written by David Tavares]
My fellow Bermudians, we are who we are!
Our island home consists of a group of people, organized to provide services, both locally and internationally, to our customers [individual or corporate].
Our leaders, both in the public and business sectors of our island home community have, in the past and present, continuously reminded us that the future of Bermuda rests in the hands of others elsewhere in the world. They have also told us that we must partner with these individuals and corporations to help them solve their problems.
You can imagine the impact of a letter back in the 1950's to the Editor of the Times in London when a local international law firm employee wrote "No taxation at all". The then British shipping industry was finding it difficult to compete in a highly taxed area.
Since the 1930's and more so from the 1950's onward, we have expanded our relationships with the international/offshore business community to the extent that our primary industry is no longer hospitality, but predominately international business contributing the major portion of GDP.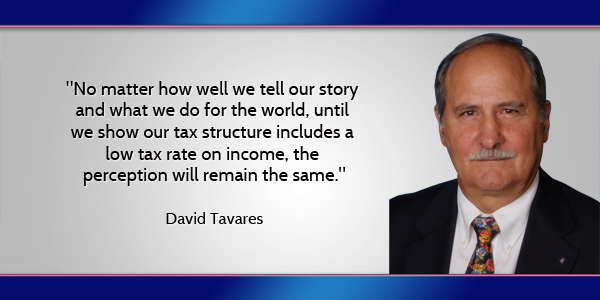 As a result we have, together with our partners, enjoyed enormously from the fruits of our labour. And in today's markets we have had to remain competitive while at the same time demonstrate compliance, transparency and leadership in the global economy, specifically the insurance industry.
However, no matter how well we are organized and compliant with international standards, perception is reality, so they say. We are seen as a group of people who enable our customers [individual or corporate] to legally avoid paying income tax.
No matter how well we tell our story and what we do for the world, until we show our tax structure includes a low tax rate on income, the perception will remain the same.
The real problem is not that we are a low tax jurisdiction, but because we have no tax on net profits. How we tackle this problem is very delicate. Maybe a solution would be to introduce a very low tax on net income for both the local and international customers.
So let's stop being sanctimonious and fix the problem once and for all, my fellow Bermudians.
- David Tavares

20 Most Recent Opinion Columns

Opinion columns reflect the views of the writer, and not those of Bernews Ltd. To submit an Opinion Column/Letter to the Editor, please email info@bernews.com. Bernews welcomes submissions, and while there are no length restrictions, all columns must be signed by the writer's real name.
-
Read More About