[Updated] Her Majesty the Queen has recognized a number of locals in her annual Birthday Honours List, including Martha Dismont, Carol Everson, Ronnie Chameau, Deborah Lyn-Ann Gillett, Gary Douglas Staines, Calvin Lee Smith, Sergeant Gregory MacArthur Grimes, Vivlyn Cooper, Eddie Fisher, Jay Kempe, Malcolm Kirkland, Troy Lewis and Alda Raposo.
Member of the British Empire [MBE] awardees:
Mrs. Martha Dismont, MBE, Executive Director of the Family Centre. For services to the community and children in Bermuda.
Mrs. Carol Elisabeth Everson, MBE, Welfare Case Worker, Bermuda Legion. For services to war veterans and their families in Bermuda.
British Empire Medal [BEM] awardees:
Mrs. Veronica [Ronnie] Theresa Chameau, BEM, Historian and artist. For services to promoting heritage and culture in Bermuda.
Mrs. Deborah Lyn-Ann Gillett, BEM, Property Chair Person, Project 100. For services to mental health in Bermuda.
Queen's Police Medal [QPM] awardee:
Detective Sergeant Gary Douglas Staines QPM, For services to policing in Bermuda.
Overseas Territories Police Medal [OTM] awardees:
Chief Inspector Calvin Lee Smith OTM, For services to policing in Bermuda
Sergeant Gregory MacArthur Grimes OTM, For services to policing in Bermuda
Queen's Certificate and Badge of Honour awardees:
Mrs. Vivlyn Cooper
Mr. G. Edward [Eddie] Fisher
Mr. James [Jay] Kempe
Mr. Malcolm Kirkland
Mr. Troy Lewis
Mrs. Alda Raposo
Governor George Fergusson, said: "I am very pleased to send my warm congratulations to all those being honoured in Her Majesty's Birthday Honours List. This is a remarkable group of remarkable people, all richly deserving of the honours being bestowed on them for their hard work and commitment to the people of Bermuda."
Update: Premier Michael Dunkley said, "It's very gratifying to see these deserving Bermudians being rewarded in this way. Their works span all sectors of our community, from the arts to charitable service, and I am delighted that the wider community is being made aware of their dedication and commitment.
"On behalf of the Government and people of Bermuda, I thank them for their service and offer my heartfelt best wishes to each of this year's recipients."
Photos and bios below provided by the Government: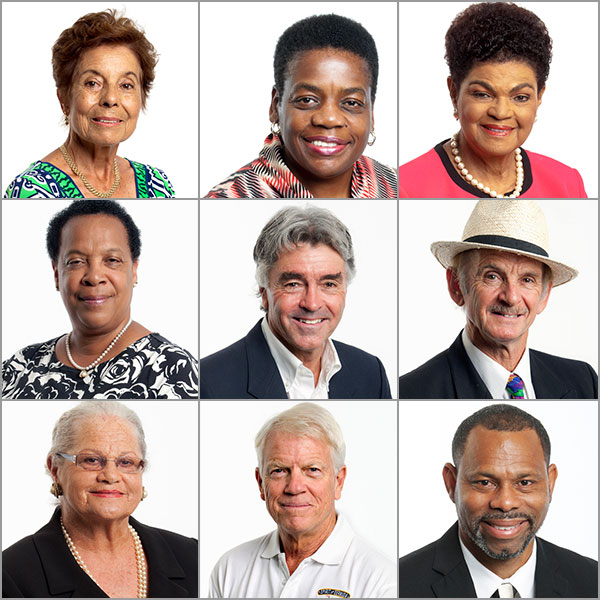 Member of the British Empire [MBE] and British Empire Medal [BEM] awardees:
Martha A. Dismont, MBE
Mrs. Martha Dismont is the Executive Director of The Family Centre, a Bermuda-based registered charity, dedicated to working with the most vulnerable families on the island. Mrs. Dismont founded The Family Centre in 1990 as a tutorial organization. In 1995, the organization shifted its focus from tutoring to a more clinical service, to respond to the needs of families, with a clear focus on wellness for children through family-based services. Originally from New York State, prior to moving to Bermuda Mrs. Dismont worked as a Social Worker for the State of New York.
While developing and growing the Family Centre, Mrs. Dismont served on numerous community boards and initiatives. In 2012, she was asked to serve as Chairperson for the Performance Committee on the Government of Bermuda's SAGE Commission. She has also served on the Board of Education, the XL Foundation, and she is founder and current Chairperson of the Inter Agency Committee for Children and Families. She serves on the Bermuda National Standards Committee, and is co-chair of the Inter Agency Gang Task Force Community Response Team. Mrs. Dismont is a member of the Judicial Legal Services Committee, appointed to this committee by the Governor in 2013, and has served for five years as a member of the Sustainable Development Round Table. She is a current member of the Bermuda Chamber of Commerce Executive Board, and she has supported the Chewstick Foundation as interim Chairperson.
In June 2002, she received The Queen's Certificate of Honour in recognition of her services to education as Founder and Executive Director of The Family Centre. In 2002, the Family Centre became the first social service agency in Bermuda to receive international accreditation from the Council on Accreditation, based in New York City. As a result of this international accreditation, the Council on Accreditation entered into an agreement with Bermuda to establish the Bermuda National Standards Committee, Bermuda's first accreditation entity, linked to an international accreditation body.
Family Centre's vision for overall community health has led Mrs. Dismont to her recent work in community development, including an initiative through the Inter Agency Committee to establish an island-wide continuum of care for youth and families and with social service providers to develop a national Agenda of Priority Needs for Children.
Carol Everson, MBE
After studying music at the Royal Academy of Music and Royal College of Music in London and holding posts with several UK symphony orchestras, Ms. Carol Everson moved to Bermuda in 2001. She joined the Royal Bermuda Regiment Band under the direction of Major Barrett Dill and later the Quartermaster's Company.
She soon became aware of the plight of Bermuda's World War 2 veterans and their widows. In 2003 while performing at the Edinburgh International Tattoo with the Regiment Band she was inspired by caseworkers from armed forces charities and performers the 1,000 strong cast who were involved with the care and welfare of veteran soldiers and their families. She spent the next five years developing a support structure for Bermuda's war veterans, many of whom had never received medals, recognition or benefits. In 2005 Ms. Everson re-visited England to study international casework and welfare in the military community.
In 2007 she co-founded the Bermuda Legion, a Bermuda Charity providing welfare and advocacy for all of Bermuda's veterans and widows in need and running the annual Poppy Appeal. That same year the Government of Bermuda recognised Ms. Everson's work and granted pensions and benefits to all of Bermuda's surviving war veterans and widows by unanimously passing amendments to the War Pensions and Services Act.
In 2009, Ms. Everson successfully campaigned for further benefits to give veterans access to nursing home care and home caregivers. In 2010 she received the Martin Luther King Drum Major Award for services to justice and equality from the Government and a Community Service Award for outstanding service.
Ms. Everson continues to advocate, raise funds, create opportunities for Bermuda's war veterans and widows, and provide assistance and advocacy for their families. For two years Ms. Everson researched and collected material on behalf of the Bermuda Government for the War Memorial in the Cabinet Grounds. She is determined to raise funds to provide a designated nursing home, for the remaining war veterans who are now in their 90s.
Veronica "Ronnie" Chameau, BEM
Bermudian artist, Mrs. Veronica [Ronnie] Chameau, specializes in working with natural resources found in and around Bermuda. Drawing inspiration from her St. David's Island heritage, Mrs Chameau gathers banana and palm leaves, nuts, seedpods and dried flowers and transforms them into works of art such as tree ornaments, musical angels and nativity scenes.
Her love of Bermuda and the preservation of its history, led her to extend her craft to palmetto palm weaving which hearkens back the traditions of the 1700s when palmetto hats, fans and purses were popular with Bermuda's ladies and the fashion world in London. In 1986 Mrs Chameau also revived the dying art of doll making and is well known for her unique, handcrafted dolls made from banana and palm leaves. There is a Chameau angel on display in the Smithsonian Archives in Washington, DC and a doll in The Mashantucket Pequot Museum in Connecticut, USA.
Using banana tree bark she has an extensive handmade dollhouse collection, and has built several dollhouses that are now furnished with a unique collection of miniatures. One such dollhouse, a replica of Verdmont, the National Trust Museum in Smith's Parish, is on display in the garret at the museum.
Carter House in St. David's and Bermuda's Native American Indian legacy are close Mrs Chameau's heart. She has spent countless hours researching and sharing the heritage, culture and history of her ancestors with locals and visitors alike.
In 2001, Mrs. Chameau was presented with the Bermuda Gold Award for her handcrafted souvenirs. In May 2003, The Bermuda Philatelic Bureau created a stamp featuring Chameau Dolls and in 2009, four Christmas stamps were issued, highlighting Mrs Chameau's exquisite Christmas Tree ornaments created from natural fauna. Mrs. Chameau was honoured when asked to create a special palmetto palm doll, for Her Majesty Queen Elizabeth's Diamond Jubilee. It was sent as a gift from the people of Bermuda.
Mrs. Chameau shares her passion, skills and knowledge with Bermuda's children and has spent countless hours volunteering at schools around the island and giving demonstrations in her home studio.
Deborah L. Gillett, BEM
In the last 25 years, Mrs. Deborah Gillett has served and volunteered in numerous capacities within the Project 100 charity, including as the President and the Fundraiser Chair. Over the last seventeen years she has been the Trustee and Property Manager of the Property Trust.
Project 100's Mission is to foster and develop an awareness of the needs of the developmentally challenged population in Bermuda and to raise funds for the sole use of eliminating or reducing their needs. The organisation has assisted families with medical expenses, learning support, therapy and specialty equipment.
During her tenure with the Project 100, they purchased their first home and in partnership with a local organization provide staffing. Project 100 now have five homes and Mrs. Gillette's role as the Property Manager has been to look for and renovate suitable residential housing and to maintain them for the comfort of the service users. Working with local contractors and suppliers she provides a practical and pleasant environment at the lowest reasonable cost.
In addition to her full-time commitment to Project 100, for the last 15 years, Mrs. Gillette has been a member of the Mental Health Tribunal.
Queen's Police Medal and Overseas Territories Police Medal awardees:
Detective Sergeant Gary Douglas Staines, QPM
Sergeant Staines has been a member of the Bermuda Police Service for the last 26 years. During this time he has made a significant and special contribution to local and international law enforcement efforts.
Chief Inspector Calvin Lee Smith, OTM
Chief Inspector Smith has been with the Bermuda Police Service for the last 32 years during which time he has held a variety of uniformed and detective posts. Most recently he heads up the Patrol Department and is responsible for delivering uniformed policing services from the Island's three police stations. He also oversees the training and development programmes for new recruits and probationary constables.
Sergeant Gregory MacArthur Grimes OTM
Sergeant Grimes has served with the Bermuda Police Service since 1978. He has held a variety of posts within the service most recently as a custody sergeant at the island's main police station. With the introduction of the Police and Criminal Evidence Act and the associated Codes of Practice, Sergeant Grimes managed the operational implementation of the project within the custody facility.
Queen's Certificate and Badge of Honour awardees:
Vivlyn E. Cooper
Mrs. Vivlyn Cooper's career in education spans 41 years. She taught at Dellwood Primary School, The Berkeley Institute and Harrington Sound Primary School. She was the principal at Southampton Glebe, Francis Patton and Dellwood Primary Schools.
As the principal of Francis Patton Primary she facilitated a breakfast programme with the support of a local supermarket. With the Bermuda Health Department she piloted the Health for Success programme in the schools which emphasized healthy lifestyle choices for students.
Mrs. Cooper then moved to Dellwood Primary School and worked tireless with staff, parents, students, ancillary staff, the Police Community Service, to rid the area surrounding the school and the school premises of drugs and drug paraphernalia. Under her leadership, the school also successfully lobbied to have an unsightly building in the neighbourhood demolished, further enhancing the learning and physical environment of the school.
From 1993 – 2002 she was the Senior Education Officer, Schools at the Ministry of Education. She chaired the committee to develop the Teacher Performance Appraisal Programme that was instituted in all public schools in August 2001. Upon her retirement in 2002, she went on to work with administrators in St. Maarten on their Educational Administration and Leadership program providing training for school improvement and Teacher Performance Appraisals. Between 2010 and 2013 she chaired the Bermuda Educators Professional Development Committee of the Bermuda Educators' Council.
In the community, Mrs. Cooper served on the Continental Society, Inc. for ten years and was active on the Mother's Day Committee and provided breakfast in schools. She was also participated in the organization's fundraising activities.
Mrs. Cooper served as a board member for Teen Services, then assumed the role of Board Chair for ten years. She led the organization through a strategic planning process which established its vision and mission statements and determined how the organization would best serve Bermuda's teen population into the future.
An active member of Christ Church, Warwick Mrs. Cooper is an elder, Sunday School teacher, and former Convener for the Outreach Ministry. She worked with the Loads of Love team to provide breakfast and laundry facilities for homeless people amongst other community outreach programs. She was also elected by the Kirk Session to represent the church at the Presbytery Meeting in Europe, twice a year, for three years.
G. Edward [Eddie] Fisher
Mr. G. Edward [Eddie] Fisher was born and raised in the United Kingdom and trained to be a cosmetologist in 1965. After working in London and Canada he moved to Bermuda in 1979 where he joined a Hamilton salon.
He soon owned his own salon and became involved with numerous charities performing fashion and hair shows to benefit the King Edward VII Memorial Hospital, The May Heritage Day, Miss Bermuda and Miss Islands Pageant. He also started a cosmetology training program for young Bermudians.
In January 1991, his four year old son, Justin, died in hospital following a routine tonsillectomy. This led Mr. Fisher to start a fund to purchase pulse oximeters with the goal of preventing other unnecessary deaths. He co-founded and was President of Healthwatch, an action group which brought about change and improvement to Bermuda's healthcare system.
He later co-founded Childwatch which was established to highlight the important role of fathers and the rights of children to spend meaningful time with both parents after a separation. The organization mentored fathers, hosted seminars, conventions and educational conferences and conducted surveys and polls to bring about change. Their work led to the abolishment of the Affiliation Act, changes to the Children's Act and brought to light the pain of grandparents locked out of their grandchildren's lives. He served as its President for ten years.
Mr. Fisher was a mentor in Big Brothers and Sisters, volunteered with Special Olympics, and became a member of Prison Fellowship. He travelled to the Philippines and Sumatra, Indonesia to visit religious detainees.
The Bermuda National Trust awarded him the Restoration Award in 2002 for the rehabilitation of a derelict 18th century home. He received the Clipper Architecture Award in 2015 for more than 30 years of work saving White Gate which was built circa 1760.
James [Jay] Kempe
Mr. James [Jay] Kempe is one of three founding members of the Bermuda Sloop Foundation, incorporated in 1999. He was Deputy Chairman for ten years and is a current Director. He maintains an active involvement with many aspects of the Foundation. He is an experienced ocean racer having taken part in numerous ocean races. He holds a current Yachtmaster certificate and took part in 2 legs [10,000+ ocean miles] of the Clipper Round The World Race in 2013/14 which included the Sydney Hobart Race in 2013.
Jay is a keen sportsman. He represented Bermuda internationally in Athletics [in 800 metres as the Bermuda record holder] and Sailing during the 1992 Barcelona Olympics in the Tornado catamaran with his brother Reid. He is a former executive member of the Bermuda Olympic Association and Chairman of Bermuda's Olympic Athletes' Commission and was Chef de Mission for the Bermuda's 1998 Commonwealth Games Team in Kuala Lumpur.
As a Barrister and Attorney, Jay has served on a number of Bermuda Government and Bermuda Bar Association Advisory Committees and has been involved in local environmental activist issues. He is also a founding member and former Director of Centre for Justice.
Malcolm Kirkland
Mr. Malcolm Kirkland was one of the founders of the Bermuda Sloop Foundation, Spirit of Bermuda. He spent ten years [2002 – 2012] working in numerous capacities for the organization. His roles included Programme Designer, Project Manager and Executive Director. His remit involved research, analysis, specification and construction of a purpose-built 118ft sail training vessel, that was culturally relevant to Bermuda, designed and operated to global standards with the parallel development of on-board experiential learning programmes for residential voyages for classes of 21 students and three teachers. He also provided the fundraising strategy, established seed money, capital and operating cost to raise $10m with co-leadership of Bank of Bermuda Foundation and the Government of Bermuda.
Mr. Kirkland is a co-founded of the Bermuda Optimist Dinghy Association [BER affiliate of IODA], designed for year-round, multi-club youth sailing. He has provided parallel work on WaterWise, a public middle school learning expedition using Optimist dinghies. Between 1985 and 1988, he co-led the renaissance of King Edward VII Gold Cup Match Racing Tournament including the first use of commercial sponsorship by the Royal Bermuda Yacht Club. Between 1983 and 1995 he was part of a sailing syndicate campaigning International One Design sloop [33']. In 1986 he was the inaugural National Parks Commissioner and he spent ten years [1970 – 1980] participating in extensive ocean racing and delivery on both sides of Atlantic.
Troy F. D. Lewis
Mr. Troy F. D. Lewis is the President, Partner and Founder of Compu-CAD Training and Services Limited. He has more than 20 years experience in football administration and coaching. He spent some 40 years playing football locally and internationally. He brings to the game, an in-depth knowledge of the technical and tactical component of football. He understands the importance of the infrastructure required to fulfil the goals of a club, programme and team. He uses his expertise to help young people develop their football abilities. His vision combined with his strategic planning skills helped to reshape and reinvent the Young Men's Social Club's [YMSC] Youth Development Programme and stimulated the growth of the Western Stars Dandy Town Programme.
Troy also developed the YMSC's After School Assistance Programme [ASAP] designed to equip young players with tools for success on and off the field. With the support of a local sponsor, the ASAP provides students with homework assistance, helps to develop organizational and study skills, supports positive decision-making and assists college bound students to successfully take the SATs.
Troy's desire to see football develop and grow led him to improve his coaching and football administration skills attaining the following qualifications: Scottish FA UEFA B Licence – currently enrolled; FIFA Futsal Coaching Course; International Coaching Licence – UEFA B Equivalent Course; B Licence, Bermuda; Certified Assistant Referee; National Coaching Association of Canada for Coaching, A & B Licences, Bermuda; and BFUT Brazilian Football Methodology, B & C Licences, USA & Brazil.
Over the years, Mr. Lewis has served the Bermuda Football Associations [BFA] in numerous capacities: executive member; Chairman of Youth Committee; Deputy Chairman of Player Development Committee; Deputy Chairman of Infrastructure Committee; Coach and Head of Delegation of International and Domestic Matches: general Coordinator and Head of the Local Organizing Committee; FIFA Strategic Plan Development and Special Events Coordinator.
Working with CONCACAF, he has served as: General Coordinator CONCACAF Champions League Quarter Finals, DC United vs. Queretaro, USA; General Coordinator Overseer – U20 Women's Group Stage, St. Vincent & The Grenadines; General Coordinator – U20 Men's Finals, Jamaica; Assistant General Coordinator – U20 Men Qualifier, Trinidad & Tobago; General Coordinator General Handbook Creation, Miami, USA; General Coordinator Workshop, Ft. Lauderdale, USA; Assistant General Coordinator – U15 Tournament, Cayman Islands and Venue Manager Observer, Baltimore, USA.
Mr. Lewis has also worked with the Caribbean Football Union as the General Coordinator for the CFU Women Caribbean Cup, Trinidad & Tobago.
Alda M. Raposo
Born and raised in Sao Miguel, Azores, Mrs. Alda Raposo moved to Bermuda in 1961 when she married Norman Raposo.
She always had an interest in health care system and caring for people. Mrs. Raposo began volunteering with the Hospital Auxiliary of Bermuda, the Pink Ladies and Men, in December 1968. She volunteered on Harbour Ward every week for many years. She also volunteered as the decorator of the hospital's gift shop windows and in the coffee shop. She has provided language support to the Bermuda Hospitals Board as an English-Portuguese translator for patients with the limited ability to speak English.
Mrs. Raposo served as President of The Hospital Auxiliary of Bermuda's Board in 2000 and 2001, during her tenure she was part of a team who oversaw the renovations of the Pink Café and the new Barn and she was the Chair of the Hospital Gift Shop from 2006 – 2012.
2016 will mark 48 years of service by Mrs. Alda Raposo to the Hospital Auxiliary of Bermuda, an estimated 13,000 hours.
The British Empire Medal [BEM] was reintroduced in 2012 and rewards achievement or contribution of a very "hands on" service to the community in a local geographical area. This might take the form of sustained commitment in support of very local charitable and/or voluntary activity; or innovative work that has delivered real impact but that is relatively short [three to four years] in duration.
The Queen's Police Medal and the Overseas Territories Medal are awarded for meritorious service.
Read More About