On Monday July 18, the Bermuda Foundation For Insurance Studies [BFIS] awarded $293,000 in scholarship funding to 13 students focused on careers in Bermuda's insurance sector.
This brings the total amount of funding that the Foundation has awarded over the past 20 years to over $5.8 million – all funded by the insurance industry.
The total number of current BFIS scholars now at college is 32, which is a funding commitment of $613,000. Since its inception in 1996, 168 students have received scholarship funding from BFIS and 136 graduates are working in the insurance sector or related industries today.
The BFIS Scholarship Awards Reception, attended by over 90 guests including the Minister for Economic Development, Dr. Grant Gibbons, BFIS donors, trustees, committee members, mentors, alumni, the new awardees and their parents, was held at O'Hara House, courtesy of XL Catlin.
Opening the reception, Gail Martin, Chairman of the BFIS Board of Trustees, said "The Foundation was created with the purpose of providing financial support and guidance for Bermudian students, so that they might have the opportunity to obtain the appropriate education and training in order to pursue an insurance-related career. A large component of this is achieved through annually awarding scholarships to outstanding students pursuing studies relevant to the insurance industry."
BFIS 2016 Scholarship Recipients [left to right] Jevon Swan [Finance / Nottingham Trent], Kayleb Butterfield [Actuarial Science/Western], Megan Knight [Mathematics / St. Andrews University, Carolyn Scares [Business / Wilfrid Laurier], Kimika Jackson [Insurance & RM / St. John's], Jahstice Trott [Accounting / Bermuda College], Dejanee Hill-Edwards [Insurance & RM / St. John's], Zoe Wright [Economics / Bristol University], Tatyana Butterfield [Insurance & RM/Temple], Sinae Smith [Actuarial Science/ Leicester], Marcus Bean [Legal Studies / Kent], Meagan Stecko [Actuarial Science / Western] Missing: Linda Amaral [Accounting / Queen's].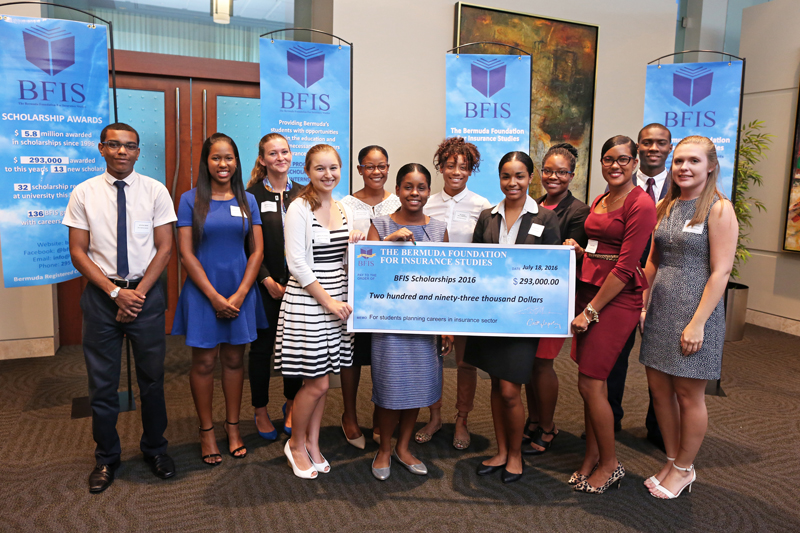 This year also saw 12 BFIS scholars graduate – 6 already employed in the insurance sector in Bermuda, 2 currently in interviews, 2 employed in the London market and 2 returning to college to gain their Masters degrees.
Don Kramer, CEO of lLS Capital and a BFIS Advisory Trustee, presented the BFIS awards together with BFIS Scholarship Committee member and BFIS Alumn, Stephen Jones, who noted that, "Out of the 80 applications, 30 students were selected for interview.
"The committee looks for students of outstanding ability, not only extremely sound academically, but also well rounded, excelling in their individual pastimes of sports, music and philanthropic endeavours, who could clearly articulate their interest in a career in the insurance sector."
Teniko Eve, Co-Chair of the BFIS Mentor Network Committee and said that, "As a BFIS Alumn, I know first hand of the many benefits of being part of the 'BFIS family' that go far beyond scholarship funding."
He went on to thank the BFIS staff, Cathy Lapsley and Jane Bielby, for providing continuing support to all the BFIS scholars. Stressing the importance of developing a network within the industry, Eve  welcomed the new scholars and said they would be meeting Mentor Network Committee for lunch before they went off to college.
Closing the awards were Co-Chairs of the BFIS Alumni Committee, Donita Stevens and Deniece Gordon who said how delighted they were to award the first BFIS Alumni scholarship worth $10,000, having raised the money through events they had held over the past year and stressed the importance of giving back to BFIS by 'paying-it-forward'.

Read More About