[Written by Don Burgess]
A passing moment between the seventh and ninth 200m heats saw Tre Houston and Usain Bolt cross paths at the Rio Olympics.
Bermuda's fastest man ran a 20.85 in his Olympic heat, which was not enough to make it to the semifinals, but Houston was okay with that considering he had spent the past three weeks recovering from an injury.
He said: "It was definitely a setback before coming out here. I knew it wasn't going to be easy, but the last three weeks…but I put in a lot of hard work to get back where I was. I could have run quicker, but I can definitely say I am officially an Olympian now. I crossed the line injury-free."
Screencap via BBC: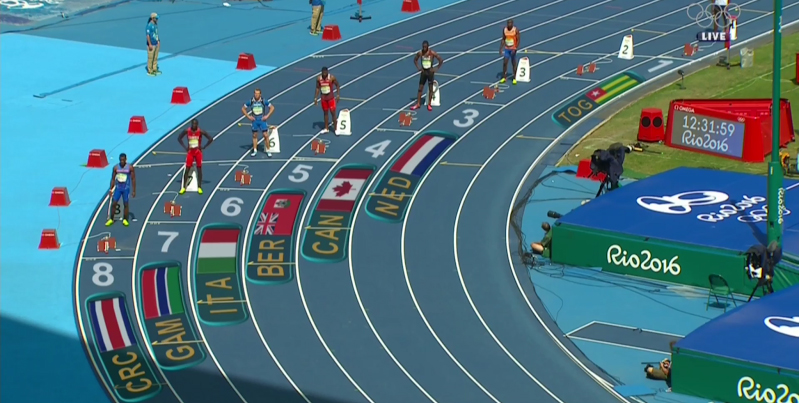 Houston told Bernews: "God definitely brought me back in time to run this because when I got injured I didn't think I was going to be ready to run as it wasn't healing properly."
He mused all things considered, the outcome of running a 20.85, just 0.04 seconds off his personal best was something he could be happy with.
"I was 63rd out of 80, so I am the 63rd fastest person in the world. This is definitely a dream come true for me. I did everything I could that day. I gave my best and that's what I had to offer today."
Houston admitted he did a few things technically wrong in the race but one of those was not his start as he had the fastest start time out of the blocks. "I can always get a great start out of a 200."
He was a bit anxious when he walked into to the packed stadium. "I wasn't nervous until I stepped out onto the track. I said to myself 'This is what you wanted so it's time to go but it felt like someone had sucked the soul out of my body. Once the gun went, it came back and I had to react with it. I got the best reaction time.
"When I came off the bend I was actually looking for some people because there were some quality athletes in my heat. I thought 'Damn, where is everyone at?'
"When we came off the bend and start to transition I felt myself going with them but when we got to 150 I felt like I hit a wall and my form went out the window.
"But I felt strong; I felt tall; I felt my hips were in a good position but I felt like I was lacking the three weeks that I missed, but that was against the best in the world. No one can take that moment from me."
One of the highlights from Tuesday's competition was being able to meet the legendary Bolt who was running two heats after him.
Photo courtesy of Tre Houston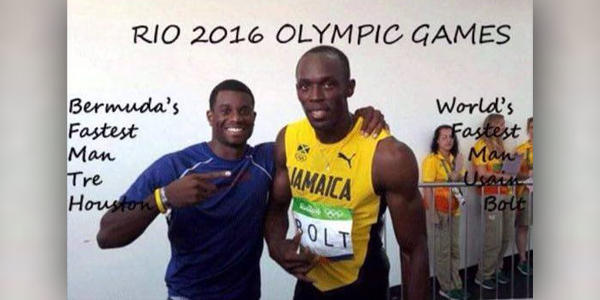 Houston said: "He seemed cool. Just before I went out to run he actually took the blocks out of my lane and moved them. He apologized and said 'I'm sorry' then put them back.
"He seemed very down to earth. I thought to myself "After I run, I'm going to get a picture with him. I caught him at the right moment and he took a picture with me. He said something and I laughed and I carried on with my day."
Now that his event is finished he will get to spend more time with his parents Lloyd and Stacy Van Putton taking in the sights of Brazil.
They were in the stands to watch him compete and cheer him on.
Tre said: "This was also a dream come true for them. I'm happy and they're happy and that's all that matters."

Read More About