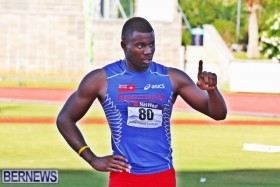 [Written by Don Burgess]
Tre Houston narrowly missed breaking the Bermuda record in the 100m this weekend.
Running in a meet in Guyana, Houston set a personal best 10.28, finishing third in a thrilling dash that saw the top three runners place within 0.03 seconds of each other.
Hosuton, who is representing Bermuda in the Rio Olympics in the 200m, said he felt great before the race started.
"I knew I was going to run quick, but I didn't know how quick. I didn't expect that. The race was exciting and the crowd loved it. We put on a great show."
Houston said it took about eight minutes to get the official time posted and when it was announced he was "happy" as his previous PB was 10.34.
He trains under De-Von Bean, the last man to represent Bermuda in the 100m at the Olympics, and who holds the Bermuda record at that distance in 10.27.
"Everything is coming together for me just in time," Houston said.
He added Bean wants him to break the 100m record as "that is the type of relationship we have."
Up next for Houston is a meet in Trinidad.

Read More About