[Opinion column written by Larry Burchall]
The Airport Project, as proposed, is a bad deal for Bermuda.
First, look at all the facts set out in the Financial Comparison Report and in the most recent hand outs to Parliamentarians on the airport re-development scheme. Then start reading this comment by studying and understanding this chart.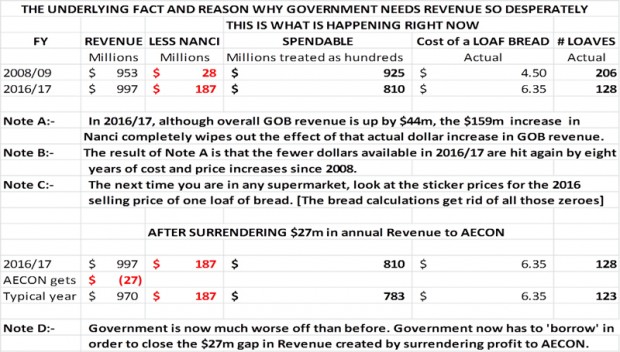 Actions and Reactions are Inseparable
More than three hundred years ago, Sir Isaac Newton enunciated the third law of motion, which said that all actions have reactions. Neither Bermuda nor the Minister for Finance acts in a national or international environment where there are no reactions, no consequences, and no impacts for actions taken.
That's the core problem with this Airport/AECON scheme. The unavoidable consequence of proceeding as shown in the Financial Comparison Report and these most recently released reports on the airport re-development scheme is that it creates an immediate as well as a long-term bad reaction, consequence, and impact on all Bermudians now, and for 30 years into the future.
It helps cripple the next six administrations in the same way that this administration was crippled by decisions taken between 2004 and 2012 by the previous administration.
Overall, it is a bad deal for Bermuda and Bermudians. However, it is a sweetheart deal for that one profit-seeking Canadian corporation – AECON.
Downside Facts and Risks
In the G2G section, one isolated clause alludes to the unstated but never-absent downside risk. "…Sharing of upside revenues above a certain minimum base case level…". In plain language, that's the profit-sharing/revenue-sharing scheme that the Minister never fails to mention.
But what happens if Airport revenues fall below "a certain minimum base case level"? If revenues fall below the level that guarantees AECON's minimum walk-away profit, who makes up the dollar difference? Who?
Although not stated or referred to anywhere in this unnecessarily complicated array of words, tables, and spreadsheets, there is, and in the real world there always is and always will be, a 'loss scenario'.
However, no one has stepped up and honestly described these loss facts. These new reports skate over this.
The concealed and unstated fact is that the Bermuda Government will have to reach into its 'reduced revenue' pot [reduced by the $27m revenue – see chart] and pay out additional Government money [revenue] to give to AECON so that the Canadians always walk away with at least their guaranteed 'base case' profit/revenue.
That's the 'downside' fact.
Loss of Revenue to Government
As clearly and simply as possible, the chart shows why this Government is so desperate for Revenue. Increases in Government Revenue are now slower than increases in Nanci [The full Debt Servicing Costs of Interest + Sinking fund = Nanci].
In FY 2016/17, Government hopes to take in $997m. This is $44 million more than eight years ago in 2008 when Government took in $953m. However, in 2016, greedy Nanci is gobbling up $159 million more dollars than he did in 2008 – when Nanci was happy to be fed a mere $28m a year.
So, as the chart shows, there was no actual dollar increase in what Government ends up with as spending money in 2016/17. In fact, as the numbers in the chart show – and show very clearly – Government ends up with $115m less money available to spend than it had in 2008. less, not more.
But eight years later, in 2016, everything costs a lot more. Relative to 2008, Government's real ability to spend is 62% lower and Government has fewer dollars to start with – $925m in 2008, but only $810m in 2016.
As long as this Government and the machinery of Government carries on with a now thirteen year-long over-spending spree bringing with it a consequential need to borrow, a greedy and growing Nanci will always gobble up any actual dollar increase in Government revenue.
Even as you read this, Government is seeking to build up its 'Revenue' by borrowing a fresh tranche of $665 million dollars so that Government can continue its thirteen year overspending habit and muddle through to 31st March 2017. Without this $665m borrowing, there would be a Government financial collapse caused by Government having zero dollars with which to continue paying for Personnel + Operations + Capital works.
If Government is burrowing [borrowing] into a deeper Debt hole to build up its 'Revenue' in order to muddle through to March 31st 2017, then, Government will be burrowing again to get through to March 31st 2018. Then there is March 2019, then March 2020, then March…..
In 2008, Nanci was easily satisfied with a relatively paltry $75,707 a day snack. Under this administration, Nanci's daily feeding cost has gone from $307,713 a day in 2013 to $513,356 a day in 2016. This administration forecasts that it will go to $541,370 a day by 2018.
Even as you read this, Nanci demands to be fed a daily three course lunch costing $513,356. This half-a-million-a-day cost for Nanci is the first thing that gets funded every day – 365 days a year. Every minute of every hour of every 24 hours.
Nanci's daily lunch comes out of Revenue. With this Airport scheme's proposed giveaway of $27m a year, Government is now planning to give away Revenue of about $74,000 every day – for the next thirty years. Ultimately, that Revenue giveaway has the same mathematical and accounting consequence as feeding Nanci. This is like feeding Nanci a daily lunch costing $587,000 a day in 2016 and $615,000 a day by 2018. Hors d'oeuvres at $74,000 followed by lunch at $513,356 and rising to $541,370.
Government's own Fiscal Responsibility Panel concurs with the analysis just stated. They say that the surrender of Revenue has the same financial impact as a financial expense.
Clearly, very clearly, Government has a chronic Revenue problem. Therefore the very last thing that this Government should be doing is giving away Revenue. It is the very last thing!
But this scheme confirms that Government intends to give away Revenue for thirty years. That's at least $810 million given away [30 years x $27 million a year]. So Government is planning to do exactly the wrong thing – for thirty consecutive years!
Repair, Renovate, Rebuild where Necessary, and Jobs
In Government press releases, when discussing an alternate repair option, AECON suggests: "…GOB would need to borrow $184m to finance urgent repairs and to cover maintenance…".
However, there would be no need to borrow if the newly guaranteed profit/revenue stream that has been promised to AECON was used to fund a repairs, renovations, and rebuilding where necessary operation that is spread over five years, thus costing $135m [$27m x 5 years = $135m available to spend.]
Will a repair etc… program provide jobs for Bermudians? Of course it will. How many? Over time, 250, 300, 350? That's way better than AECON's latest promise which is down to 400 jobs, but with 160 [40%] of those jobs reserved for Canadians meaning only 240 [60%] jobs left over for Bermudians.
AECON produced that $184m figure. AECON suggests that it needs to be done in one year. Why? Especially when an AECON new build would take place over three and a half years.
Additionally, that AECON $184m assessment is a figure put out by a heavily conflicted business organization intending to paint the worst possible picture, thus making its own proposal look so much sweeter.
For AECON or any other intimately involved entity to provide figures for a repair, renovation, and rebuild where necessary operation is a massive conflict of interest. Right now, Government and AECON are the only entities involved.
Last Key Point – Passenger Usage
In 1987, thirty years ago, a much smaller Bermuda Airport Terminal building handled as many as 600,000 departures [1.2m passenger throughput] with about 450,000 Air Departing Leisure Tourists as the base [about 41,000 friends/family + Business Visitors].
In 2015, as shown in Government accounts, LF Wade handled 356,000 departures with a 140,000 leisure Tourist Air Arrivals base [356,000 x 2 = 712,000 total passenger throughput].
If Bermuda's economy and its GDP struggles back up to where it needs to be, then Bermuda can anticipate struggling back up to 500,000 departures [one million throughput]. This aggregate passenger flow would likely consist of about 120,000 resident departures [40% as now] and 380,000 Tourist departures [60% as now].
But that is a tall order. Since 1987, Leisure Tourist Air Arrivals have fallen almost 70%. From about 450,000 [1987] to 140,000 [2015].
This plan assumes that Air Arriving Leisure Tourism [struggling at 140,000 Air Arrivals in 2015] will quickly double and grow [100%] to 280,000/290,000 Leisure Air Arriving tourists. This plan also projects future Air Arrivals figures suddenly running strongly counter to the existing thirty year decline.
In that 2006 report, the people who prepared it projected that by 2020, Leisure Tourist Air Arrivals would exceed 500,000. They were horribly badly wrong. This plan is looking ahead at a Leisure Tourist future that is laden with even more problems than in 2006.
Despite all of that, this report says: "Specifically, passenger traffic would be higher with a private entity operating the airport which will lead to higher accommodation tax revenues compared to the status quo."
Really? Why would 'passenger traffic' be higher simply because a private company is operating Bermuda's passenger Air Terminal? Why?
On 31st August 2016, a JetBlue aircraft landed in Cuba. JetBlue's first scheduled regular commercial flight from the USA is the forerunner of thousands of new flights into the brand new Tourism magnet of Cuba – with millions of Tourists coming from Bermuda's primary Tourist market, the USA.
Currently, Air Arriving Tourists coming to Bermuda must buy $400 a seat flights. Potential Air Arriving Tourists into Bermuda will now have the option of $200 a seat flights into Cuba. Bermuda's problem of attracting more Air Arriving Tourists has grown even larger.
Topping that off, the Minister for Finance Increase the cost of flying into Bermuda. The Minister Increase the cost of every airline ticket by adding $15 to the Airport Departure Tax and tacking on another $6 Airport Improvement Fee. The Minister added a total of $21 to every ticket for every Airport user – including Air Arriving therefore Air departing Tourists.
Why did the Minister do that? In order to increase the profits/revenue stream derived from the Airport.
What will the Minister do with the increased profits/revenue? The Minister proposes to give all of the increase to AECON for the next thirty years.
Does that make sense?
This proposed Airport scheme is a sweetheart deal for the Canadians who stand to receive a total minimum of $810m from a guaranteed thirty year profit/revenue stream.
This proposed Airport scheme is a bad deal for the Bermuda Government who will surrender $810m of desperately needed Revenue in exchange for a $267m AECON built Air Terminal building and, relative to construction work payout, very little national economic stimulus.
This Airport Project, as proposed, is a bad deal for Bermuda. Any further movement should be stopped until a full and honest analysis is done.
- Larry Burchall

20 Most Recent Opinion Columns

Opinion columns reflect the views of the writer, and not those of Bernews Ltd. To submit an Opinion Column/Letter to the Editor, please email info@bernews.com. Bernews welcomes submissions, and while there are no length restrictions, all columns must be signed by the writer's real name.
-


Read More About