[Opinion column written by Larry Burchall]
As though hit by a poisonous gas seeping into the air that we breath, it has happened. Bermudians have begun heading for extinction. Dying off. Bermuda has entered a new era.
Stumbling towards it for over fifteen years, in 2014, Bermudians began dying faster than they were being born. In 2014, Bermuda's death rate for Bermudians finally and materially exceeded Bermuda's birth rate for Bermudians [See the chart].
As reported by the Registrar General in the Annual Report on Births and Deaths in 2014, there were 441 Bermudian babies born in Bermuda; however, as many as 478 Bermudians died. Arithmetic shows that 441 births – 478 deaths = -37 deaths.
So thirty-seven more Bermudians died than were born. So last year Bermuda stumbled into negative birth-rate. From now on, all Bermudians must recognize that born Bermudians are dying faster than they are being born and replaced.
However, that number of minus 37 fewer is only a start number. It does not tell the whole story.
The rest of the story about this disappearing specie [I've written and spoken about this before] involves additional data, most of it un-measured and uncollected. But whether collected and measured or not, the data is still real, still exists, and is now morbidly relevant.
That 2014 Registry General Report shows that the number of Bermudians shrunk by 37. Then there is Bermudian emigration. The Department of Statistics reports that between Censuses 2000 and 2010, it was discovered that Bermudians had been emigrating at the average rate of about 68 per year.
Add that newly discovered and first-time reported negative to this new negative of 37. That's [-68-37 = -105] MINUS 105 a year.
What about students – our sons and daughters – who go off to secondary and tertiary education overseas and then do NOT return? No Government department collects that data. So nationally, we don't know what this vitally important number is. We simply do not know!
However, assume that every year, we send about 250 fresh young Bermudian students to various overseas institutions. That 250 number may be high, it may be low. But you know that a big chunk of Bermuda's young people go away every year.
From that 250, how many eventually return before they're 55 or older? The anecdotal evidence from individuals, families, and friends is that about half do not return. The other half stay overseas, work overseas, marry and start families overseas, and Do Not Come Back to live and work here as Bermudian residents.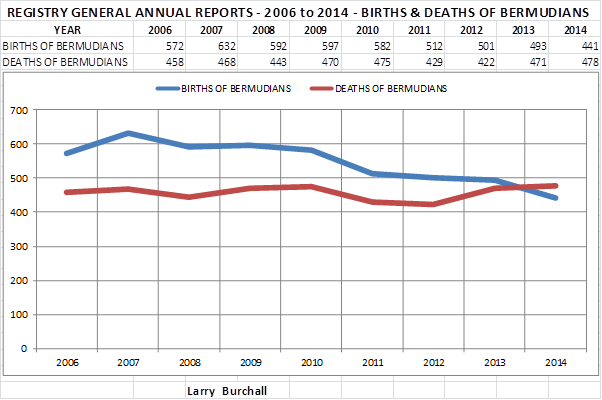 So with perhaps 125 students never coming back; we must add that 125 to the 'birth/death' gap and the emigration discovery. Do that and we get [-125-68-37 = -230] Minus 230. This full set of figures tells us that born Bermudians are probably disappearing from Bermuda at an annual rate of something around minus 230.
The first clear indications of a decline in the Bermudian population of Bermudians appeared in 2000. Since 2000, Bermuda's ResPop of Bermudians has been shrinking, falling, declining.
However, this minus 230 rate of loss of born Bermudians is camouflaged – well-camouflaged – by the granting of Bermudian Status to non-Bermudians. Between 2000 and 2010, the Bermuda Government was granting Bermuda Status, primarily to Spouses, at the average rate of 181 per year. The granting of Status is continuing. With the new PRC thing, could even be marginally increasing.
If that rate of grant of Bermuda Status continues then the final or Net rate of loss or decline in Bermudians changes.
Minus 230 Bermudians a year Plus 180 grants of Bermuda Status a year equals Minus 50 Bermudians a year. So Bermuda's population of Bermudians is really Shrinking at the Net rate of 50 Bermudians a year. But note that this Net minus 50 is Higher than the start-out minus 37.
Small though it may seem, this continued shrinkage is slow economic poison. Driven by this primary shift in a primary factor, Bermuda's economy Will shrink and is shrinking. There are consequential social, political, and racial impacts.
To stop this hidden shrinkage, Bermuda's ResPop of Bermudians must be sustained or stabilized so that Bermuda's ResPop stops shrinking.
Like a house subsiding because its foundations are eroding, this is a fundamental problem that can only be fixed with fundamental solutions.
Either Bermudians suddenly start making hundreds of more babies and staying in and returning to Bermuda by the hundreds; or Bermuda must grant Bermuda Status or invite additional foreign Residents so as to increase ResPop.
This is a dynamic problem and – like babies and death – answers will happen anyhow!
There's much more to this. So watch Bernews!
- Larry Burchall
Read More About