[Opinion column written by Liana Hall]
There is a picture of my father, Julian Hall, that was taken on December 1st 1977 outside the Supreme Court. He had been arguing, alongside Opposition PLP Leader Lois Browne-Evans, in the final appeal against the death sentences for Larry Tacklyn and Buck Burrows.
Despite being Secretary for the United Bermuda Party he strongly condemned the Government's position on the death penalty. He aggressively rallied against the hangings along with thousands of Bermudians who signed petitions.
When their requests to recall Parliament were not answered, Bermudians held their own "People's Parliament" in Victoria Park and invited both sides to hear their concerns. The Government of the day never showed up.
Back to the picture. The hours ticked by whilst the justices deliberated. After returning inside to hear their judgment delivered at 10:10pm, my father emerged from the court and a voice called out from the enormous crowd, "What's the verdict?!"
He responded with a simple action: thumbs down. They had lost the appeal. Hours later, at dawn on Friday, December 2nd, Larry and Buck were hung from the gallows. The last hangings on British soil. The people rioted, Bermuda burned and more people died.
39 years and 15 hours later, I stood fifty metres from where my dad emerged from those courtroom doors. Many of us protesters recognised the significance of December 2nd 2016 and drew parallels to that dark Friday, decades ago, when Bermuda voices went unheard.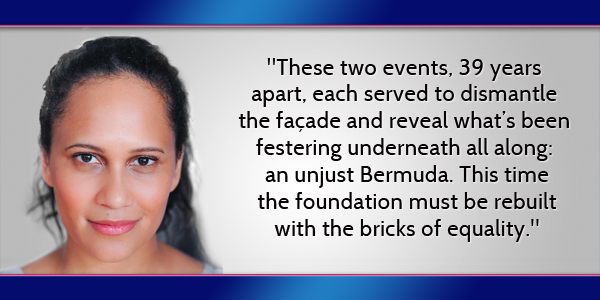 Many others are questioning why we, black Bermudians, felt it necessary to draw attention to this, to talk about the past, to reveal our 40-year-old wounds. We should not have to make apologies for acknowledging a date that has shaped our history and our people.
Recognising the legacy of this date does not mean we wished to incite a riot or "take this country to the brink of anarchy" as the OBA has accused. Demanding our concerns be acknowledged is not a threat. If we do not admit the injustices of the past, history is doomed to repeat itself.
On Friday, I stood steps away from police officers indiscriminately pepper spraying a crowd of unarmed, non-violent protesters. Our harmed seniors were taken back to a Bermuda of the past they thought they'd left behind and one they hoped the youth would never experience. However, when violence happens to us, we are expected "to forget". Forgetting is exactly how we got here.
Days after the riots ended in 1977, Dame Lois Browne-Evans addressed members of the international press saying, "We have swept a backlog of sociological, economic and political inequities under a manicured façade to fester." It seems the façade's 39-year maintenance deal is expiring at a huge cost to us all.
So, why all this talk of race and riots when we're meant to be protesting the airport deal? There have been claims that most us did not know what we were protesting; that we were merely sheep at the mercy of others who put our seniors in harm's way. Seniors who have served this country for decades, who have earned the right to say, 'We've done enough, leave it to the next generation'.
Instead they stand with us to protect the legacy of the rights they won for all of us. "Well led rather than well read" reads a certain editorial opinion. This is a false narrative that discounts our collective intelligence. Teachers and parents were protesting in Warwick over the health and future of their children. We were protesting over the health of the economy and future or our country. Disagreeing with either stance is fair. Justifying aggression by police officers is not.
For those who believe there is no injustice, inequity or unfairness in Bermuda, know that for us there always has been. To explain all the reasons, historical and current, why large swathes of black Bermudians feel disenfranchised would need far more space than this piece would allow.
I know you might not hurt like we hurt. I acknowledge you may not feel what we feel. This has been made clear by the division of responses to the police actions predominantly along racial lines. It's not purely black and white, of course. Not in that regard. Some whites feel that the police were wrong in their actions; other black people believe that they were entirely justified. Social media does not account for everyone, nor do discussions in the grocery store or attendance at cocktail parties.
But, if you're a white person who wants to know more, start with the obvious. Look at the data that has already been collected. Who earns the most? Who earns the least? Who are predominantly blue collar workers? Who are the most educated? Whose children are murdering each other? If you accept that blacks are equally human as you and not the "savages" with "looks that could kill" as some would have us believe, then surely inequality exists and there is an underlying cause we must examine.
Why, then, are we scolded for bringing up racial issues, as though they don't exist? Why are we accused of playing politics with people's lives when politics has always played with ours? Why are we not allowed to express hurt at seeing our family and friends subjected to violence? Because when we do, we're victim-shamed and victim-blamed because we deserve everything we got. Especially when we received it by speaking up and standing strong.
Before you verbally attack us for being rightly traumatised and saddened from Friday's events, remember one terrifying fact for us: we always feel under attack. Because for generations, we have been. And yet we did not retaliate on Friday afternoon. We neither fought nor fled.
Being physically violated or watching that happen to our loved ones should trigger such a human response. But even "wide eyed" and "foul-mouthed" reactions make us "raving lunatics" and, therefore, far from human. The only permitted response is to cower like wounded animals and apologise if we don't.
As for the arguments on the legality of the protest or the police actions, hanging Buck and Larry was legal; it doesn't mean it was right. These two events, 39 years apart, each served to dismantle the façade and reveal what's been festering underneath all along: an unjust Bermuda. This time the foundation must be rebuilt with the bricks of equality.
We may be tired of carrying our heavy hearts, but we will always march forth.
- Liana Hall

20 Most Recent Opinion Columns

Opinion columns reflect the views of the writer, and not those of Bernews Ltd. To submit an Opinion Column/Letter to the Editor, please email info@bernews.com. Bernews welcomes submissions, and while there are no length restrictions, all columns must be signed by the writer's real name.
-
Read More About