[Opinion column written by Erica Rance Mill]
The Bermuda Road Safety council would like to take this time to wish everyone a very safe and joyous Christmas and all the best for the New Year.
We would also like for everyone to read and think about the following message.
It is the season to be merry, but how many of us will take that too far this year and get behind the wheel of a car or bike after drinking too much?
Sadly, because of its social acceptability, drinking and driving is far too prevalent in Bermuda. Too many people give little or no thought to the consequences before turning the ignition key.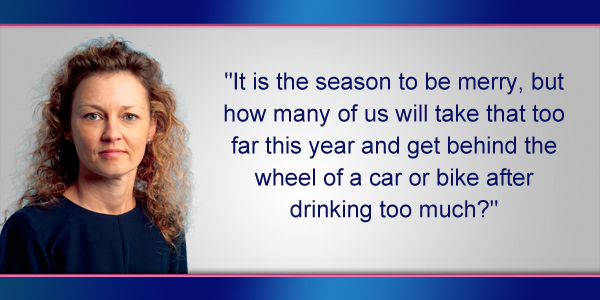 In the last ten years there have been 127 fatalities on Bermuda's roads and of those, 119 were males.
Statistics released by the Bermuda Hospitals Board recently showed that in one month alone, more than 40 people a week were treated in hospital for injuries related to road collisions.
A report from the Department of Health said that alcohol 'plays a major role' in road traffic fatalities, yet despite this knowledge, despite the terrible consequences to our own lives and the lives of those who love us, we continue to disregard the danger that drinking and driving poses.
Alcohol makes us less inhibited – we've all seen the sometimes funny results – but that means we are more likely to take risks. At the same time, alcohol affects our ability to balance and move – we've all seen the drunk who cannot stand upright. It also slows down our response/reaction time.
On a bike or in a car, a combination of these can be lethal.
We expect law enforcement agencies to do their job and come down heavily on those who commit offences, we also believe strongly in the necessity of, among other things, roadside checkpoints for those driving under the influence.
In many countries, the drink driver has become a social outcast who is not tolerated by his or her peers. We hope to one day see this occur in Bermuda. It will take time to get there, but it will be a change that we firmly believe will be for the betterment of our beautiful island.
People need to take personal responsibility for their actions or they need to be made to take personal responsibility and one of the best ways to achieve the latter is through peer pressure.
We are now well into the Christmas office party season when we will see large amounts of alcohol consumed, often by people who are not very used to drinking. We have heard awful stories of the outcome of the colleague that many knew shouldn't drive, but nobody would take their keys.
The Bermuda Road Safety Council cares deeply about the conditions of our roads, and truly urges everyone to be responsible.
But be a good friend or colleague and don't let people you know get into trouble, don't let them make a victim out of an innocent person. Don't let them become another statistic.
Remember seven words that could save a life or the life of another person: think before you drink before you drive. #arrivealive
- Erica Rance Mill is the chairperson of the Bermuda Road Safety Council

20 Most Recent Opinion Columns

Opinion columns reflect the views of the writer, and not those of Bernews Ltd. To submit an Opinion Column/Letter to the Editor, please email info@bernews.com. Bernews welcomes submissions, and while there are no length restrictions, all columns must be signed by the writer's real name.
-
Read More About