The Bermuda Education Network [BEN] announced Tabia Butterfield as the winner of the fifth annual Christian Thunhurst Award.
The award honours Christian Thunhurst, a Casualty Underwriter with Platinum Underwriters and a former chairperson of the Under 35s reinsurance association who died suddenly in Bermuda in January 2007 at the age of 34.
Mr. Thunhurst's colleagues and friends established the award to assist Bermudian students with the costs of overseas education and to provide ongoing support for their professional careers in Bermuda.
This year's Christian Thunhurst Award of $6,000 has been awarded to Ms. Butterfield, who will commence a master's degree in civil engineering at Cardiff University in September.
A bursary award of $1,500 was also awarded to Marcus Henschke, an undergraduate at St. John's University in New York.
Tabia Butterfield, Marcus Henschke and Becky Ausenda, photo by Ann Spurling: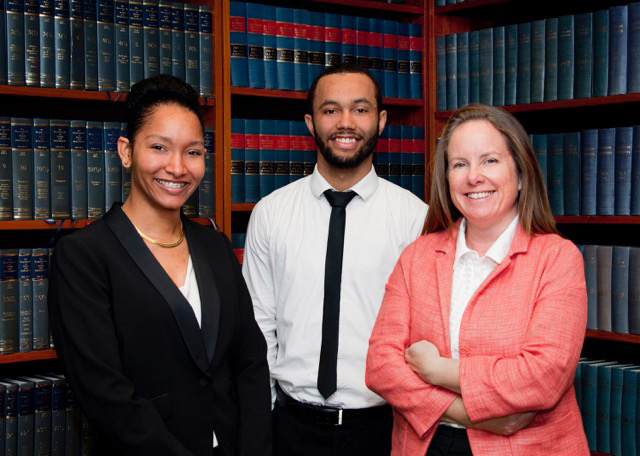 A spokesperson said, "Both winners were students at The Berkeley Institute and became eligible for the Christian Thunhurst award through their participation in the BEN Math Springboard program.
"Ms Butterfield attended the Bermuda College and worked at the MarketPlace prior to embarking on a full time diploma in civil engineering at Seneca College, Toronto.
"Mr. Henshke is in his second year of a bachelor's degree in Risk Management and Insurance at St. John's University and hopes to pursue a career as an underwriter or an actuary.
"Last summer he worked at Validus Insurance in their operations department and was described by the BEN interview committee as an impressive young man with a great future in the insurance industry and a strong commitment to giving back."
Becky Ausenda, Executive Director of Bermuda Education Network and the administrators of the award, said, ""The quality of the candidates this year was outstanding.
"In Tabia's case we were really inspired by how hard she has worked to overcome obstacles and realise her dream of qualifying as a civil engineer.
"She is a remarkable young woman whose many achievements include being the first female intern to take part in the BELCO student scheme. She possesses an infectious enthusiasm and desire to learn which I think embodies the spirit of this award.
"We are delighted to be able to support both of these promising young people with the next stage of their studies."
"BEN thanks Robert and Aurora Porter for sponsoring the award and Rebecca Axe, Dianne Burgess, Sarah Lusher and Elizabeth Amyoony for contributing to the selection process."
For more information on BEN or the Christian Thunhurst Award, call Tracy Astwood at 505-7935 or email tracy.astwood@ben.bm.

Read More About