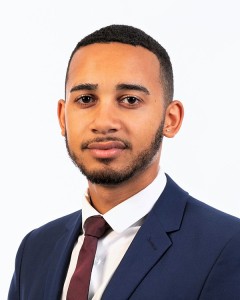 Ryan Robinson Perinchief has been selected as Bermuda's 2020 Rhodes Scholar, with the 23-year-old Bermudian set to study at the prestigious University of Oxford in the UK.
A spokesperson said, "The Bermuda Rhodes Scholarship Selection Committee is pleased to announce that Mr. Ryan Robinson Perinchief has been selected as Bermuda's 2020 Rhodes Scholar. Ryan is the son of Wayne Perinchief and Tammy Robinson of Pembroke Parish, Bermuda.
"In the fall of this year, Ryan will arrive at Rhodes House at the University of Oxford to join the 2020 class of 102 Rhodes Scholars from across the globe. The Rhodes Scholarship is the world's preeminent and oldest graduate fellowship, based at the University of Oxford since 1903.
"Administered by the Rhodes Trust in Oxford, the programme awards fully-funded scholarships each year to students with proven academic excellence, exceptional character, leadership capabilities, achievement in extracurricular activities and commitment to solving humanity's challenges.
"Ryan began his educational journey at Bermuda Institute, ultimately completing secondary school at The Berkeley Institute from which he graduated from in 2014 with triple honours.
"During his secondary school years, Ryan was Head Boy at The Berkeley Institute, a member of the National Debate Team, the Youth Premier of The Youth Parliament of Bermuda and he attended The Johns Hopkins University: Center for Talented Youth. In addition, he won numerous awards for academic excellence, leadership and community engagement, including the National Bermuda Outstanding Teen Award for Leadership.
"Upon completing a year as a Rotary Exchange student in Brazil, Ryan entered Durham University in Durham, England to study law. He graduated from Durham University in 2019 with a First Class Honours Bachelor's Degree in Law and was awarded the John Steel QC Prize for Advanced Issues in Public Law.
"Whilst at Durham, Ryan was President of the People of Colour Association and completed his dissertation on the impact of cannabis prohibition on Black and minority ethnic groups. He was also named one of "Britain's 150 Most Outstanding Black Students" by Powerful Media, a magazine profiling 150 of Britain's most outstanding African-Caribbean students and graduates.
"In Bermuda, Ryan is the founder of Future Leaders Bermuda – an organisation that offers students a range of meaningful opportunities through study, service, mentorship and empowerment, in order to develop the knowledge, experience and leadership skills they need to make a positive change in the community. He also served as National Delegate to the Commonwealth Youth Council and was nominated in 2019 for the Commonwealth Youth Awards for Excellence in Development Work.
"Ryan is currently completing his Legal Practice course at BPP University, Birmingham UK. Ryan has a passion for social justice, advocacy and leadership, and hopes to further these interests through his graduate studies at The University of Oxford."
Mr Robinson Perinchief said, "I am grateful to the committee for selecting me as the 2020 Rhodes Scholar for Bermuda. The complex history and significance of this award is not lost on me and I pledge to honour my ancestors, God and my local community in making use of whatever tools and benefits may come from it.
"In addition to the selection committee, I would like to show special appreciation to my parents, Tammy Robinson and Wayne Perinchief, and my extended friends and family: the Midland Heights Church Crew, the Future Leaders Team, and the community at large, for supporting and believing in me.
"As a someone who is passionate about social justice, advocacy and leadership, I hope to to learn about how to be more impactful by undertaking a Masters in Global Governance and Diplomacy and/or a Masters in Public Policy.
"Additionally, based on the support I have received thus far from the National Secretary, Christie Hunter-Arscott, and other Rhodes Scholars, I have no doubt that this experience is an opportunity for me to be a part of a collaborative and informative group of leaders who are committed to making meaningful contributions to the local and global community.
"Finally, as a Bermudian and the fourth Rhodes Scholar from the Berkeley Institute, I hope to be a source of information based on my own personal experiences and insights that can help those who may come behind me."

Read More About