French challengers for the America's Cup, Groupama Team France, have just released images of the team's very first practice session in Bermuda on their America's Cup Class [ACC] boat, also named Groupama Team France, the high-tech catamaran with which they will compete in the 35th America's Cup in Bermuda.
"For a first time, it's been rather successful, particularly given that there was a fair amount of breeze, 18 knots, gusting to 20 at the start!" said Franck Cammas, Skipper of the French team who were the fifth America's Cup team to set up their base in Bermuda in preparation for the competition which starts on 26th May.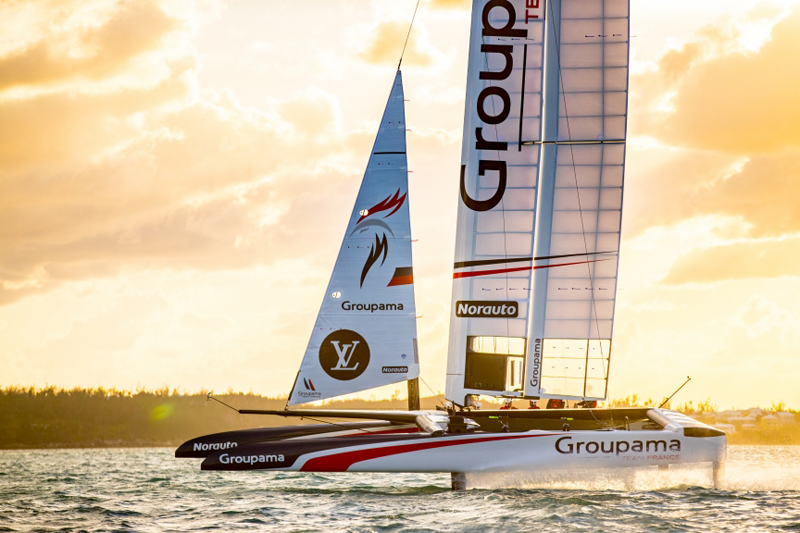 "The whole crew is happy. We had some great sensations. We gradually pushed Groupama Team France harder and harder until we were posting a series of fast legs, both downwind and upwind. However, on this first attempt, we didn't use the boat's full potential, though we did reach 37 knots at one point.
The smiles on the team's faces when they returned to the dock spoke volumes about the success of their first sail.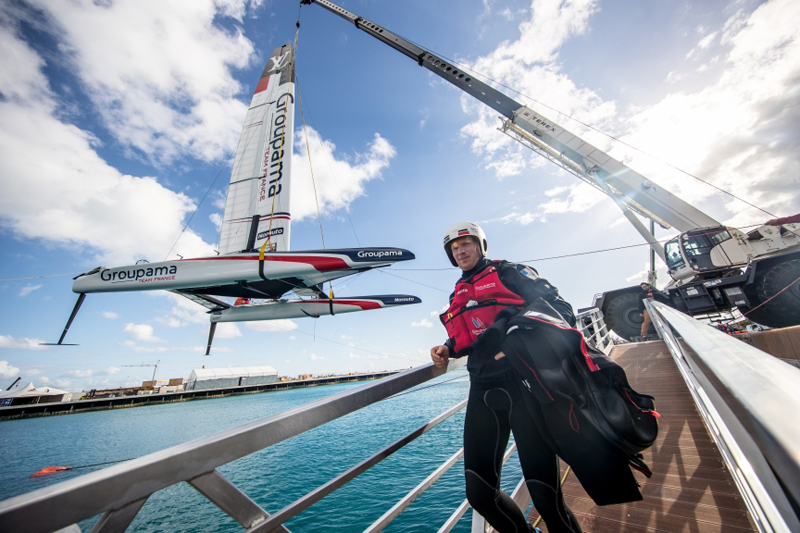 Continuing his debrief, Cammas added "we actually got in 1hr 15minutes of proper sailing on every point of sail. We didn't work on the manœuvres, instead opting to get back to grips with our catamaran down a straight line. The fact that she's bigger [than the team's AC45 test boat] improves the stability. The hulls measure 1.5 metres longer than those on our test boat. We make pretty fast headway and immediately, from the opening tacks, we were able to achieve a good balance. The boat is really very nice to sail."
It was a similar sensation for the most exposed of the bowmen, Devan Le Bihan who said "it's really enjoyable to have finally arrived at this stage of the project and to share the experience with the whole team.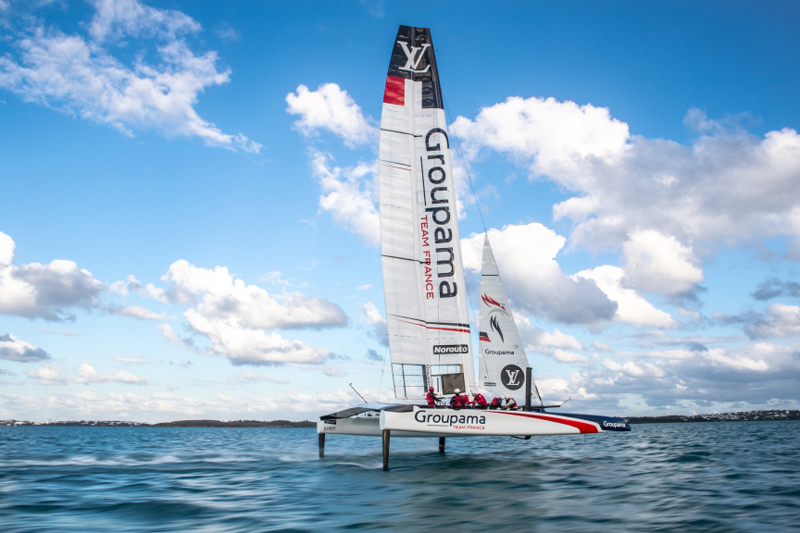 "Today, of course, it was a technical sea trial, but we had a sense that all the developments made to ensure the AC Class is more energy efficient, without having a negative effect on the boat's performance, have borne fruit!"
As soon as conditions allow, the team will start to concentrate on fine tuning the use of their systems in the correct manner and performing more manœuvres on board.
Cammas continues "there are a fair number of developments to be implemented before we reach the full potential of the AC Class Groupama Team France. We need another fortnight for that. In mid-April, our latest generation foils will arrive. In the meantime, the objective is to make the best possible use of every minute we have on the water!"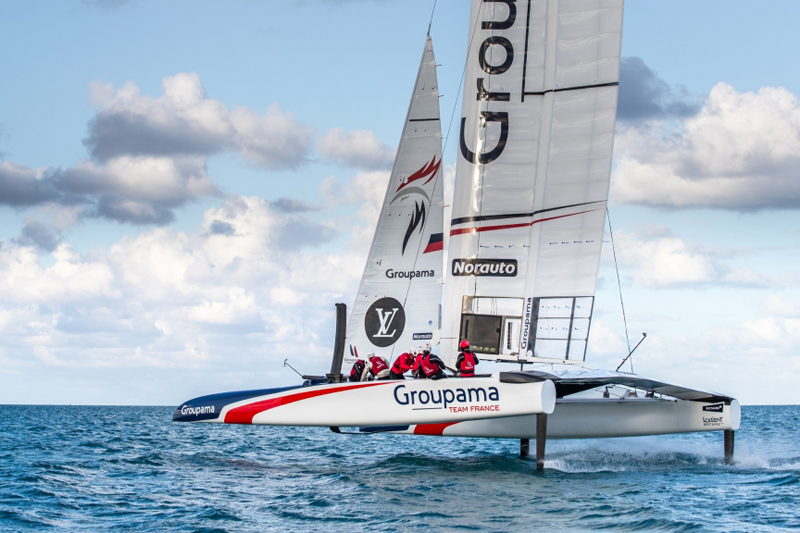 Groupama Team France have also outlined the full complement of nine sailors who will make up the team's race crew. With the total crew on board an ACC at one time limited to six, the French team have appointed nine sailors to their race contingent so positions can be rotated between races, especially for what the team describes as the "very full-on" bowman positions:
Franck Cammas [FRA] – helmsman
Thierry Fouchier [FRA] – Wing trimmer
Adam Minoprio [NZL] – Wing trimmer and replacement helmsman
Thomas Le Breton [FRA] – Tactician
Olivier Herledant [FRA] – Grinder [in charge of generating energy for systems such as wing trimming]
Nicolas Heintz [FRA] – Grinder [in charge of generating energy for systems such as trimming the foils]
Matthieu Vandame [FRA] – Grinder [in charge of generating energy for systems such as trimming the foils]
Arnaud Jarlegan [FRA] – Grinder [in charge of generating energy for systems such as trimming the foils]
Devan Le Bihan [FRA] – Grinder [in charge of generating energy for systems such as trimming the foils]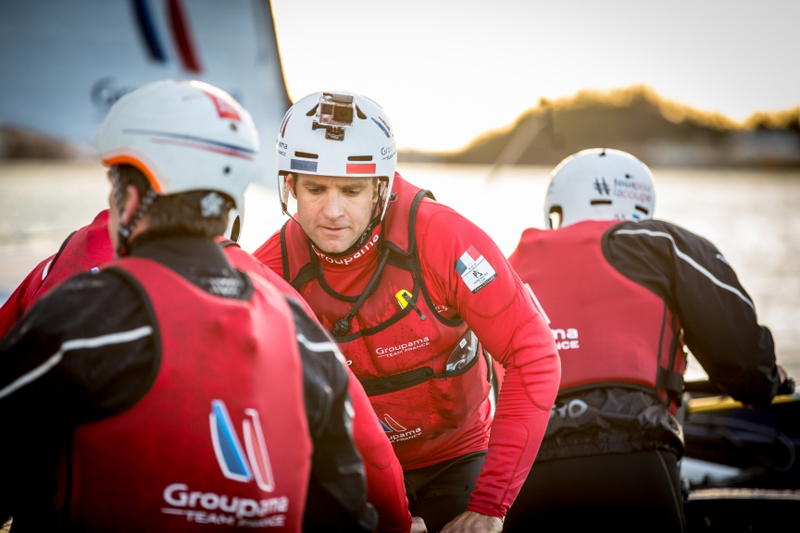 The ACC boat in brief:
Length: 15 metres
Beam: 8.47 metres
Maximum draught: 2.40 metres
Wingsail height: 23.60 metres
Surface area of wing: 100m2
Weight of the wing: 445kg
Weight of the platform: minimum 1,887kg – maximum 1,987kg
Total weight: minimum 2,332kg – maximum 2,432kg
Weight of media and safety equipment required: 149kg
12 headsails
2 T-foil rudders
4 foils permitted
Able to sail in wind of between 5 and 25 knots
Upwind flight in upward of 10 knots and downwind flight in upward of 8 knots of breeze
Peak speed 45 knots.

Read More About