[Written by Piece of the Rock]
Here's the stark reality: Over the past decade, Bermuda has consistently ranked at the top for the number of road traffic fatalities per 100,000 population in the developed world. Yet, little has been done to tackle the problem.Based on recorded data over the past seven years, at least 1 in 5 Bermudians ended up at the hospital for road crashes.
This experience, often casually termed as 'getting a piece of the rock', needs to be viewed as an unspoken epidemic demanding urgent attention of its people.
'A Piece of the Rock' is a new, hard-hitting social media campaign and road safety documentary, which assesses the scope of this national crisis and what can be done to address it. Under the campaign, the first piece of this two-part article attempts to highlight the true reality of Bermuda's road safety condition.
1. Bermuda's drivers are dying at rates higher than the rest of the developed world
According to the 'Health in Review' report 2011 by the Bermuda Health Council, the rate of traffic fatalities per 100,000 population was 28.2 in Bermuda, compared to 9.2 in OECD [Organisation for Economic Co-operation and Development] countries. That same year, the US had 15.4 deaths per 100,000 population and the UK had 5.6 deaths per 100,000.
Bermuda's road fatality rate per 100,000 population was double compared to even Jamaica's road fatality rate. A more recent analysis from 2013, of road fatality rates shows that while the rates have declined for all countries, including Bermuda, the gap between Bermuda's road fatality rate compared to OECD countries has widened.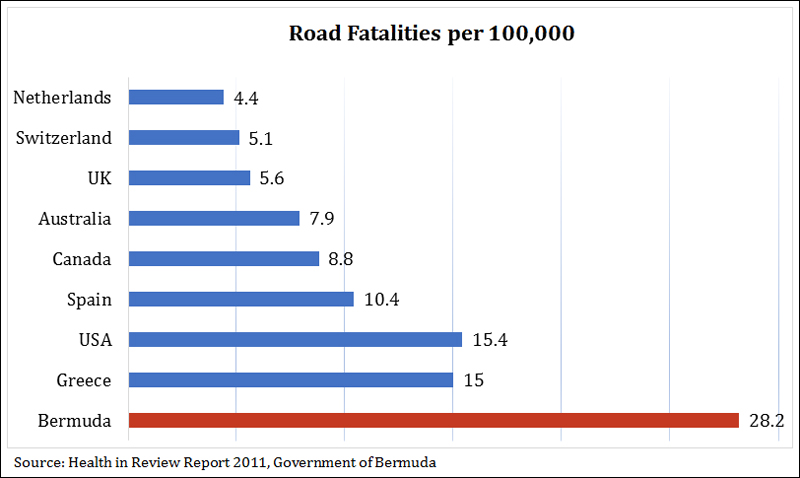 As scary as these statistics seem, they still fail to give us the complete picture capturing the urgency of the situation. For every one road fatality reported on our roads, there are over 200 people who are seriously injured each year, sustaining injuries such as loss of limbs, paralysis, fractures and brain damage. Yet, these cases are seldom reported or in focus.
The psychological and socio-economic impact of these crashes on the person and their families has never been quantified. Between 2009 and 2015, nearly 13,000 people landed in the ER as a result of road crashes, resulting in 43 million dollars in medical expenses. However, these costs do not account for overseas specialized care, rehabilitation and lost wages which also run in the millions.
2. We have road safety laws on the books, but they need to be properly enforced to be effective
Dr. Joseph Froncioni, an Orthopaedic Surgeon and Former Chairman of the Bermuda Road Safety Council, has successfully advocated for tougher laws on sobriety testing. However, existence of laws alone wouldn't ensure a change. Efficient enforcement of these laws through strict policing and actually stopping and testing drivers and riders is required.
"One thing I learned pretty early on in my road safety campaigning is you can have as many laws as you want, but unless they are implemented and enforced they are just ink on paper.", says Dr. Froncioni.
"As part of the Bermuda Medical Society's Road Safety Sub-Committee we successfully lobbied the Government and they eventually passed the Road Traffic Amendment Act- 1997, giving police the authority to demand urine, blood and other body fluids for drug analysis if they suspected someone was driving under the influence. This wasn't enforced – and a vast majority of people who end up in our emergency room drunk as skunks never get tested for alcohol."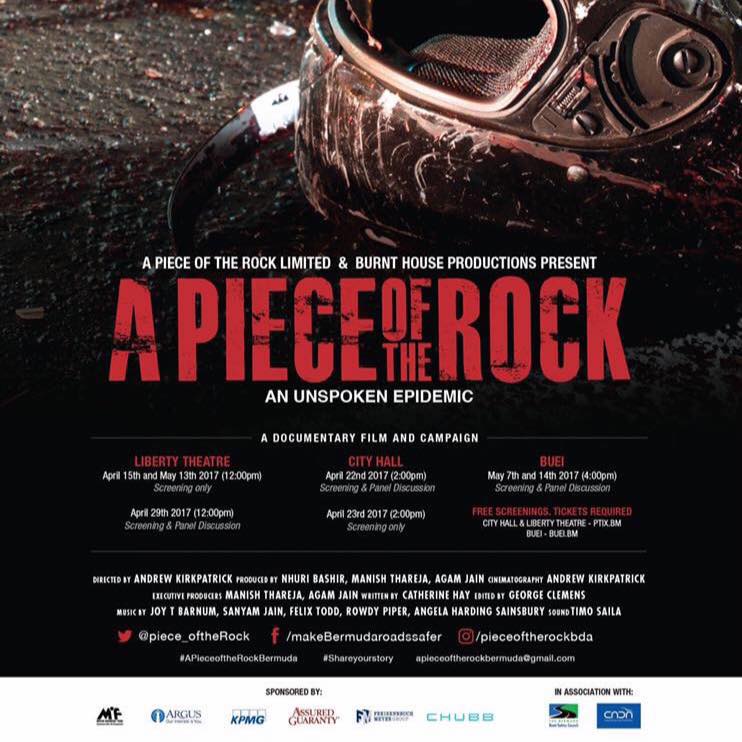 3. It takes little experience or training to get a license, which does not equip riders to be safe on the roads
One of the factors that contribute to our high road fatality and crash rates is the large number of people in Bermuda who ride motorbikes."Bikes are inherently more dangerous" Dr. Froncioni said.
Alison Bardgett, the Newly Appointed Chair of the Road Safety Council, points out that we have little in the way of training that is required before a rider is prepared for the roads.
She said, "In other countries where Graduated Licensing Programmes are legislated, road fatalities have decreased rapidly and significantly. In Bermuda, we have gone from 47,635 vehicles on the roads in 1996 to 91,216 vehicles as of December of 2016. Road safety measures need to catch up with this rapid increase in the number of vehicles.
"Until my daughters did 'Project Ride' when they were 16 years old, I had not realized that we were sending our teens out to ride on the roads with absolutely no on-road training! They rode cones around TCD car park for a few hours, and were told how to stop on a line – that was the extent of their preparations."
4. Carelessness on our roads is a common sight
Inspector Robert Cardwell, Roads Policing Unit, points out that while speeding and drunk driving are huge problems, we also have to tackle with a number of people who are simply not paying attention while driving.
He said, "Driving and riding have become so routine we don't think about what we are doing, we think about where we are going instead and enjoy the ride with nice leather seats and music blaring. People need to take ten seconds before they start their ignition to clear their mind. You have to be aware of what's happening and what could be under that bad driving behaviour.
"That could be everything from overtaking carelessly to not using indicators. You also have to remember you are about to be in control of a potentially lethal weapon [a vehicle] that could kill you or someone else. One of the challenges is reaching out to people with the right information.
"The 18 to 30-year-old age bracket represents the demographic we are losing on our roads to fatalities. They are young adults who don't watch the evening news or read the newspaper, but they do use social media. "
5. Driving under the influence and speeding are culturally accepted
"After moving to the island in 1988 as an orthopaedic surgeon I started seeing what I refer to as 'the wild west' basically on our roads." Dr. Froncioni points out. "People drank and drove with gay abandon and suffered the consequences. The trauma I saw was just amazing"
In our Magistrate Courts the most prevalent type of cases Chief Magistrate Juan Wolfe sees are related to driving offences. "We have traffic court two days per week and it's our busiest court," Mag Wolfe said. "We can have up to 150 people present per session so you just need to do the math on a monthly and yearly basis to see there is a problem with road safety. It keeps us extremely busy."
"We see people in these courts for speeding at 97 to 100 miles per hour. In Bermuda, given our road conditions that's quite widespread and cause for a lot of concern. Driving while impaired is another big issue. We see people coming to court two, three or four times – the recidivism rate for Driving Under the Influence [DUI] is absolutely horrendous."
Alison Bardgett points out that other countries that have successfully reduced their road fatality rates have had to focus on the causes such as drunk driving and speeding. "Europe drastically changed the drink/driving behaviour through legislation and heavy penalties resulting in zero tolerance for drinking and driving," she said.
In the UK, she said, there was much push back after rules became stricter on drinking and driving in 1966.
"Many pubs closed down over the next decade as the drink/driving culture changed and people complained loudly, but the number of fatalities over the last 20 years caused by drinking and driving drastically reduced, and now it is an accepted norm to have a designated driver if you are out drinking. It is socially unacceptable these days to drink and drive in Europe. Bermuda has laws, but it seems they are not as strictly enforced as I have seen in Europe and Canada".
Read More About
Category: Accidents and fires, All, News