A Piece Of The Rock, an independent road safety documentary project run by a handful of concerned island residents, is making the rounds on social media with a series of short teaser videos starting this month.
The full-length documentary, shot by local filmmakers, is expected to be released early next year. The first of four teasers was announced on Monday and has already garnered over 19k views, hundreds of 'likes' and been shared more than 280 times.
Their objective is two-fold: to raise awareness of the dangers and potentially life-threatening consequences of reckless driving on our roads, as well as encourage legislative change and enforcement so more lives aren't lost.
"Our objective with this is to raise awareness and disseminate facts so people are fully aware of the extent of the problem," said creative producer Manish Thareja.
"Not many people are aware that approximately 15 percent of the population of Bermuda has been to the ER due to road traffic crashes in the past five years alone – many of whom are left with severe injuries, which have huge emotional, social, economic and psychological effects on this country."
Agam Jain, also a creative producer, said: "Through our experience of filming over the last several months, we realized that some people are just not getting the full picture through the small number of accidents that get reported through media about their resulting, often long-lasting impact."
"The hospital costs alone from these road traffic injuries have been $37 million since 2009, while the economic cost is considered to be in the hundreds of millions over the last decade," a spokesperson said.
"Nearly 70 percent of road traffic fatalities are caused by drunk driving, which is still largely culturally acceptable on the island. Through this documentary the crew will be exploring this aspect as well as other problems plaguing the island's motorists and what needs to be done to solve them.
"In addition to the teaser videos, the 'Piece of The Rock' team is gearing up to start a social media campaign encouraging residents to share their personal stories of being impacted on Bermuda's roads using the #APieceOfTheRock and #ShareyourStory."
Mr Jain added: "The first teaser we have released will perhaps come as a shock to many people, but this is our reality. These videos and the documentary itself, are merely tools towards a much larger campaign that we need and it boils down to something simple – there must be a change in the cultural mindset.
"We therefore urge people to follow these stories we share through social media and to themselves become the change this society needs."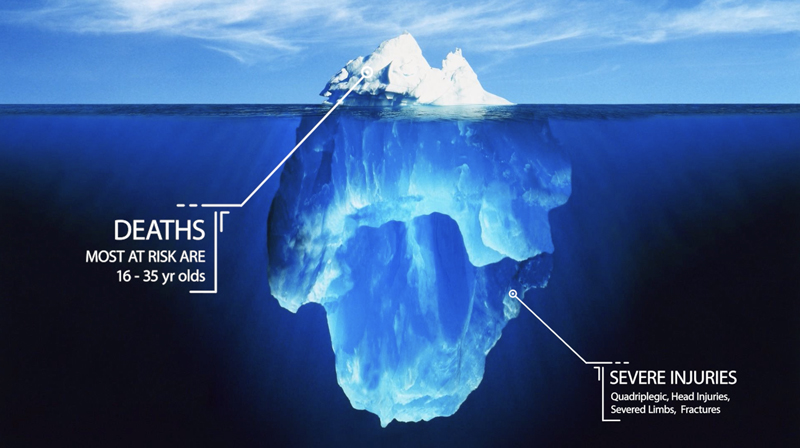 Although an independent effort, both CADA [Council on Alcohol & Drug Abuse in Bermuda] and BRSC [Bermuda Road Safety Council] have been supportive of the film and are expected to join in with spreading the word when the documentary is released.
"Until the release of this documentary, expected next March, we intend to release short videos, vignettes and teasers," Mr Jain explained.
"Meanwhile, we are chalking out details for the campaign itself and will liaise with CADA, BRSC, BHB [Bermuda Hospitals Boards], as well as other social organisations to drive the momentum forward."
A Piece Of The Rock involves a collaboration of expats and Bermudians. Mr Thareja considers it "a great example" of how residents can work side by side to create change that impacts everyone.
"We don't believe Government itself is solely responsible for bringing change," he said. "We are all part of the problem and the solution if we live here and it's our collective responsibility as individuals to do something about it.
"As we see it there are three core issues that need to be addressed through legislative change and enforcement.
"Firstly, to change the culture of drink driving on the island; secondly, to have a rigorous graduated licensing programme for young adults; and lastly, to tackle the issue of speeding by perhaps reassessing the 35 km an hour speed limit and its stringent enforcement through technology and other means."
The film is being produced by A Piece of the Rock Limited, a non-profit company.
Read More About
Category: Accidents and fires, All, News