A Piece Of The Rock, an independent road safety campaign run by a coalition of concerned island residents, announced seven public screening dates for its full length documentary, running throughout April and May.
The hour length documentary, shot by local filmmakers Burnt House Productions, will launch with a kickoff screening at Liberty Theatre this Saturday [April 15] at noon.
Other screenings and panel discussions are as follows:
Saturday, April 22 – City Hall Screening and Panel Discussion at 2pm.
Sunday, April 23 – City Hall Screening Only at 2pm.
Saturday, April 29 – Liberty Theatre Screening and Panel Discussion at 12pm [noon].
Sunday, May 7 – Bermuda Underwater Exploration Institute [BUEI] Screening & Panel Discussion at 4pm.
Saturday, May 13 – Liberty Theatre Screening Only at 12pm [noon].
Sunday, May 14 – Bermuda Underwater Exploration Institute [BUEI] Screening & Panel Discussion at 4pm.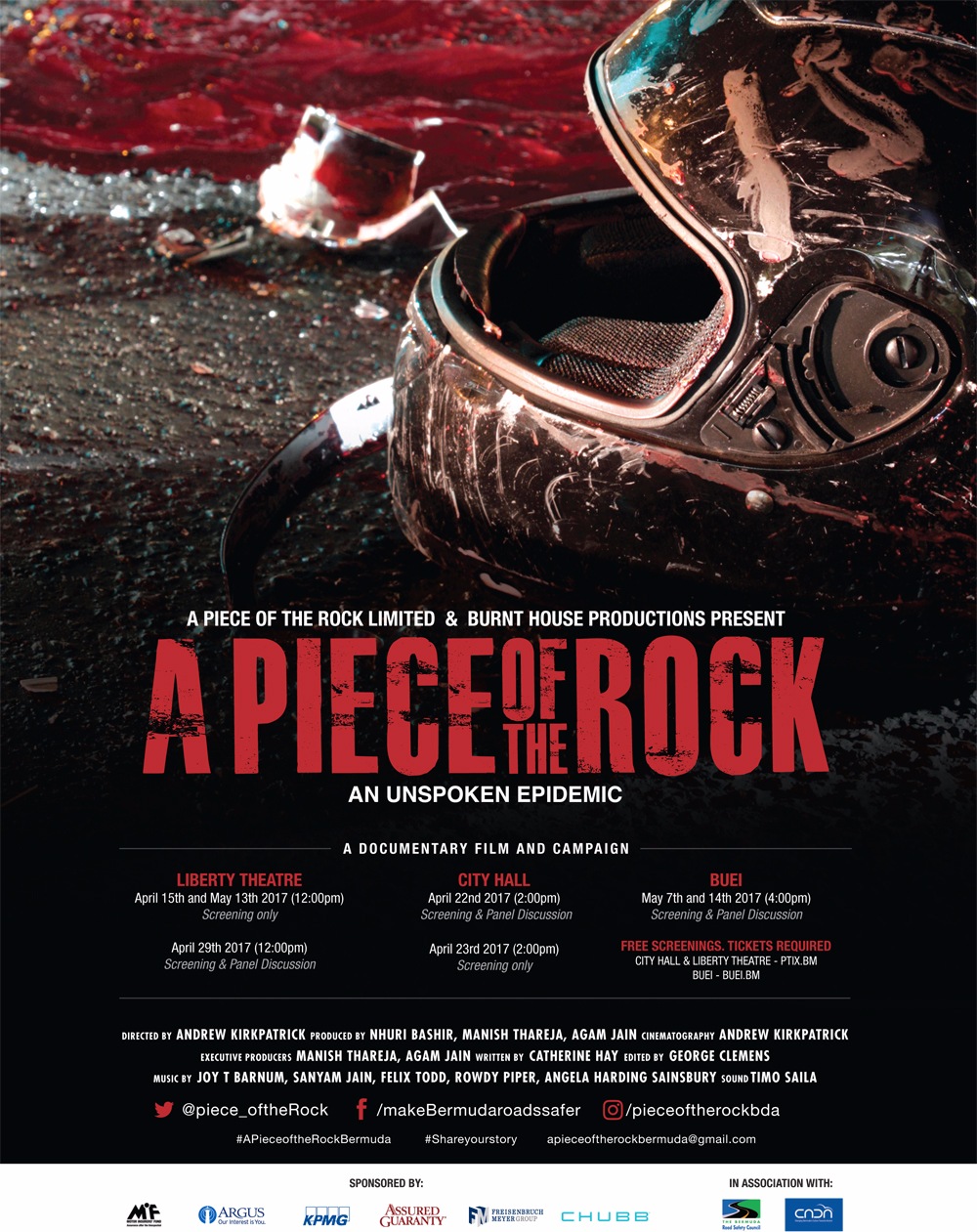 All events are free to the public, however tickets must be reserved in advance on www.ptix.bm and BUEI.bm [for BUEI screenings only].
Producer Agam Jain said support so far has been tremendous, with advocates from a wide-cross section of the community, including healthcare professionals, members of judiciary, police force, politicians and everyday citizens coming on board to help. The road safety campaign is also being run in collaboration with the Road Safety Council and CADA.
"It's been an incredible community effort so far," Mr Jain explained. "We hope that support continues as we show the film at multiple locations over the next six weeks. In our opinion, showing it just once on the big screen wouldn't be enough in terms of the wide reach we'd like this film and campaign to have.
"Road safety is a social problem affecting all of us at many more levels than what meets the eye, so the faster we are all made aware and we consciously eradicate it, the better for Bermuda as a society."
The idea for the documentary was sparked back in 2015. Both Mr Jain and co-producer Manish Thareja lost people close to them due to bike crashes. They noticed how frequently people were dying on the roads in Bermuda – and decided to get involved.
"Bermuda is unique in the sense that everything that happens here is in your face and you can't help but be aware of things happening around you, unless you choose to ignore it," Mr Thareja said. "Signs adorned all the various places people perished around the island; and I knew if I didn't do anything about the problem, I would regret it."
The men approached the Bermuda Road Safety Council and CADA for support. They also enlisted help from Dr. Joseph Froncioni, a leading expert on the issue of road safety on the island, who then introduced them to others passionate about the issue like Robert Cardwell at the Bermuda Police Service and Ali Bardgett at Argus, who was recently appointed the Road Safety Council Chairman
"Without their amazing support, this documentary just wouldn't have been possible," Mr Jain said.
The team thanked their various sponsors, which include local companies, foundations and individuals.
The objective of the documentary is two-fold: to raise cultural awareness of the dangers and potentially life-threatening consequences of reckless driving on our roads, and encourage legislative change and enforcement so more lives aren't lost.
According to statistics, the hospital costs alone from these road traffic injuries have been $43 million between 2009 -2015, and that doesn't include the costs from overseas outpatient care, rehab costs which are also in the millions.
The leading cause of road traffic injuries is speed and driving under the influence of alcohol or other drugs.  Driving under the influence of alcohol or drugs, has been attributed to 70% of road fatalities since 2000 and is still largely culturally acceptable on the island. 
A Piece of the Rock documentary will explore these issues, as well as other problems plaguing the island's motorists and what needs to be done to solve them.
The film is being produced by A Piece of the Rock Limited, a not for profit company limited by guarantee. For more information visit Facebook: A Piece of the Rock. Reserve your tickets to the screening of your choice at www.ptix.bm.

Read More About
Category: Accidents and fires, All, News