Selectors at the Somerset Cricket Club and St. George's Cricket Club met tonight [July 29] to decide who will represent their respective clubs at the upcoming 115th Annual Cup Match Classic and both clubs have now announced their teams.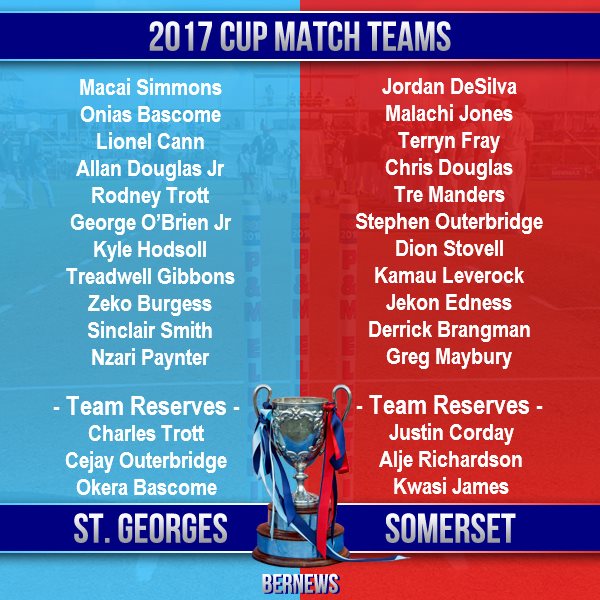 Somerset Cricket Club will again be led by captain Jordan DeSilva with Malachi Jones as his vice captain while St. George's Cricket Club will be led by captain Macai Simmons with Onias Bascome as his vice captain.
Somerset have recalled Dion Stovell and Kamau Leverock while St. George's have recalled Onias Bascome, Kyle Hodsoll and Zeko Burgess, and named one colt in Nzari Paynter. St. George's have also named Dean Simons and Isaiah Greaves as junior reserves.
Somerset Cricket Club Team:
Jordan DeSilva – Captain
Malachi Jones – Vice Captain
Terryn Fray
Chris Douglas
Tre Manders
Stephen Outerbridge
Dion Stovell – Recalled
Kamau Leverock – Recalled
Jekon Edness
Derrick Brangman
Greg Maybury
Reserves:
Justin Corday
Alje Richardson
Kwasi James
St. George's Cricket Club Team:
Macai Simmons – Captain
Onias Bascome – Recalled – Vice Captain
Lionel Cann
Allan Douglas Jr
Rodney Trott
George O'Brien Jr
Kyle Hodsoll – Recalled
Treadwell Gibbons
Zeko Burgess – Recalled
Sinclair Smith – Wicket keeper
Nzari Paynter – Colt
Reserves:
Charles Trott
Cejay Outerbridge
Okera Bascome
Junior Reserves:
Dean Simons
Isaiah Greaves

Read More About