Bermuda College Radio will be hosting a lip sync battle dubbed '90′s Luv' on Saturday, July 15 at 7.00pm at Earl Cameron Theatre.
A spokesperson said, "Bermuda College Radio is hosting it's very first production: '90′s Luv' lip sync battle. The idea came after watching the television show Lip Sync Battle hosted by LL Cool J with the episode featuring Channing Tatum and his Wife, Jenna Dewan. The show consists of two celebrities battling against each other by lip singing to songs of their choice.
"In August of 2016, Nishanthi and L.A, better known as the Class Clownz, launched the third season of the Top 10 @ 10 countdown, sponsored by One [formally known as CellOne]. The lip sync battle was originally supposed to feature Nishanthi vs L.A, but after an interview with Nadanja promoting his 40th birthday show in September 2016, the thought came up about bringing back the 2 Fools, Nadanja and Jah.
"It's the 2 Fools' first time back on stage together since their 'best of 2 Fools: for life show' back in 2006. Since then, the pair have done stand up, dinner shows, and more, but after a five-plus year hiatus, don't call it a comeback.
"They promise to dust Nishanthi and L.A. and claim the title. The show is going to be one for the books; sibling rivalry at its best as Nadanja and Nishanthi battle it out. It can even be a case of the battle of the sexes, as Nishanthi and L.A are two female comedian actress/radio personalities. Either way, it's guaranteed to have you rolling in laughter and singing along to the hits of the 90s.
"Not only is it guaranteed to keep you laughing and singing but it's also for a good cause. Although the four may be ready to battle it out on the stage, they all agree on one thing; to give back to the community – especially for the talented young people of Bermuda.
"All proceeds from the production will go the Bermuda College Fund, Nadanja & Nshanthi Scholarship fund and M.U.L.T.I Scholarship fund. These are Scholarship funds for young people pursuing a career/studies in the Arts. In addition, Bermuda College Radio is having a soft launch of the #LiveInspired/BC Radio 'Dream' shirts. All ticket holders will be able to purchase the t-shirts for the discounted price of $15 before the official launch in August.
"90s Luv, which is proudly sponsored by One and Bermuda College, will be held this Saturday, July 15 at the Earl Cameron Theatre at City Hall. Doors open at 7.00pm, with showtime at 7.30pm. Tickets can be purchased at ptix.bm or by calling/texting 737-7827."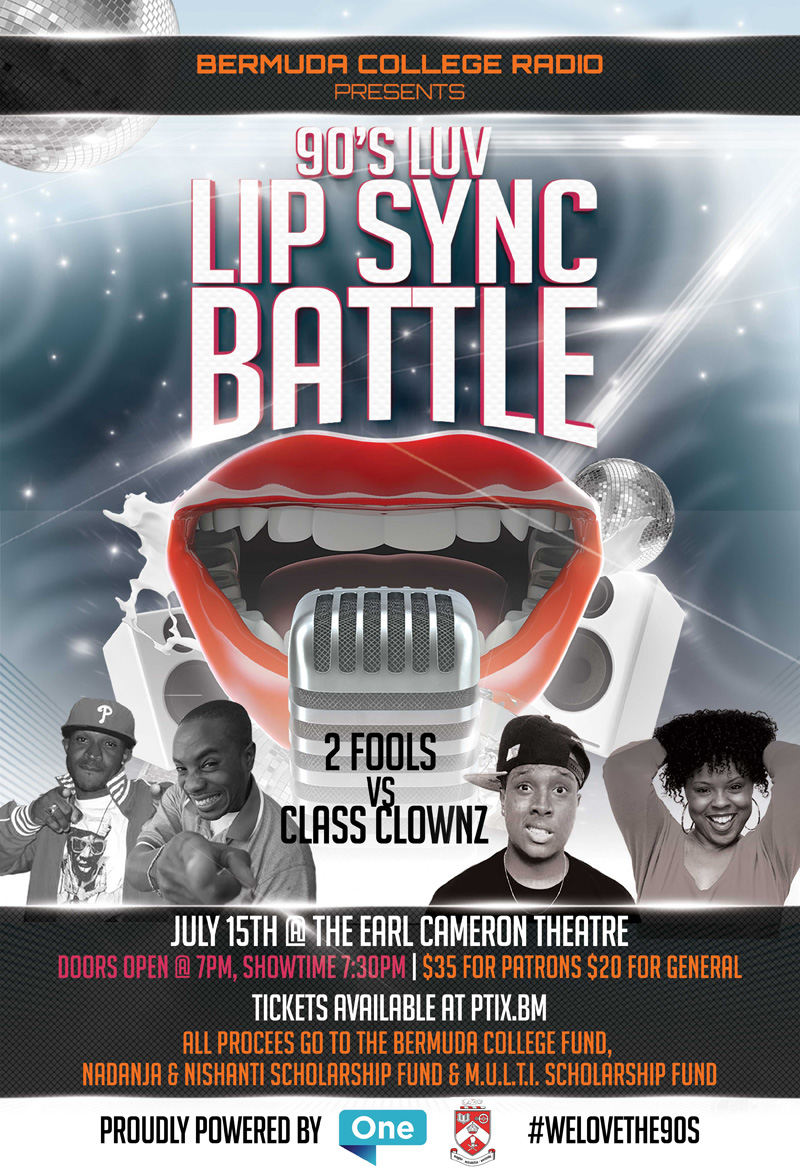 Read More About
Category: All, Entertainment, Music