Today [July 13] the Bermuda Rugby Football Union [BRFU] announced the National U18 Women's Rugby training squad for the 2017 Commonwealth Youth Games [CYG] which will take place in Nassau, Bahamas between July 19th-23th.
Bermuda was invited to compete in the CYG following England's withdrawal from the tournament only 2 months ago. They will face medal contenders Australia, Canada, South Africa and Wales, as well as regional rivals Trinidad & Tobago in the 3-day, 6 team tournament.
"Receiving the invitation to participate at the CYG is truly an honour and also a testament to the ambition of the Bermuda women's rugby program. It is also the perfect opportunity to celebrate the hard-work, dedication and determination of an exceptional group of young rugby players, who are the future of Bermuda's Women's Rugby program," said BRFU President, Sean Field-Lament.
Cherise Woodley, Hannah Marshall, Inshan-Nae Smith, Lysmerie Santana, and Nya Heyliger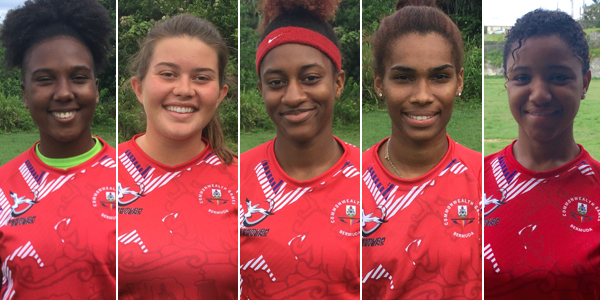 He went on further to say "This is the first 100% Bermudian female rugby team to compete in an international rugby tournament and we are extremely excited about the squad that will be representing Bermuda at the Commonwealth Youth Games.
"We expect tough competition from Australia, South Africa, Canada and Wales but we have selected a strong squad that we believe will be competitive in every game and will be looking to learn from every phase of play against them, and take that experience into the two matches against Trinidad & Tobago."
Due to the strict age requirements for the CYG, a number of athletes were unfortunately not eligible for CYG selection. However, some of those players will travel to Boston 7's tournament with Bermuda's Women's National Team the same week as they prepare to compete in the Rugby American North 7's competition which will take place in Mexico in November.
U18's Head Coach Erica McArthur said, "The BRFU's partnership with Atavus Rugby, and the world class coaching they have provided to all levels of Bermuda Rugby throughout the past few years has been absolutely invaluable.
"We would like to thank the Bermuda Olympic Association for their support and coordination of our participation in these Games and we would also like to thank our sponsors DHL, Akuma and XL Catlin for the support they have provide to the women's rugby programs. Lastly I would like to thank Kelli Nusum for being one of the founders of the Bermuda Girl's Rugby program. She will be stepping away to focus on her career but I am certain she will be supporting us as we build on what she started."
The training squad for CYG has been practicing alongside the senior Women's and Men's U19 National Teams who are also preparing for the Boston 7s and RAN U19 XVs Championships which take place later this year.
The final squad will be announced by McArthur next week but notable inclusions in the training squad are Corrie Cross, Cerise Woodley, Lysmeiri Santana and Haley Place, who all made their Senior Women's 7s debuts last November at the RAN 7s competition in Trinidad, The squad also includes Inshan-Nae Smith and Nya Heyliger who have international experience with Bermuda's National Basketball team.
Bermuda National U18 Womens Training Squad for the 2017 Commonwealth Youth Games;
Corrie Cross [Captain], Israel Bennett, Kadaisha Fox, Bella Greene, Nicole Herrera, Nya Heyliger, Diamond Jordan-DeSilva, Hannah Marshall, Haley Place, Litalia Randel-Odume, Lysmerie Santana, Emily Sinclair, Inshan-Nae Smith, X-onna Stevens, Keonte White and Cerise Woodley.
Coach: Erica McArthur, Manager: Sara Formiglio, Physio: Tyka Edness

Read More About