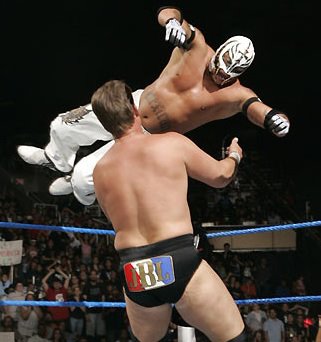 [Updated:] Wrestling superstar JBL's scooter was stolen from the L.F. Wade International Airport parking lot — and fans of the part-time Bermuda resident are saying the thief is lucky he wasn't caught in the act.
"Can you imagine what might have happened?" one JBL follower wrote at an on-line fansite this morning [Nov.30]. "If he'd meted out the sort of punishment he's known for in the ring, I think that Bermuda thief wouldn't need a bike.
"He'd probably be riding around in a wheelchair for a while."
Retired World Wrestling Entertainment champ John Layfield — known professionally as JBL — has rented a home in Bermuda for several years.  He's described the island as  "his favourite place in the world" and is involved in a pilot project with the Family Centre and the Bermuda Rugby Football Union to introduce that sport to CedarBridge Academy and Dellwood Middle School in a bid to counter antisocial behaviour among young people.
The entertainment website TMZ reported the theft of his scooter today: "The longest reigning WWE champion in history — who lives on the subtropical island — tells TMZ, he left the scooter parked in the police lot at the Bermuda airport, but when he returned to scoot back home  the bike was nowhere to be seen.
"Cops are on the case — but sadly, we're told the scooter is probably already long gone … stripped down for parts."
The former professional wrestler told TMZ:  "You can't steal a wrestling god's scooter, don't you know?"
Mr. Layfield's ring persona as a wealthy, gladhanding, big-mouthed, fiery-tempered businessman was based on his real-life accomplishments as a stock market investor.
A regular panellist on Fox News Channel's "The Cost of Freedom", Mr. Layfied [pictured above with longtime rival Ray Mysterio] he has appeared on CNBC, and has written a best-selling book on financial planning called "Have More Money Now."
Mr. Layfield also hosts a syndicated weekend US talk radio programme in which he discusses politics.
He told a wrestling website today his Bermuda rugby project is extremely close to his heart.
"We have coaches that are designed to spot at-risk kids and to spot mentoring problems that need to be addressed," said Mr. Layfield. "So we let them play rugby. To them, it's just a fun programme.
"We also give them an evening meal, and a snack when they get there. We try to help them graduate, we try to help them fit into society a little better."
Bermuda has been home for Mr. Layfield and his wife Meredith Whitney for a few years now — both commute to New York for professional reasons on a regular basis.
And he admits most Americans wouldn't immediately associate the island with troubled youth.
"It's an island like anywhere else," he said. "There's a lot of money in Bermuda. That's where Google and Microsoft, Yahoo, park their money. It's the reinsurance capital of the world. It's a hedge fund haven, it's where people hide their money. There's a lot of very, very wealthy people there.
"But there's also the people [who] have become disenfranchised, and you can imagine how that's exasperating because these kids, just a few blocks from where their gangs are, see these uber-wealthy people. So you're starting to get a little undercurrent of disenfranchised people.
"Most of Bermuda is beautiful because they keep this violence and these problems in a couple of central areas. That doesn't mean it's dealt with; in fact, I don't think it is dealt with."
Update 4.49pm: A police spokesperson said, "At 2:30pm on Monday November 28, police received a report of a motorcycle taken without its owner's consent. It appears that between 7am on Tuesday November 22 and 2:30pm on Monday November 28, a motorcycle was taken from the L.F Wade International Airport parking lot. The motorcycle is described as a navy blue Symax HD125 bearing license plate BV936. Inquiries into this incident are ongoing. Anyone with information or who may know the whereabouts of this motorcycle should contact PC Aaron Caesar on 295-0011."
Read More About