The economy is the foremost issue facing Bermuda and education is the second most important issue for the Island, according to a poll of residents by Total Research Associates.
Total Research Associates said, "In a poll of residents conducted this summer, the economy is identified as the foremost issue facing Bermuda.
"However, education is now the second most important issue for the Island, following a significant rise in mentions since the second quarter of the year. The level of focus surrounding education is now the highest on record for the past decade.
"Meanwhile, employment has shifted down to the third biggest challenge facing the Island and concerns in this regard have notably declined over the past two years. The remaining factors are mentioned by fewer than one in ten, although it is important to note that there has been a considerable rise in concerns about racism in Bermuda over the past four years
"Perceptions of the top issues facing Bermuda vary across the population. Specifically, women are less likely than their counterparts to name the economy as the biggest challenge for the Island as are those outside the ages of 35 to 54, and black residents. In contrast, residents in Pembroke/Devonshire, women, and black residents are more likely by comparison to identify education as the greatest issue.
Chart by Total Research Associates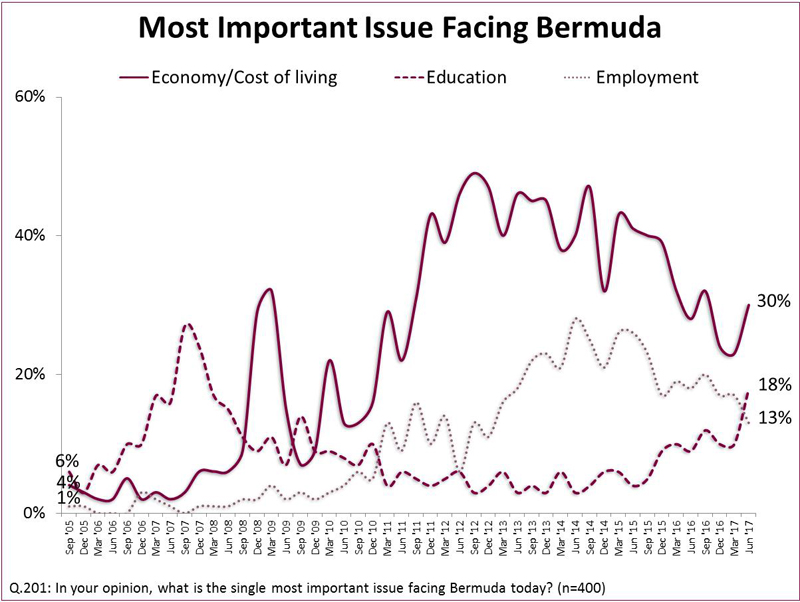 Total Research Associates spoke with 400 residents of Bermuda by telephone between June 29th and July 12th. Results are weighted by age, race and gender to reflect the actual population of the Island and are accurate to within ± 4.9 percentage points [95% confidence level].
Read More About