[Updated with video] Earlier today [Mar 25] the Minister of Home Affairs Michael Fahy announced that the first set of trainees set to travel abroad to study as Automotive Collision Repair Technicians.
The Minister formally presented each of the trainees with their travel package to Boston to attend the New England Institute of Technology [NEIT] to study for the accredited programme.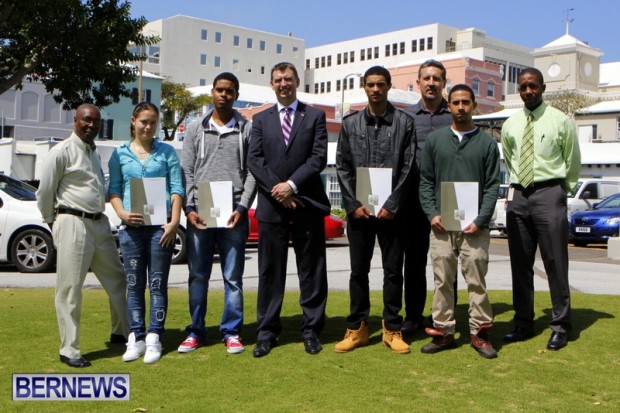 Minister Fahy said, "We recognise that as the economy grows we need to ensure that Bermudians are well prepared and positioned to take on the new jobs, and training Bermudians is a key focus and priority for this Ministry.
"You will have heard announced on several occasions these past few weeks our intent to provide training opportunities for Bermudians by sending them overseas for accredited programmes in the fields of automotive technicians and butchers.
"Today, I'm pleased to introduce our first group of trainees who will be flying out tomorrow to the New England Institute of Technology (NEIT) to become Automotive Collision professionals."
The individuals are Jabari Hollis, Tyree Armstrong, Tyrone Oswald, Stefan Lambert, Davin Clarke-Riley and Summer McGlynn. The Minister noted that this particular area of automotive training is not currently available in Bermuda.
Minister Fahy said, "The proposed training will assist with promoting a sustainable workforce and ensuring future job opportunities for these six individuals in this profession.
"As part of the programme and on completion of their course work, these students will be assessed and tested to prove their proficiency and competence prior to returning to Bermuda. They are expected to obtain an internationally recognised certification that will allow them to compete for opportunities on a level playing field."
Minister Fahy noted that although there has not been a significant change in the number of work permit issuances for professional Automotive Collision Repair journeypersons, "it is clear that requests for renewals are consistent".
He also pointed out that the industry is concerned that the Bermudians currently working in this field are nearing retirement and succession planning either does not exist or there are very limited numbers to fill the eventual void.
"Therefore, our main objective with this training initiative is to minimise the requests for the issuance of work permits and to realise sustainability with well trained Bermudian professionals," the Minister said.
Minister Fahy concluded, "I want to make this quite clear – this Government remains steadfast and committed to ensuring social and economic equity for everyone. And today's announcement is a demonstration of our commitment.
"To Jabari, Tyree, Tyrone, Stefan, Davin and Summer – we say congratulations to you all for taking this major step in your professional careers. You should all feel very proud of yourselves. Certainly, the Ministry of Home Affairs is very pleased to be able to support your goals," concluded Minister Fahy.
Read More About