[Updated] An additional $300,000 has been provided to Bermuda College to increase financial aid for persons who require financial assistance to achieve their educational goals, Minister of Education Diallo Rabain announced this afternoon [Aug 15].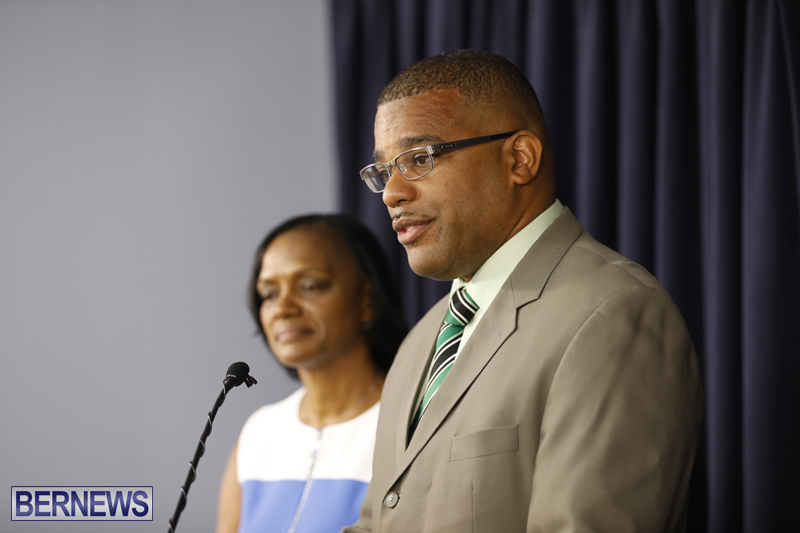 The press conference, with Minister Rabain and Bermuda College President Dr Duranda Greene, has just concluded and we will have additional information later on, and in the meantime the 11-minute live video replay is below.
Update 2.00pm: Minister of Education & Workforce Development Diallo Rabain's remarks:
Good Afternoon everyone and thank you for attending,

You will recall that last month the Hon Premier informed the general public that the Government will be keeping our promise to increase financial support available to persons who may wish to attend The Bermuda College this year.

Today, I am most pleased to announce that in alignment with the Government's plan to increase accessibility to the Bermuda College, an additional $300,000 has been provided to the College to increase financial aid for persons who require financial assistance to achieve their educational goals.

Resoundingly Bermudians have shared with us their expectation to improve public education in Bermuda. In response, the Government will now ensure that enrollment in Bermuda College courses and programmes is accessible.

This increase in additional funding is to encourage persons with limited finances to consider attending the Bermuda College. The intent is also to provide assistance to those students already enrolled in programmes at the College and who are struggling to pay their tuition fees. Therefore, the Government has increased the 2017/18 Bermuda College operating grant of $15.481 million to $15.781 million.

This additional $300,000 will be evenly distributed across the following three categories of study to assist students enrolled in:

i) Non-programme and programme academic division courses;

ii) Professional and Career Education [PACE] programmes. This is a new benefit for potential students. Currently, the Bermuda College does not provide funding for students enrolled in the Division of Professional and Career Education [PACE]; and,

iii) Bachelor degree programmes offered through the Bermuda College.

Financial aid awards will range from 30% to 80% of fees and will be based on the applicant's financial need. Persons will be required to complete an application form that can be found on the Bermuda College website. This week the Bermuda College will be launching a marketing campaign providing further details and instructions on how to apply. College course registration and payment deadlines will be extended.

This Government understands how critically important it is for all Bermudians to have access to a respected and accredited institution of higher education, like the Bermuda College. We are taking the initial steps to provide a clear pathway to educational opportunities for all.

More specifically ensuring that Bermuda College is accessible to all should they want to improve their job skillset, prepare for transfer to overseas universities, or just pursue life-long learning. This Government is committed to make this happen so that students as well as our current workforce are equipped and positioned to meet the rapidly changing local and global demands of Industry.

With that said, I will now let the President of the Bermuda College, Dr. Duranda Greene provide greater detail on how current students and other interested persons can apply for financial aid to support their enrollment for the 2017 Fall Semester at the Bermuda College.

Thank You.
President of The Bermuda College Dr Duranda Greene's remarks:
Good afternoon…

Let me begin by first thanking the Minister of Education, the Hon. Diallo Rabain, and the new Government for this additional funding. Bermuda College tuition is very inexpensive when compared to the cost at an overseas institution, yet there are many that still cannot afford to attend. So this funding will go a long way towards assisting those individuals.

This additional $300,000 will allow us to expand our current financial aid programme to include programme and non programme students taking one or more courses. It will also provide funding for students taking courses through our Professional and Career Education Centre [better known as PACE] which is the workforce development arm of the College.

Courses and programmes under PACE are mostly skills based and include programmes such as: nail technicians, major appliance repair, bartending, medical administrative assistant, hairdressing, certified dining room associate, CISCO IT certification, BOMI Facilities Management certification, just to name a few. Most of these programmes are part-time and offered in the evening. They range in length from one semester to 3 years.

The third category of students that will be supported by this additional funding are those completing their undergraduate degree at Bermuda College with one of our partners, Mount St. Vincent University or Georgia State University. In the past funding has not been available through Bermuda College for these programmes.

At Bermuda College, we believe every Bermudian student should be afforded the opportunity to further his or her education. By student we are not just referring to the recent high school graduate but also those non-traditional students who are wanting to change careers or those that may be unemployed or underemployed and are seeking to improve their skills, making them more marketable. This funding is open to all qualified students whether they are traditional [a recent high school graduate] or non-traditional.

The funds will be administered through our Financial Aid Office within our Career and Counselling Centre and students can apply using the forms located on the College website at www.college.bm.

Awards will cover up to 80% of tuition and fees, based on need, and there are two main criteria: the student much be Bermudian and if the individual is a current student at the College he or she must have a GPA of at least 2.0. The deadline for applications is next Thursday, August 24.

Classes, begin on Monday, August 28, EXCEPT PACE courses which start on Tuesday, September 5.

With just over a week remaining for registration, this funding could not have been injected at a more opportune time; and, I encourage individuals to go to our website [www.college.bm] to see the wide array of courses and programmes that are being offered this Fall.

To accommodate those who are ready to sign up, we have made changes to our Fall sessional dates:-

We've extended the registration period through to next Thursday, August 24. Students will be able to register for classes and make application for financial assistance at the same time.

All late fees will be waived, and

Payment for all classes has been extended to September 1.

For more information check out our Facebook, Instagram or Twitter social media platforms, the College website, the newspaper, or tune in this week to hear radio interviews. We will also have our mobile recruitment station at the Washington Mall this Thursday, August 17, from 12 noon – 4 p.m. You can also call us at 236-9000 or contact our Recruitment Officer, Mr. Thaao Dill, at tdill@college.bm

We look forward to welcoming you on campus this semester.

Thank you.

Read More About