The Bermuda Startup Challenge, led by Chairman Adrian Lodge and Co-chair John Narraway will put a new spin on the annual Startup Weekend event that has been held in Bermuda for the last four years.
With support from the Bermuda Economic Development Corporation and the Department of ICT Policy & Innovation, the Bermuda Startup Challenge 2018 will incorporate the latest technology and the sharpest minds that Bermuda has to offer. The weekend-long event will be taking place from March 16th to 18th at Innovation House on Reid Street in Hamilton.
"The Startup Challenge is designed to bring entrepreneurs with various talents together with the intent of forming teams to tackle problems that exist in Bermuda today and design a business plan to overcome these problems," the organisers explained.
"For this particular event, the focus will be on Business Validation, concentrating on what each team does in terms of analyzing and gauging the feasibility of starting their own business.
"We also have a special guest speaker from the U.S. who is a successful entrepreneur in his own right, James Ellsmoor. James had started a renewable energy company and was named as a Forbes 30 under 30 winner last year."
"Thanks for inviting me to Bermuda to work with the islands' young entrepreneurs! I can't wait to see everything Bermuda has to offer and meet the inspiring next generation," he said.
Mr Lodge explained, "This year we are doing something a bit different where, in addition to services offered to the winners, we are also going to be giving away a People's Choice award which includes a cash prize.
"What we are offering to all residents of Bermuda, is the chance to learn how to take a business idea you have, work with a team and see exactly what it takes to turn that into a reality, with free expert assistance from each of the main areas that you would normally have to pay for: legal, accounting, insurance and technology."
"We would like to thank the sponsors who have graciously offered their support for the local entrepreneurial ecosystem including: BEDC, Department of ICT Policy & Innovation, Digicel, Fireminds, PTix, Innovation House, Connectech, Supatone Innovation, Consultancy House and other service providers in Bermuda. These not only help to keep the event going each year, but also help to keep costs of running the event down."
"Tickets cost $100.00 which can be ordered here. The fee covers great local food, access to exclusive resources from event sponsors, and free swag bags. We also have an Early Bird Special for 25% off if you order before March 1st. Register now and help kickstart your own business venture."
To learn more, visit the website, or call 292-5570.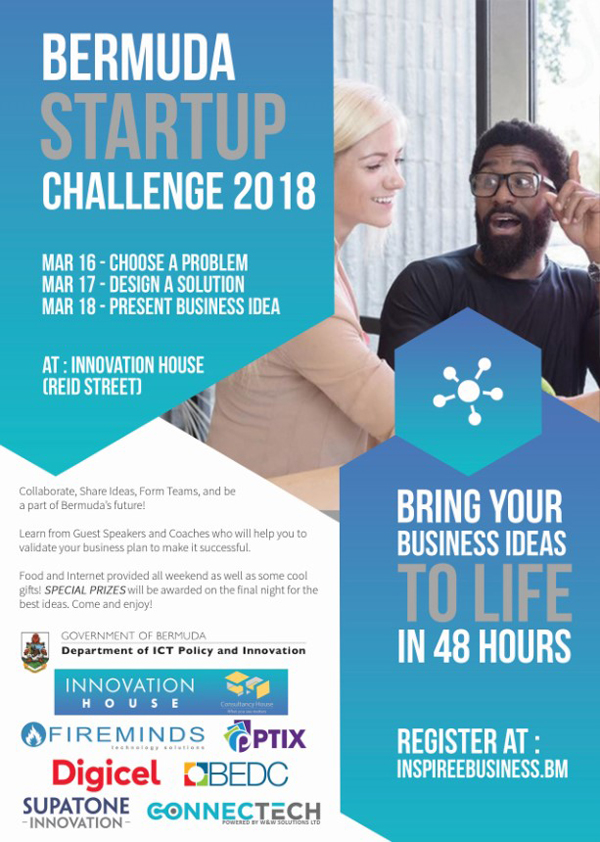 Read More About
Category: All, Business, News, technology