goPoint Ltd is introducing pay-at-the-table technology for restaurants, delivering "another first to Bermuda."
A spokesperson said, "Bermuda's leading payment solutions provider is renowned for introducing cutting edge technology to local restaurants and grocery stores.
"From the company that brought self-service check outs and enhanced point-of-sale [POS] management, goPoint Ltd. delivers another first to Bermuda today with its introduction of pay-at-the-table technology for restaurants.
"The island's restaurant industry is to be elevated with 'Up 'n Go,' the frictionless payments solution for restaurants. goPoint is the exclusive reseller in Bermuda for Up 'n Go."
Dani Dubois, General Manager of goPoint Ltd, said, "Up 'n Go allows guests to pay for their meals from the comfort and convenience of their table and at a pace that suits the guest.
"Using the guest's mobile phone, the guest simply scans a QR code, reviews the bill and pays using their phone. Also, if there are several guests in the same party, the guests can split the check with ease and avoid awkward moments with the server. It is safe, fast and secure."
The spokesperson said, "The company anticipates considerable interest among guests as well as restaurant owners because Up 'n Go is directly integrated with Aloha and Micros, the two most common POS platforms used in Bermuda restaurants. Restaurant owners are also attracted to the technology because there is less investment required in buying remote terminals.
"The new technology addresses a number of frustrations often experienced when dining out. When a guest needs to leave in a hurry to attend an after-lunch meeting, for example, they do not need to wait for a server to deliver the bill. Also, digital receipts can be sent directly to a guest's email address, thus making it easier if they need to expense the meal to their employer.
"The technology is now being rolled out in many Bermuda restaurants including Frog & Onion, The Cloud, Harry's, and Swizzle Inn."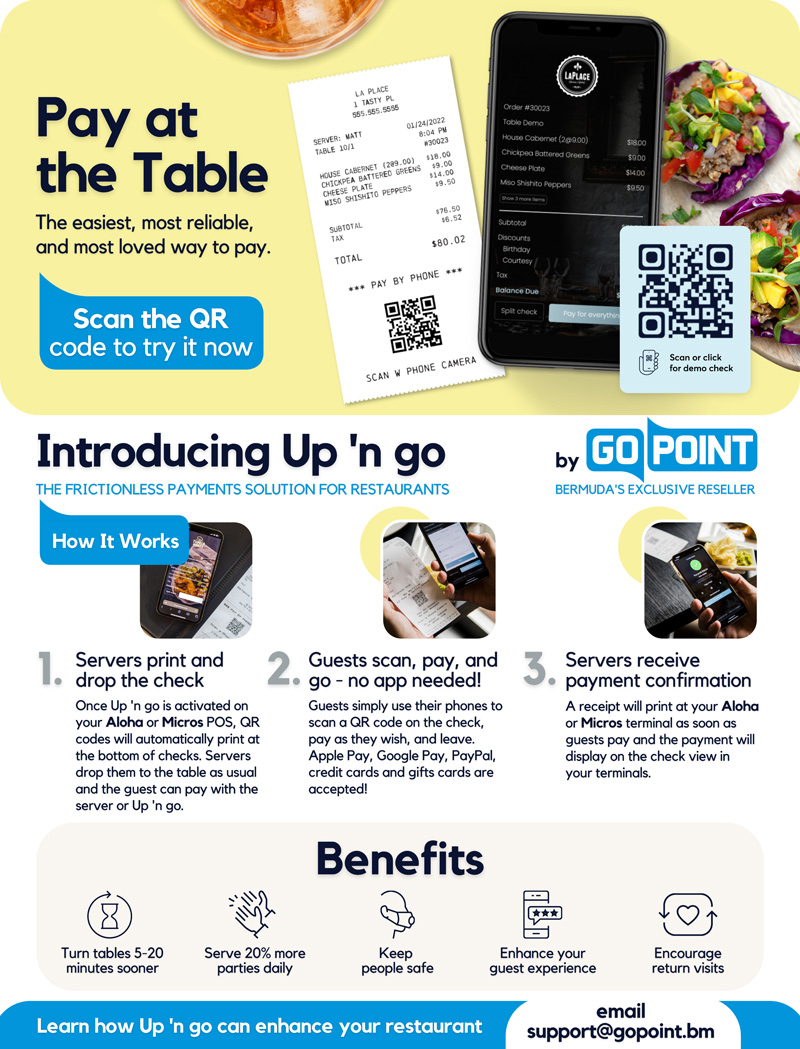 Read More About
Category: All, Business, technology