The Bermuda Economic Development Corporation is set to host a 'Construction Workers' Seminar' at the Bermuda Industrial Union Hall on Wednesday, April 11th, 2018 from 6pm until 8pm.
"The two-hour event will seek to educate the public on the work opportunities available for local businesses through the development of the St. Regis Resort in St. George's and how they can have the best chance at a successful bid," the BEDC said.
"Special guest speaker, Ms. Laura Purroy, the General Manager of Hotelco, Bermuda Holding Ltd. [Developers of St. Regis Bermuda Resort], will be on hand to discuss the upcoming construction project, important work timelines and answer any questions participants may have."
William Spriggs, BEDC's Director of Economic and Co-operative Development, said: "This is an ideal opportunity for those contractors, excavators, builders, electricians, carpenters, tilers, plumbers, HVAC, cabling and networking technicians and truckers to get an understanding of what the St. Regis Resort developers are looking for and how to ensure their business stands out from the competition.
"The BEDC is excited to host this upcoming event and look forward to a successful turnout on Wednesday. There is only limited space available, so we encourage interested participants to register as soon as possible, to avoid disappointment."
The event is free to all who wish to attend, but participants must register first by e-mailing info@bedc.bm or phoning 292-5570. Light refreshments will be available.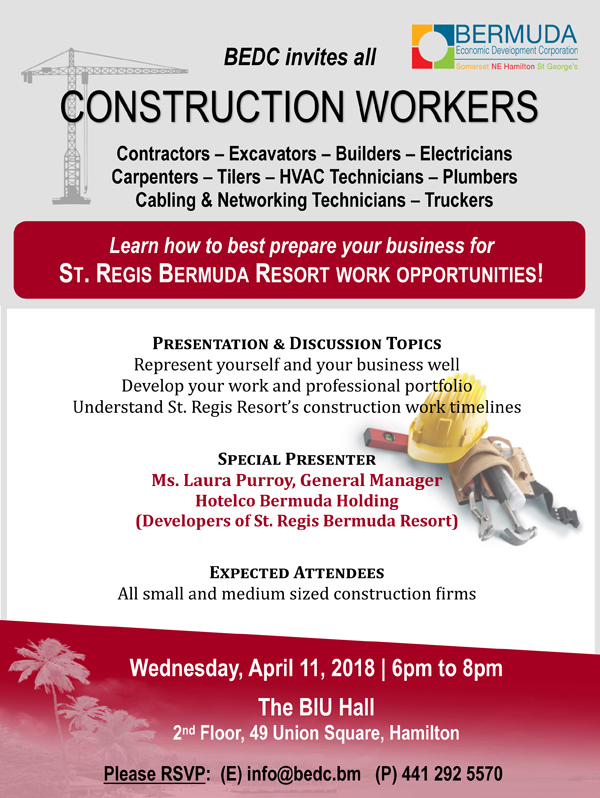 Read More About