Bermuda's Reggie Lambe did not receive an offer of renewal from Carlisle United Football Club, with the Bermudian footballer saying he "thoroughly enjoyed" his two years at the club but "it's time to move on."
The club's announcement said, "United's first team squad was at Brunton Park on Monday morning for meetings with outgoing manager Keith Curle and chairman Andrew Jenkins where the following players were informed that they will receive a written offer of a contract from the club within the next seven days: Nicky Adams, Jack Egan, Mark Ellis, Danny Grainger, Clint Hill, Jordan Holt and Luke Joyce.
"The following players did not receive an offer of renewal: Morgan Bacon, Jamal Campbell-Ryce, Reggie Lambe, Shaun Miller, Tom Miller, Samir Nabi, John O'Sullivan and Cameron Salkeld."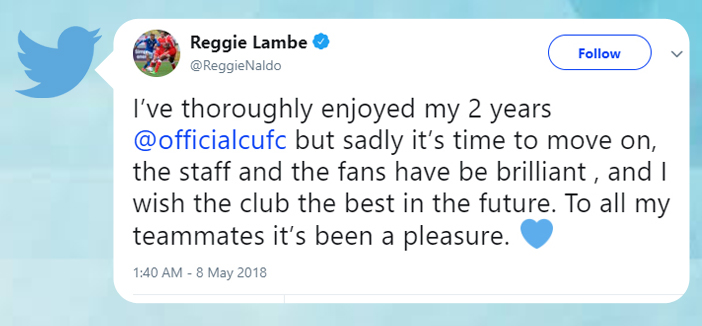 Manager Keith Curle: "I'd like to go on record with a thank you to all of the players who have played for me through my time with the club.
"This season, yet again, every single one of them bought into what we have tried to do at this club and the dressing room has been a pleasure to deal with."
"I met the players with the chairman this morning to give them the opportunity to express how they think their season has gone," he explained. "I also gave them my opinion on how their season has gone, which the chairman endorsed and enhanced … and I think he was also there to make sure I didn't tap any of the players up as well!
"Different managers do things different ways, but I like to see the players face-to-face and give them comments and opinions to help them further their career, whether that's still at this club or somewhere else.
"There was a lot of honesty, which I think is the best way to deal with players. It's not easy to tell someone that they aren't getting a contract offer, but I always make sure that the players who are receiving negative news go away with something to turn into a positive.
"Some players need that, some players don't, but they've all been told to go away and prove me wrong. The fact that we've been through this process as a club shows the mutual respect we have and I know the players who remain here, and who choose to take up the offers made, will continue to be good assets for this club."

Read More About