Updated: The PLP and OBA both won a seat in the by-elections, with the OBA's Scott Pearman winning Paget East and the PLP's Curtis Dickinson winning Warwick North East. As both seats were previously held by the OBA, the PLP increased their majority in the House to 25-11.
The OBA's Scott Pearman defeated PLP's Curtis Richardson to win Paget East, with the OBA earning 461 votes [60.58%] while the PLP got 300 votes [39.42%]. The PLP's Curtis Dickinson defeated OBA's Justin Mathias to win Warwick North East, with the PLP earning 375 votes [55.56%] while OBA got 300 votes [44.44%]

Voters are heading to the polls today [June 7] with the Paget East and Warwick North East by-elections set to take place. The polling stations are Bermuda College Student Centre in Paget for C22, and Bright Temple AME Church Hall in Warwick for C25.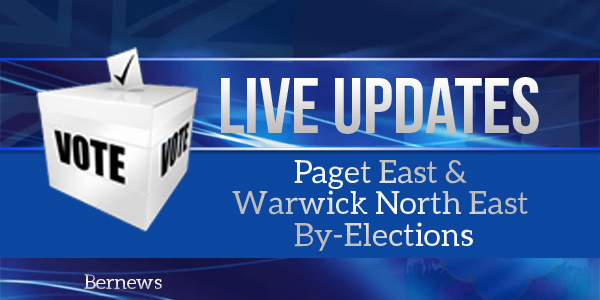 Paget East
Paget East will see the OBA's Scott Pearman match up against the PLP's Curtis Richardson, with the by-election prompted by the resignation of former OBA MP Dr Grant Gibbons. The area is regarded by many as a 'safe seat' for the OBA with Paget East having elected OBA or UBP MPs in the last four elections with winning margins from 64% to 80%.
Update: Results announced in Paget East, where the OBA won
Warwick North East
Warwick North East will see the PLP's Curtis Dickinson match up against the OBA's Justin Mathias, with the by-election called after former OBA MP Jeff Baron resigned.
Warwick North East has elected two OBA and two PLP MPs in the last four elections, with the winning margins ranging from 52% – 57%, so the Warwick seat will be the one that political observers are likely to be watching more closely.
Update: Results announced in Warwick North East, where the PLP won
Possible Outcomes
The PLP won the 2017 General Election by a margin of 24 – 12, giving them a strong majority in the 36-seat House of Assembly. The possible outcomes of these by-elections are the OBA retaining both seats and the breakdown remaining at 24 – 12, the PLP winning both seats and the House moving to 26 – 10, or the parties winning a seat each, and the breakdown changing to 25 – 11.
Update: Video of the PLP's press conference held after both results were announced
Your screen will automatically refresh with the latest updates

Read More About