"It is imperative that the Government seek meaningful immigration reform that includes, as its goal, an increase in Bermuda's working population," Shadow Home Affairs Minister Sylvan Richards said, adding that "it is critical for the survival of our country."
His comments follow after the release of the Bermuda's Population Projections 2016 – 2026 Report, which indicated that from 2016 ‐ 2026, our population is projected to decrease from 63,791 to 63,680 and the proportion of seniors is projected to climb from 16.9% to 24.9%.
The report noted, "In 2016, the old‐age dependency ratio was 24.7 and by 2026 it is projected to soar to 39.9. This means that in 2026 there are expected to be 40 seniors [65 years and older] for every 100 people of working age [15‐64 years].
"During the same period, the youth dependency ratio is anticipated to slip from 21.9 to 20.8. Between 2016 and 2026, the total dependency ratio is expected to rise from 46.6 to 60.7. This measures the working age population's ability to support persons under 15 years and 65 years and over."
Chart extracted from the report: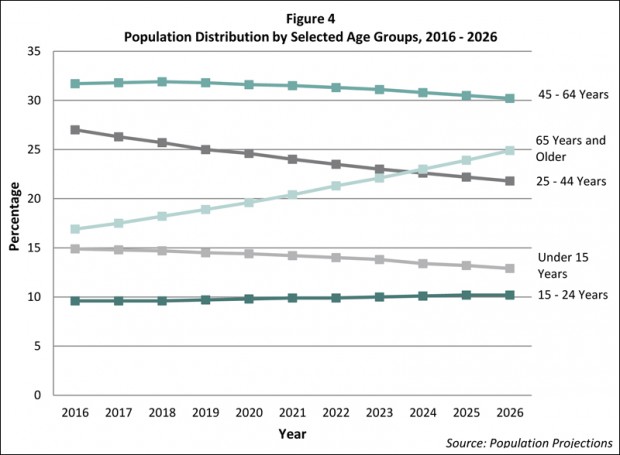 Mr. Richards said, "Recently John Wight, the President of the Bermuda Chamber of Commerce, stated: 'Statistically, every work permit-holder — or wealthy non-Bermudian resident — creates at least one job for a Bermudian.' He continued: 'For Bermuda to prosper, we need to look at our population issue from a balanced and informed perspective: we need a pragmatic approach to immigration.'
"Following on from him was Brian Duperreault who said: 'We have to find a way to increase the number of permanent residents in Bermuda.' Also confirming this sentiment is the Premier, David Burt, who has admitted that Bermuda's resident population needs to grow.
"The recent economic indicators have been very discouraging – falling employment income, a fall in the volume of retail sales and a decline in GDP, a fundamental tool used to measure the health of the health of any economy.
"The overall problem Bermuda is experiencing is that there are not enough able people living and working in Bermuda, which has resulted in lower spending, more supply demand in the housing and real estate market, and lower tax revenues because less people are working.
"Taxes are one of the ways that Government revenue is increased and this revenue is then utilised to pay down the national debt, which is currently running at approximately $500,000 per day in repayments.
"On top of this, there are not enough babies being born to keep the population steady and we have an aging population. This has created further strain on the Government's ability to fund its current expenses without having to borrow more money.
"Other than instituting a 'baby bonus', the only other remedy is to encourage the immigration of job creators and wealth creators to our island, and find ways to entice Bermudians living abroad to return home to live and work.
"This is a sensitive subject, but it is our reality – a reality that the OBA recognized, when we were Government. It is a problem that has to be addressed in order for Bermuda to survive.
"Immigration reform is a complex area with many moving parts. While, the PLP Government has promised comprehensive immigration reform, we have not had any updates as to what specific initiatives are currently being addressed, and we don't know whether any meaningful reform in this area is truly in process.
"It is imperative that the Government seek meaningful immigration reform that includes, as its goal, an increase in Bermuda's working population. It is critical for the survival of our country."

Read More About