The average population size of nations competing in the Gold Cup is over 34 million, and to state the obvious, Bermuda has substantially less people than that, with Bermuda the smallest nation — by far — to have qualified for this highly prestigious competition.
Bermuda is so small in comparison to the other 15 qualified nations that when working out statistics, our percentage of total population and land mass drops down into the percent of a percent realm.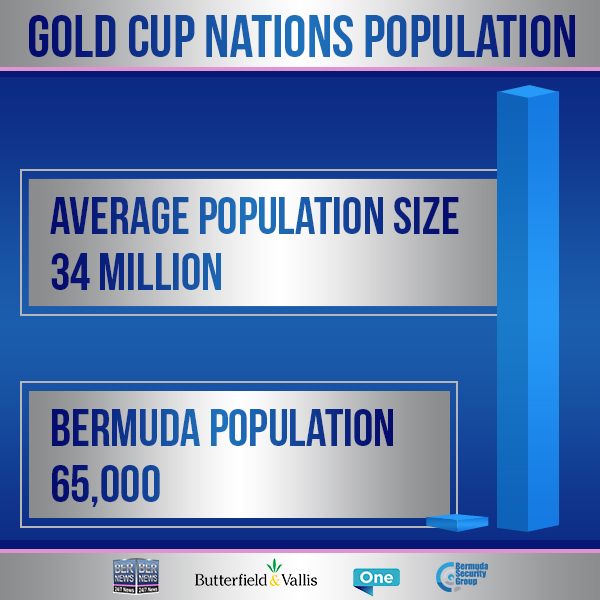 Using statistics from the World Bank, the total population of all 16 qualified nations exceeds 550 million, and on a percentage basis Bermuda, with an estimated population size of 65,000, accounts for only 0.01% of that.
The five nations with the largest populations are USA with over 325 million people, Mexico with some 129 million, Canada has over 37 million, Cuba has over 11 million, while Haiti has over 10.9 million.
The average population size of the group Bermuda will play in is "only" around 5.5 million, as the island's footballers will play against Haiti [population 10.9 million], Nicaragua [population 6.2 million] and Costa Rica [population 4.9 million].
As far as land mass, the total of all 16 qualified nations is almost 9 million square miles with an average of over 540,000 square miles each, and Bermuda's tiny size of 21 square miles equates to just 0.0002% of the total.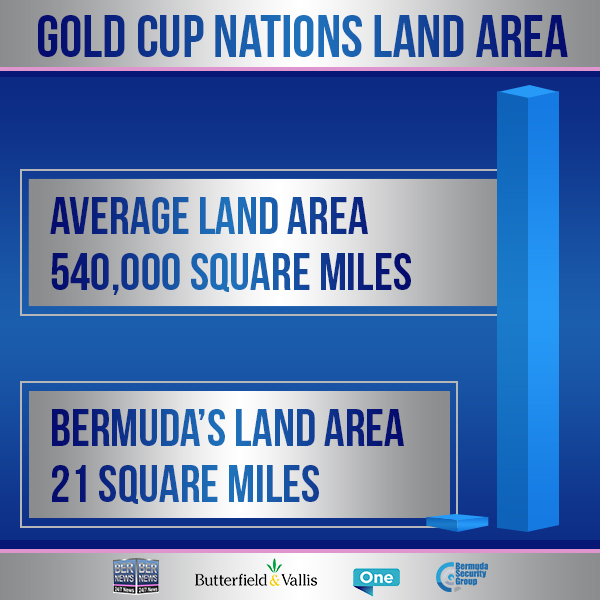 When creating comparison charts, Bermuda is so much smaller that when working to scale the island is not even provided a sliver of a pie slice and bar charts have a similar issue, hence the charts above are for 'entertainment value' only, as we actually had to increase the size of Bermuda's portion against the average just to have it visible, however the accurate charts, done to scale, are below.
Various previews by international media have noted that Bermuda surpassed all odds to make it to this stage, and ESPN gives us just a 0.1% chance of winning, which is actually multiple times higher than the percentage we register for both total population and land mass.
The Gold Cup is effectively the regional equivalent of the UEFA European Championships or the Copa Americana, and small nations generally do not make appearances in any of these major football competitions, and according to the Guardian – in an article aptly titled 'Small but Mighty' — Bermuda "will be the smallest nation outside of Oceania to ever compete in a senior men's Confederation championship."
Charts done to scale of all 16 competing nations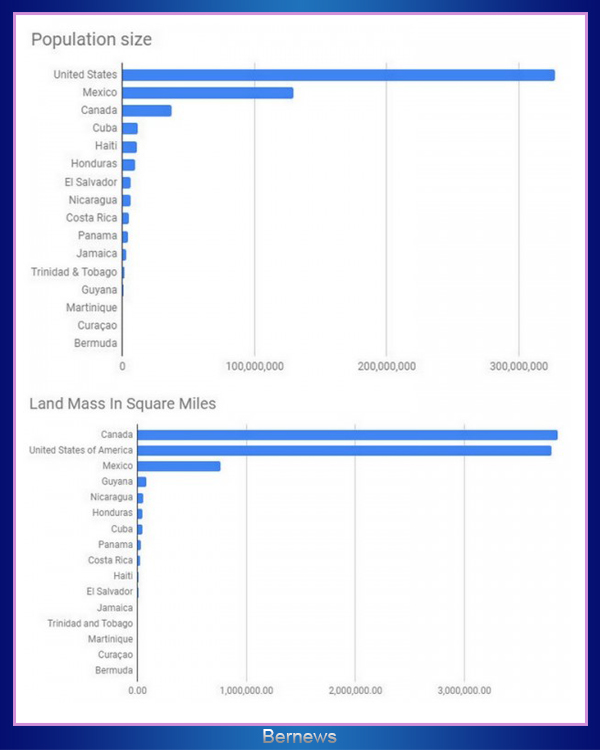 Some of the stadiums hosting the games can seat more people than our entire population, giving Bermuda the rather unique distinction of being the only nation competing that cannot even fill some of the venues, as even if our entire population were to be seated in some of the stadiums, there would still be thousands of seats left over.
On a related note, as this campaign will also see Bermuda play in the CNL, Sports Illustrated noted in an article today that "Bermuda is so small compared to other rivals that when it faces Mexico on November 19 in the Nations League, it could potentially play in an Azteca Stadium that would fit considerably more people than the island's entire population."
As the data shows, Bermuda has exceeded all reasonable statistical probability to qualify, as an island who registers as only a percent of a percent and does not even have a high enough population to fill some of the stadiums, will compete among the biggest and best of the region.
It is a tremendous showing by a tiny island to have come this far, and win, lose or draw, our footballers have already represented the island exceptionally well as they make their historic debut in this competition.
Population and land area data compiled of all 16 qualified nations: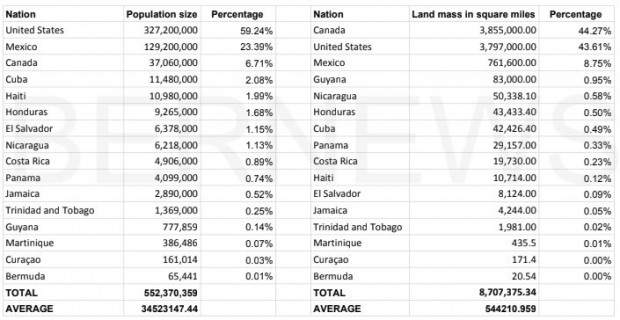 Bermuda's team includes Nahki Wells, Dante Leverock, Jonte Smith, Reggie Lambe, Dale Eve, Oliver Jalen Harvey, Calon Minors, Roger Lee, Kacy Milan Butterfield, Jaylon Bather, Lejaun Simmons, Donte Brangman, Chikosi Basden, Zeiko Lewis, Willie Clemons, Jahquil Hill, Osagi Bascome, Cecoy Robinson, Justin Donawa, Wendell Tre Ming, Liam Evans, Marco Warren, and Quinaceo Hunt.
The Gombey Warriors will take on Haiti on June 16th in Costa Rica, then Costa Rica on June 20th in Dallas, and then match up against Nicaragua on June 24th in New Jersey.
Bernews has a dedicated reporter traveling with the team in order to bring all the latest action and insights, and please feel free to join Bernews new Sports Facebook group for daily updates and 'behind the scenes' coverage as Bermuda makes its inaugural debut in the Gold Cup.

Read More About