An online petition launched by the 'Patients First' group is urging the public sign in order to "vote no to Bermuda Government's rushed health reform."
The petition — which has attained over 2,100 signatures as of this writing – says, "Bermuda, let's take the time to find other viable solutions to reduce health care costs and protect the under-insured.
The live video replay from the 'Patients First' forum held last night:
"Bermuda Government is planning to launch a Unified Health Plan in Autumn 2020. This means a complete switch from the existing health care system."
"Government is creating a health insurance monopoly and will make it law that every person in Bermuda must pay into it.
"Also, unified health schemes usually rely heavily on income tax to be successful. Are more taxes waiting in the shadows to support this plan?
"In government's four-month public consultation the Unified scheme is not up for discussion – Government has already decided, despite evidence that most health care stakeholders are against it because of the likely negative impact on patients quality of care.
"Sign this petition to: Vote no to a mandatory Unified Health System that will impact quality of care without reducing costs.
"Vote no to rushed health reform. When asked for the details of the plan at public forums, the government openly says they don't have the answers. Responsible reform takes time and requires real consultation with all stakeholders. When you vote no, it means more time for everyone to be part of Bermuda's most important issue: health care reform."
A spokesperson previously explained that the "Patients First group Bermuda has formed online through social media, started by associations of healthcare providers joining together to help their patients understand the reforms and to raise awareness of the government's proposal."
Earlier today, the Government tweeted the photo below — which notes that "nothing has been finalized" — with their tweet saying: "After the Bermuda Health Plan public consultation, working groups will be created to consider the feedback and plan next steps."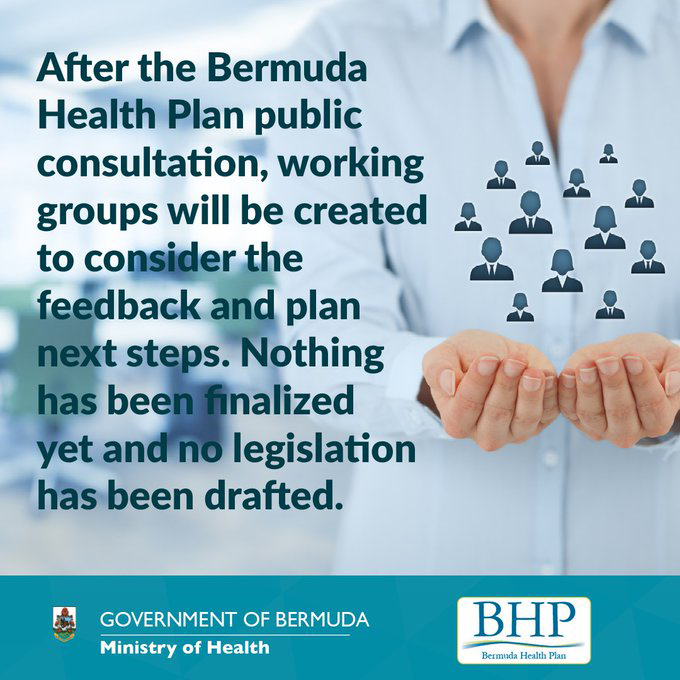 On the Government's website section about the proposed health plan it states, "Our current system of healthcare is expensive and families are struggling to pay healthcare premiums. As a population, there are too many people who have, or are at risk of having serious diseases such as diabetes and high blood pressure.
"The healthcare reforms enhance the overall minimum healthcare coverage provided to everyone – whether it is a Government or private insurer plan. The new coverage will include enhanced benefits such as greater access to primary care and certain prescription drugs. The new Bermuda Health Plan is designed so that Bermuda's residents are able to access preventative care and early treatment.
"Finally, by creating efficiencies in how essential healthcare is financed, healthcare premiums will be maintained at an affordable level, and co-pays will be limited to approximately $25."
You can see the 'Patients First' petition here on Change.org, and you can view the Government's information on the proposed plan here.

Read More About