A group of 12 students from Brandon Hall School Atlanta recently visited the island, where they were hosted by Future Leaders Bermuda in what is set to become an annual cultural exchange between the two organisations.
Students on the Mary Prince History Tour with Titan Express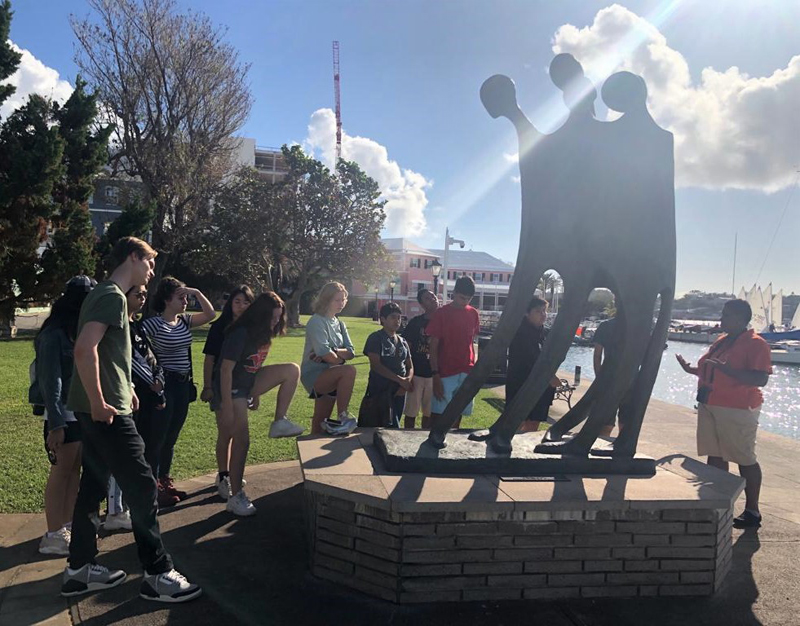 The visit follows an announcement earlier this year that a new partnership between Future Leaders Bermuda and the Brandon Hall Global Boarding School would see a number of Bermudian middle and high school students travel abroad over summer to study leadership and entrepreneurship on an annual basis.
Subsequently, earlier this summer, seven Future Leaders attended Brandon Hall's Center for Global Youth Leadership and Social Entrepreneurial Studies in Atlanta, where they completed the Global Youth Leadership Program.
Ryan Robinson Perinchief, Director of Future Leaders, stated, "When we went to Brandon Hall Atlanta in July to bring the Future Leaders back from their three week program, the school President, Dean Fusto, discussed the idea of reciprocating by having their students visit Bermuda for volunteering and cultural exchange. We decided to push for an October visit, and this first exchange was a huge success."
441Ocean, Greenteam and Future Leaders Beach Cleanup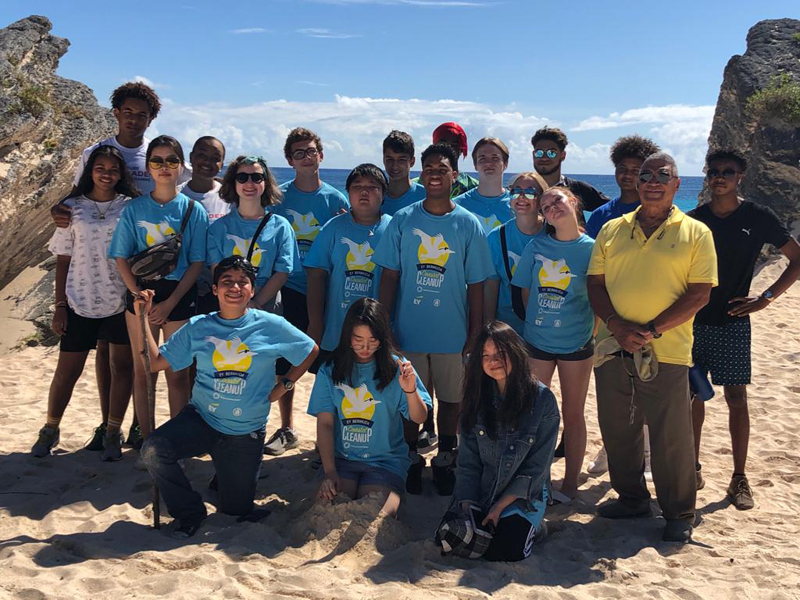 Throughout their week long visit, the Brandon Hall students engaged in numerous community service and cultural activities, including feeding the homeless and assisting at the Salvation Army's Emergency Housing Complex, engaging in a local culinary and history tour, and attending the International Gombey Festival where they assisted in painting Chewstick's 'Gombeys in the Gardens' mural designed by Carlos Santana Dill.
The group was also hosted by the United States Consulate General for lunch at her Cedarhurst Residence – the Consul General having originally introduced the two organisations to each other.
Kristen Bell, Director of Community Service at Brandon Hall School, stated, "Brandon Hall's first service trip aboard to Bermuda was an amazing experience for our students.
"We learned so much about the wonderful island of Bermuda through the cultural activities we participated in during our stay. Our deepest thanks and appreciation to the Future Leaders of Bermuda for hosting us and giving us all an experience we will never forget! We will be back next year!"
Brandon Hall Atlanta Students Visit Future Leaders Bermuda
Robinson Perinchief stated, 'Perhaps the most exciting activity was when the students engaged in a joint beach cleanup with GreenTeam, 441Ocean, and Keep Bermuda Beautiful, followed by a beach BBQ with all the students and Future Leaders.
"441 Ocean is an environmental youth action group which was developed by Future Leader Jaiden Furbert-Jacobs while he was at the Brandon Hall program this summer – so bringing the Brandon Hall students back to Bermuda was a real opportunity to put some of the students' ideas and projects into action as well as combine our different groups in a fun and engaging way.'
"Overall, thanks to all our community partners and mentors. With plans already in motion to double the number of students participating next year, we hope this cultural and educational exchange between Bermuda and Atlanta will continue to grow in the years to come."
Future Leaders Bermuda aims to empower passionate young leaders and arm them with the skills they need to make a positive impact in Bermuda and the world today. The organisation offers students a range of meaningful opportunities through study, service, mentorship and empowerment, to develop the knowledge, experience and leadership skills they need to make a positive change in the community. For more information, email info@futureleaders.bm or visit their website at www.futureleaders.bm.
Read More About