Future Leaders Bermuda is hosting its "Community Give-Back: Back to School Fun Day, Extracurricular Fair, and Vendors Market" this Sunday at the Berkeley Institute from 11.30am to 5.00pm, and have launched a webpage outlining a variety of workshops, entertainment, community services and vendors that will be on offer.
A spokesperson said, "We recognise the past year has brought increased hardship on many Bermudian families, businesses and community groups. Our organisation has sought ways to support those in need and bring the community together with the aid of our platinum sponsors, HSCM Bermuda. As part of our charitable initiatives and as a thank you to the public, we are planning a Community Fun Day, Extracurricular Fair & Vendors Market in advance of the new school year.
"We are inviting all persons to visit here to view the lineup for the day, along with details on parking, arrival and Covid protocols, to ensure a smooth and safe event.
"We will also be giving away 500 backpacks and stationery kits, with a variety of vendors and entertainment on offer, along with various community services and educational workshops.
Some of the Free Community Services available include:
Adventist Community Services – health screenings and hardship support
Bermuda is Love – School uniforms clothing drive
Open Airways – Asthma spacers and resources
WeBlead Bermuda – Menstrual products
St. John Ambulance – Medical coverage and education
Future Leaders Bermuda – Back to school bookbags, bookmarks and stationery
Barbers – Kellan Lewis, JaJa VanPutten, Antione Lugo and Canterbury Richardson will also be on hand to provide free haircuts. We ask that students come with hair washed before.
Free workshops include:
Applying for Scholarships by Future Leaders Bermuda – 12pm
Blockchain in Bermuda by Bermuda Crypto Network – 12:45 pm
Counselling and Community Services by The Family Centre – 1:30pm
Personal Finance by Future Leaders Bermuda Sinae Smith – 3:15pm
How to Make a PATI Request by the Information Commissioner – 2:15pm
Overnight Software Engineer by Jahde Eve of Code441 – 4pm
"The event will take place on Sunday, August 29th with the Berkeley Institute school field and gym being open from 11:30am until 5pm, with Future Leaders volunteers on hand to marshal persons through the entrance and ensure all Covid protocols are observed. Details on parking, crowd control, workshop schedules and other logistics are all listed on our website here.
"We would like to thank our corporate partner Bernard Opoku & HSCM Bermuda for their support of our organisation, along with Craig Bridgewater & The Berkeley Institute, Daniel Woods & Off-Level Entertainment, Shiona Turini, Access Care Ltd, Kellan Lewis, Antione Lugo [Barbermoncuts], JaJa Vanputten [Kitas Barbershop], Canterbury Richardson [D'Box Hair Studio] and all our community partners.
"Additionally, we want to give a special thank you to all the civil servants who worked behind the scenes to ensure all the necessary arrangements were in place to make this event possible."
For more information, visit here.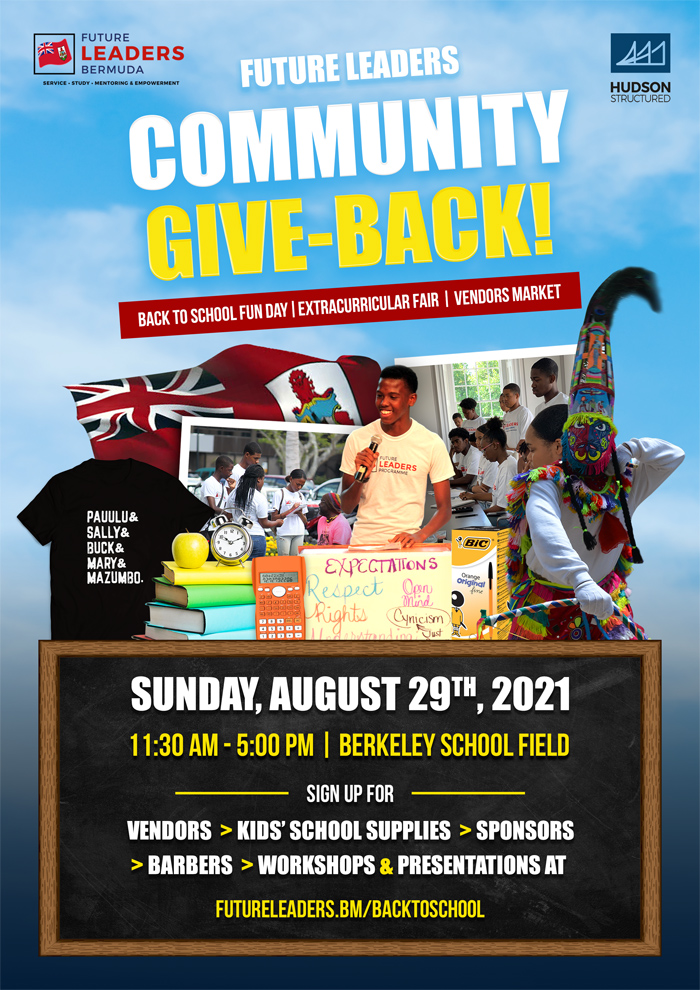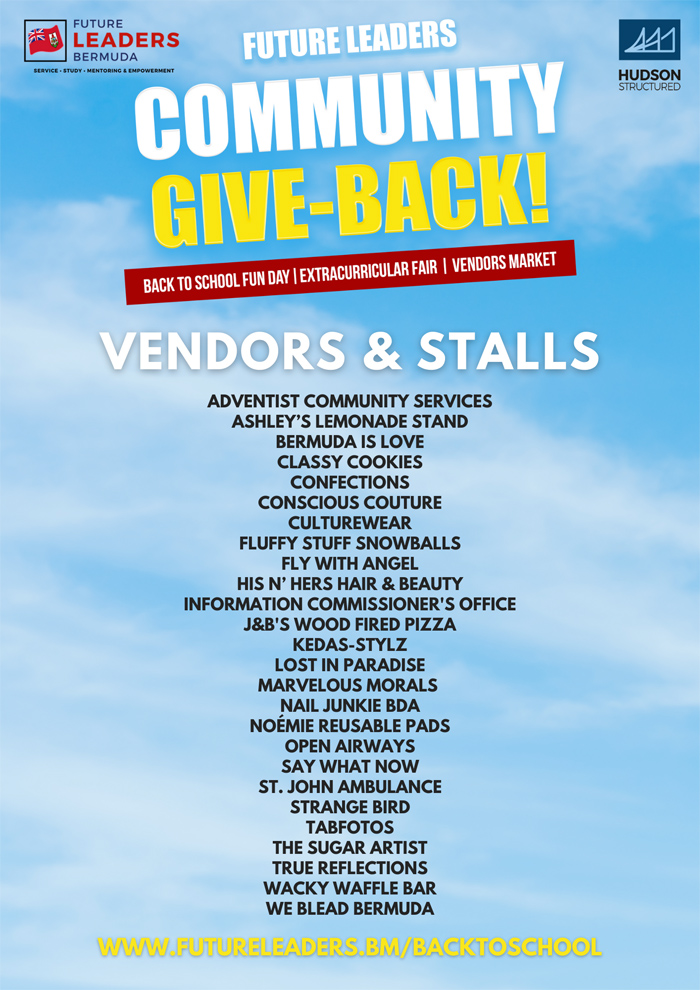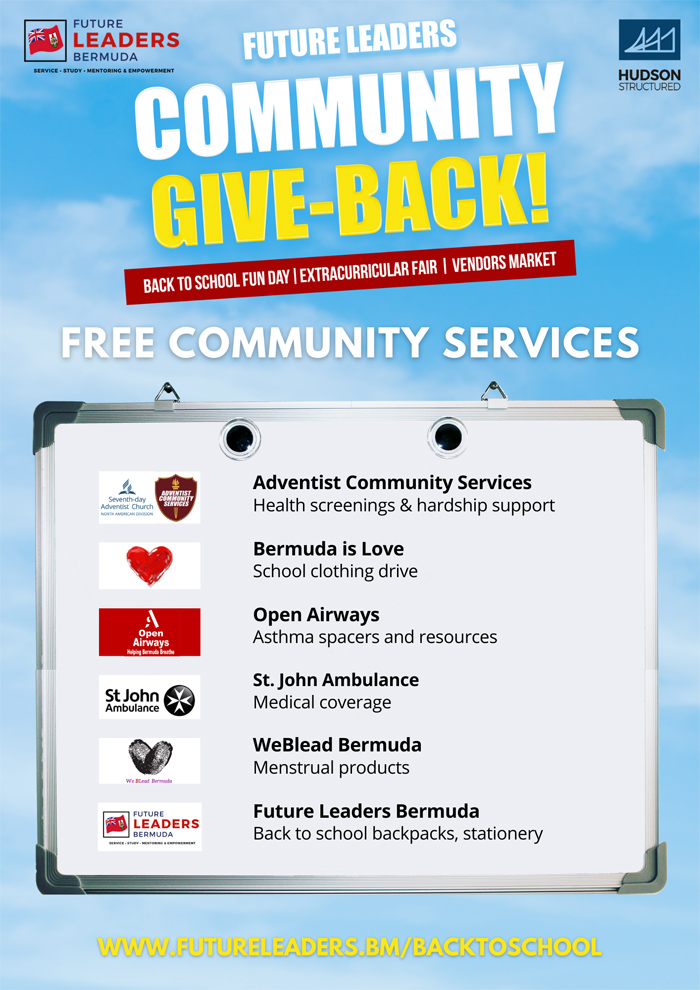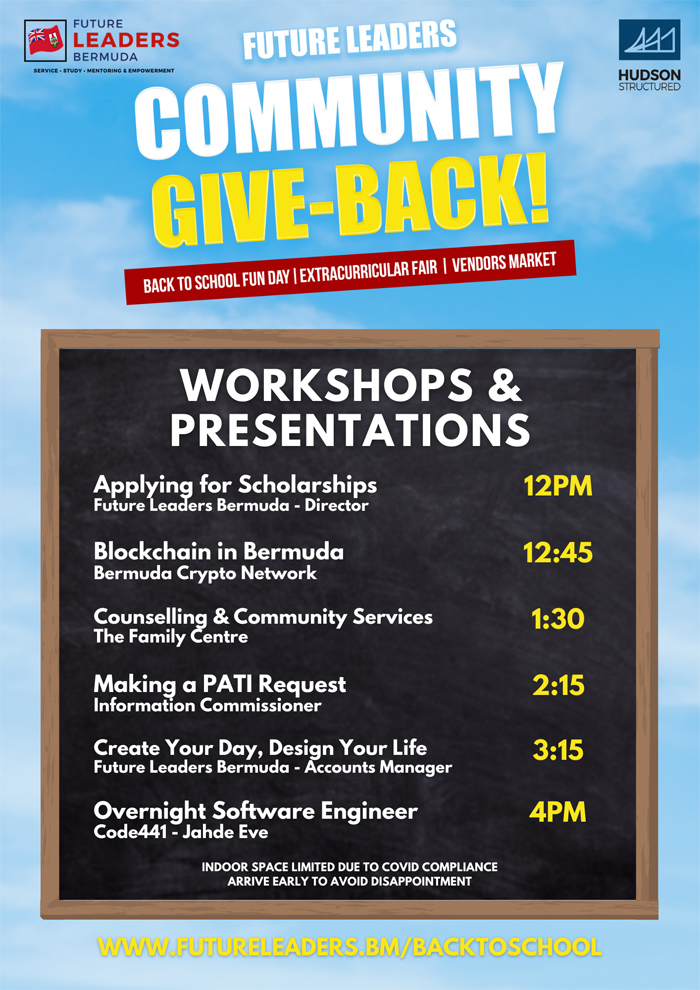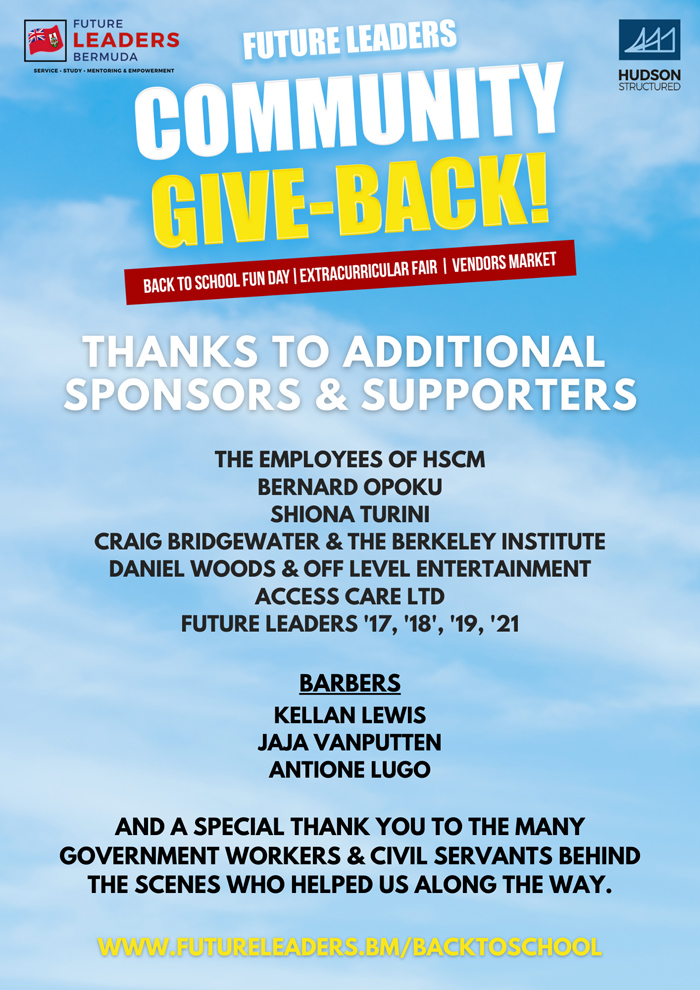 Read More About