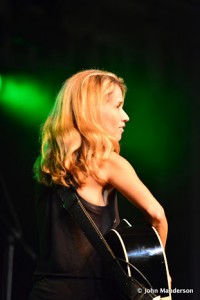 The Bermuda Festival's Heather Nova Singer/Songwriter Competition is expanding this year, and is open all male and female local entrants under the age of 30.
The winner will be mentored by Ms. Nova and will have the opportunity to open for one of the Bermuda Festival events.
In addition, the winner will receive $500 and studio time at Just Platinum with Ms. Nova in attendance to help produce their track.
Ms. Nova said, "I'm thrilled to be able to offer this competition again, in partnership with the Bermuda Festival.
"The singer/songwriter competition is close to my heart, as I have made a 25 year career in this area. I hear so many great voices here in Bermuda, but what takes a singer to the next level is being able to play an instrument and write their own songs.
"It takes commitment to learn an instrument, and it takes courage to put your self-written song out there, because the nature of songwriting is to express one's truths and emotions. I really want to encourage this in Bermuda, because I know there is so much talent here musically.
"It's fine to sing other peoples' songs, but I'd love to see some of our young talent push themselves to go this extra mile.
"I'm excited to hear this year's entries and am encouraging anyone with an inclination to write to just go for it, and enter.
"Even if you don't win, it's a great thing to do for your confidence – just putting yourself out there is a great start. And I will respond with constructive and detailed feedback to every entry."
Participants can submit a private YouTube video performance of themselves singing and playing their self-written song to adminoffice@bermudafestival.org; the deadline for entry is December 20.

Read More About
Category: All, Entertainment, Music, News