Troy Darrell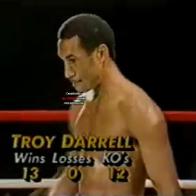 A world class boxer, Troy Darrell retired from professional boxing with a 26-3 record, including 23 knockouts.
He fought more than 80 matches in his 13-year amateur and professional career.
After turning professional in 1981, Mr. Darrell's first fight was at held in Bermuda at BAA against Jake 'The Snake' Torrez -whom he knocked out.
Known for his knock out ability, he once knocked out an opponent in only 14 seconds, and also had a string of 15 consecutive knockouts. Mr. Darrell holds the distinction of never being knocked out himself.
Mr Darrell commanded amounts of up to $35,000 for a single fight in the 1980′s, and retired from professional boxing in 1991.
He was inducted into the Bermuda Sports Hall of Fame in 2005.
Troy Darrell's daughter Latroya Darrell has taken after her father, the triple jumper is former Bermuda National Champion who has competed at Commonwealth and World levels. She presently competes at NCAA level in the United States.
-
You can view his full boxing record here at Boxrec.com.