John Barry Nusum
John Barry Nusum is a professional football player, and a Bermuda international who is best known for scoring both goals in a 2-1 upset against Trinidad and Tobago.
As of 2010, Mr. Nusum is captain of the Bermuda National Football Team, leading the team in goals during the 2006 World Cup Qualifying round.
In 2008 he scored both goals to lead Bermuda to a 2-1 win upset against Trinidad & Tobago in the second round of 2010 World Cup qualifying.
Mr. Nusum speaks of his two goal triumph in an interview with FIFA.com:
Two-goal hero: Expecting nothing short of a lopsided win, the T&T fans at the Marvin Lee Stadium in Macoya were stunned by Nusum's early opener.

"When I wheeled around to celebrate the goal, you could hear a pin drop in the ground," Nusum told FIFA.com. "That's just what you want to do too, take the crowd out of it on the road."
From a sporting family, both Mr. Nusum's father [John Nusum] and uncle [Sam Nusum] played professionally with the North American Soccer League, as well as in international matches for Bermuda.
Born March 18, 1981, he grew up in Devonshire and he played locally for Devonshire Wolves. He went abroad to play college soccer at Furman University, where he was named a NSCAA All-American three times.
After graduating from Furman, Mr. Nusum was selected 35th overall in the 2002 MLS SuperDraft by the Columbus Crew.
He is pictured below with Columbus Crew Assistant Coach Oscar Pisano, Head Coach Greg Andrulis, and General Manager Jim Smith at the 2002 MLS Super Draft on February 10, 2002 in Florida. [Photo by Eliot Schechter/Getty Images]
Unsuccessful in making the Crew, he instead spent two seasons with the A-League's Atlanta Silverbacks, scoring ten goals with three assists in 44 games, before joining the Toronto Lynx for the 2004 A-League season, finishing with 4 goals in 25 games.
In 2005, Mr. Nusum joined a new outdoor team, the Virginia Beach Mariners. After one season with the Bermuda Hogges, he signed with league rivals Crystal Palace Baltimore on March 2, 2009.
He also has professional indoor soccer experience, having played with the Philadelphia KiXX since 2004. He was a member of the KiXX team which won the 2007 Major Indoor Soccer League Championship
The wallpaper below is courtesy of Kixxonline.com, download links are below the image.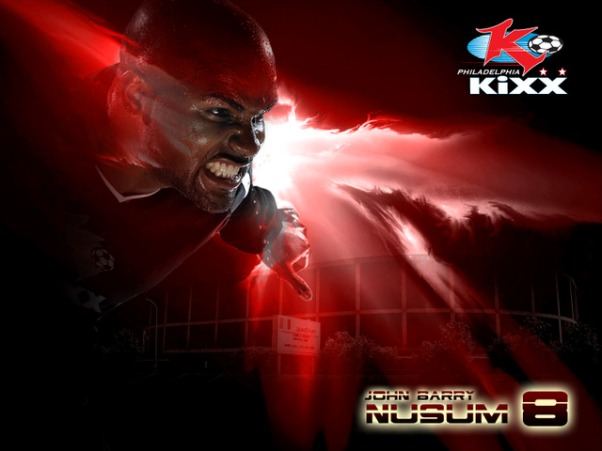 Click on your desired screen size to download:
640×480
800×600
1024×768
1280×1024
1600×1200
For further information follow Mr, Nusum's Twitter feed.